Post by Cosmic on Mar 11, 2012 13:19:08 GMT -5
This space is reserved for tutorials I will complete in the near futureHeresy Era Painting Tutorial
Video tutorial on how to paint the armour of Heresy Era World Eaters, 2nd video showing how to paint the details coming in the near future.
Advanced Weathering: Dried mud
1) Once you have FULLY painted your selected model (it could be a vehicle, building or even a soldier) you need to seal it with a coat of Matte Varnish.
2) With a good spray of Varnish, leave it to partly dry. Leave your selected model standing upright so that any excess varnish will pool towards the bottom, this is very important! The thinner layer on all of the upright surfaces will dry before the pooled Varnish at the bottom.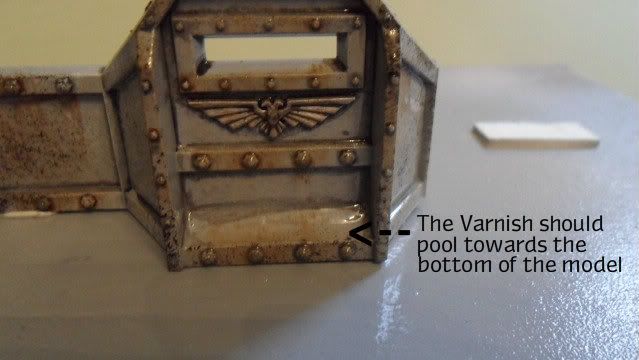 3) Whilst this is drying, move on to the pigment. Just use Artist Pastels, you can easily buy some in a box from any stationers. Use your knife to scrape off a pile of dust. It's best to use a couple of colours, one dark and one light.
4) Once you're satisfied that most of the Varnish has dried and left some nice pools you can start weathering. Using a little extra help from some more Matte Varnish, spread the excess over the bottom of the model. Don't be fussy, just push it all about with your brush. It's up to you how high you want the mud to go.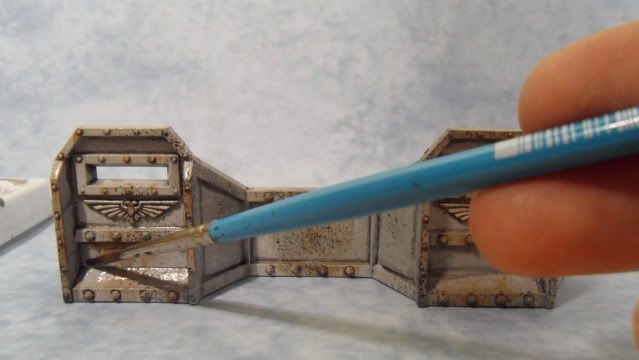 5) With a bone-dry brush, pick up your new powder. Tap your brush with your finger and randomly move over your model. The powder will fall off and settle on the varnish. Use your lighter coloured powder first, and then move on to the darker stuff.
6) Leave it to dry for a few minutes then gently bang off the excess. If you too much powder falls off then simply reapply with your brush

.
7) Put your model to one side to dry completely.
8) Once they have fully dried, apply one final coat of Matte Varnish or Hairspray (the differences are explained below). BE GENTLE! Only spray in very short bursts and from about 40cms away. You want it to fall in more of a mist than a concentrated spray.
Matte Varnish will keep the colour relatively similar, however the pigment will remain slightly dusty.
Hairspray will seal the pigment permanently, but it will alter the colour drastically.
I would recommend leaving the pigment alone and not sealing it ONLY if the piece you have weathered will be set into a board or something. I would use Matte Varnish for everything else, just be sure to handle with care. Only use Hairspray if it you use a VERY light coloured pigment.
If you have any questions then feel free to leave a post or PM me

Cosmic