Post by Cosmic on Jul 26, 2014 16:36:13 GMT -5
Helloooooo! I am here to say I am not dead!
I see there are a lot of new faces about the board lately and I'm sad to admit that I have sort of abandoned this great place recently.
I do still pop in every now and again to check PMs and stuff so I am about. I wanted to make this post because whilst popping in a few days ago I came across the following post by Adken...

It was a joy to see that I was still being mentioned so I decided to do a quick search and discovered a few other posts I had missed...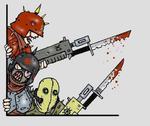 Being as good as Cosmic will take absurd practice and a lot of patience. I've only seriously painted about two hundred individual models. Decent results took about ten models (basecoat/wash). Anything even comparable to his standard...I'm not sure. Maybe one or two of my models make that.
)
I wanted to say to everyone that I truly appreciate the nice comments, and I'm sorry I have sort of abandoned this place. But never forget, that this board is FULL of great painters, and so many exciting ideas that it seems unreal so please give credit to everyone on this board as much as you can, I'm not the only painter on here! It's not all about a decent paint job, it's about the passion and the ideas that go into it.
Like I said, I do still check my PMs regularly so give me a shout if you need me, but otherwise come find me on Facebook, search for the page Cosmic Creations
. I'm going to go through the board again and reply to posts I've missed etc and maybe update a few threads but otherwise I'll mainly be on Facebook. Glad to see everyone is still going and I have missed you guys!
All the best, Cosmic