Post by treadiculous on Jan 28, 2016 11:37:22 GMT -5
(to view the short version simply scroll to the bottom and view the final 6 photos)
Waag'un surveyed his maps and tactical drawings from within the Cabin of his Kill Kruza, "time fer somewhere new" he said, and with that set off to beat the ships pilot into heading into new territories.
It wasn't long before the Rok was screeching through the sky, plummeting down toward some place he didn't recognise, Blood Axe reports had stated it was known as Orkea. Waag'un didn't care much, he was focused on the various Umie armies that were sprawled across the place. Entertainingly he had reports of another Warboss who was currently giving the Umies a good fight. "ave to show 'em how its dun proper" said Waag'un before opening the outer door of the still smouldering Rok.
Now Blood Axe's are a sneaky bunch and they appeared to be feeding info to both Waag'un and this other Warboss 'Steela', amusingly it looked like the Blood Axes were trying to get a good fight going on as they were maneuvering both Warboss's to surround a column of Umie Ard Boys called the Soul Drinkers.
Since Waag'un had a bit of a heads up on what was going on, and seemed that the Blood Axes were givin' him preferential treatment (and only after he'd eaten one of their high rankers too – seemed like they were a fast learnin' bunch of smart boys) Waag'un started building a solid defensive set up from which to spring his trap.
A short while later Waag'un was musing on the benefits of camouflage (what seemed important to the Blood Axes) and offending Gork n Mork by not having enuff red paint on his structures. "Suppose it'll 'ave to do" he thought as he heard the distant rumble of unmistakably Orkish vehicles and the equally familiar 'Vooosh Wump' of Umie Ard Boy Rokkit Packs.
He'd have to go and congratulate the Big Meks for their work since landing planetside – they'd managed to get a lot of useful wagons and kannons down from orbit, looked like they was planning to use their kustom teleporta riggs fer the fight too... should be well entertaining when they start going wrong thought Waag'un.
Scenario Rules:
2 different forces or orks at either end of a long table, 1 space marine force in the middle.
only ork deaths score victory points.
orks cannot deep strike, outflank, infiltrate or scout regardless of warlord traits, unit rules or any other ruling with exception to psychic deep strike moving units already deployed.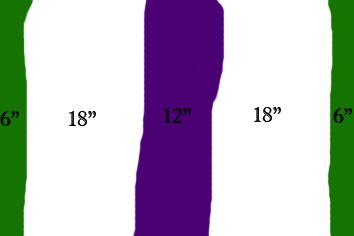 Army Lists:
Emptyhats: Da Steelas:
SoC 1
H.Q 1 Warboss Lemon Stealla Bike, Klaw, Lucky Stikk
H.Q 2 Painboy Bike
Troops 1 10 Boyz Big Shoota
Trukk Rokkits
Troops 2 10 Boyz Big Shoota
Trukk Rokkits
Fast Attack 1 10 Bikes
Fast Attack 23 Warbuggies
Fast Attack 3 Dakka Jet Additional Shooters, Flyboss
Heavy Support 1 4 Lobbas
Heavy Support 2 2 Zzzzap Kanons 1 Traktor Kannon 3 extra crew
Heavy Support 3 Flash Gitz
Battlewagon 4 Rokkits, lobba
SoC 2
H.Q1 Weirdboy Mastery 2
H.Q2 Weirdboy Mastery 2
Troops 1 10 Boyz Big Shoota
Trukk Rokkits
Troops 2 10 Boyz Big Shoota
Trukk Rokkits
Fast Attack 1 Dakka Jet Additional Shooters, Flyboss
Fast Attack 2 Dakka Jet Additional Shooters, Flyboss
Fast Attack 3 Burna Bomber 6 Skorcha Missiles
Total 1999
Chemins: Soul Drinkers
Combined Arms Detachment (1000 points)
HQ
Space Marine captain - powerfist, auspex
Troops
10 Tactical marines - veteran sgt, combi-grav, gravgun, plasma cannon
Troops
5 tactical marines - meltagun
Fast Attack
10 Assault marines - jump packs, veteran sgt, power sword, melta bombs
Heavy Support
10 Devastator marines - veteran sgt, heavy bolter x4
Heavy Support
10 Devastator marines - veteran sgt, lascannon x2, missile launcher x2
---------
1000
1st Company Task Force formation (1000 points)
Elite
5 Sternguard Veterans - stormbolter x4, heavy flamer x1
Elite
5 Vanguard Veterans - jump packs, lightning claw x10
Elite
5 Vanguard Veterans - jump packs, thunder hammer x1, powerfist x4, stormshield x5
Elite
5 Vanguard Veterans - jump packs, thunder hammer x1, powerfist x1, lightning claw x3, stormshield x5
Elite
5 Vanguard Veterans - jump packs, thunder hammer x3, powerfist x2, stormshield x5
--------
2000
Treads: Waag'uns Wagons
(KK refers to KillKannon)
Dread Mob
2 x mek + shok + git
2 x looted wagon + KK
1 x lootas
1 x 2 emplacements + 2 x 6" barricades
2 x 10 shoota boys (no waagh)
2 x dakka jets
Ork Mob
1 x warboss + klaw + lukky stikk
1 x painboy
1 x nobs + big chop + eavy
1 x battlewagon + KK
2 x 10 grot
2 x traktor kannon
1 x bunker + quad gun
1995
Deployment: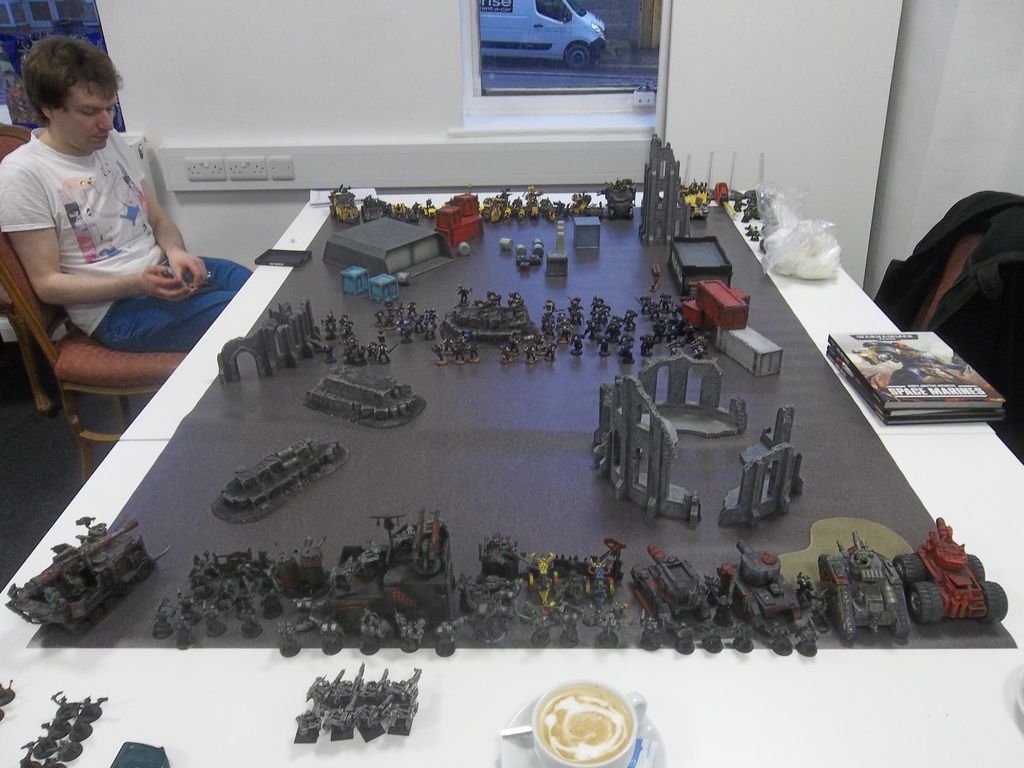 Turn 1:
Chemin deployed with nearly everything pointing a Tread's army, and proceeded to jump pack his way toward the Ork lines. Chemin advanced couragously toward the greesnskins negating cover for speed. Chemin fired at the Loota's and scored a few kills, elsewhere his marines were notoriously unlucky with their accuracy. Chemin fired his heavy bolters at Empty though did little but rattle a few hull points around.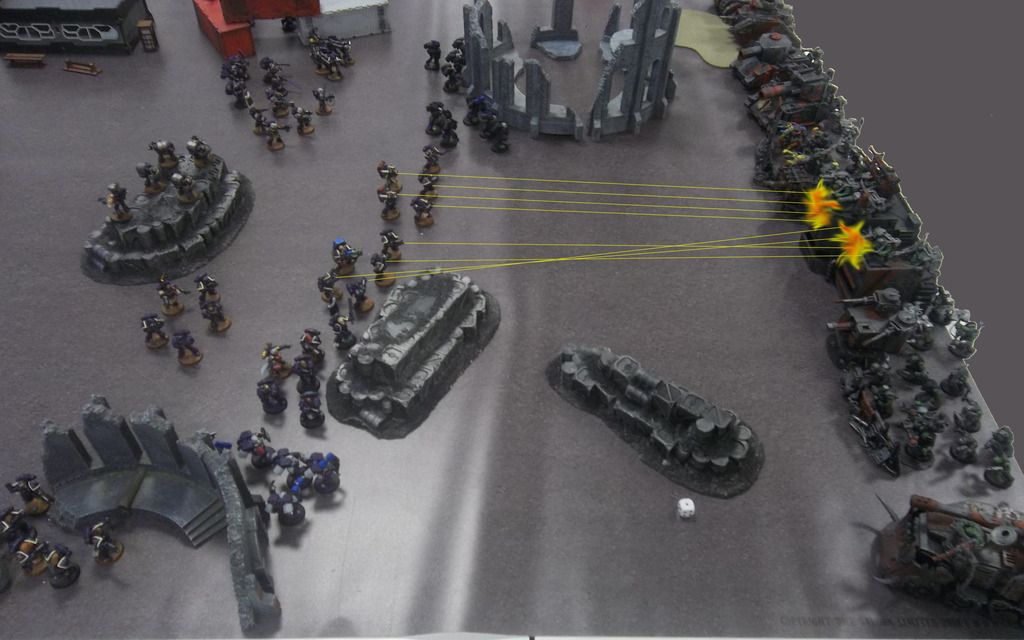 Tread won the roll off between the Ork players (which would occur at the start of each turn)
Tread took heed of the incoming wave of Marines and choose to deal with the closer threat than trying to score points. A volley of 5 Kill Kannons (S7, Ap3) 2 Shookk Attakk Guns (S? Ap2) and 2 BattleCannons (S8, Ap3) meant that the marines to a heavy number of casualties. One Shokk Attakk Gun misfired but failed to damage the battlewagon it ended up targeting.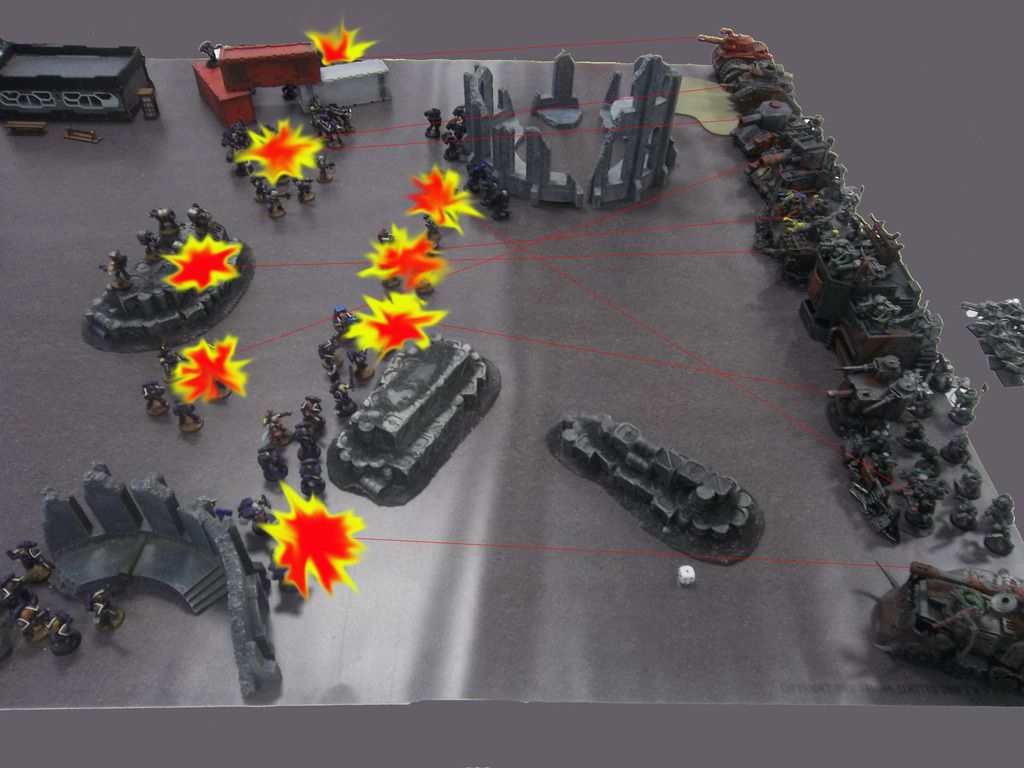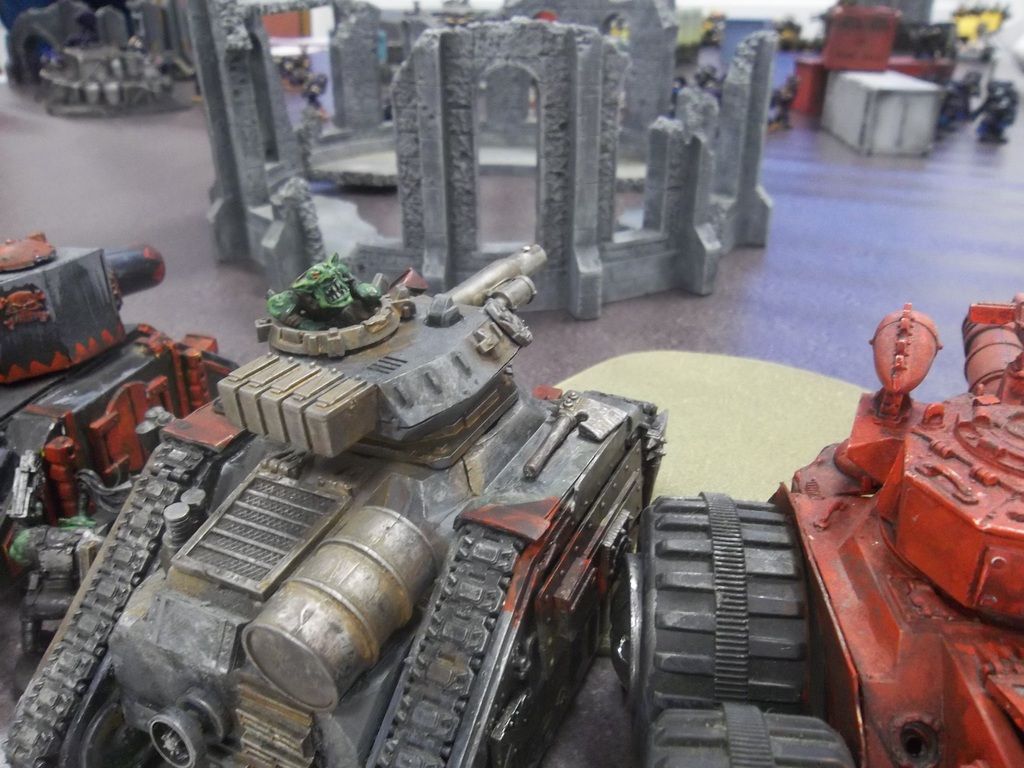 Empty had enjoyed watching an army of Umie's run away from his green and yellow horde so set off pursuing the Marines and closing the gap between his army and Treads, as most things were moving flat out Empty fired very little this round.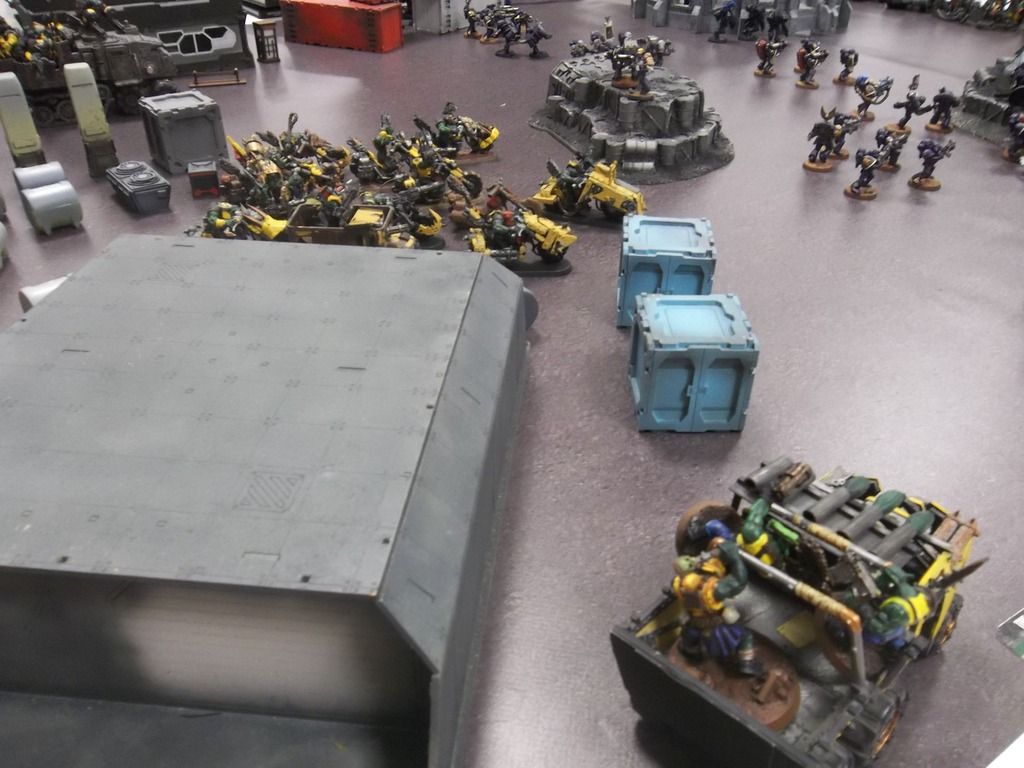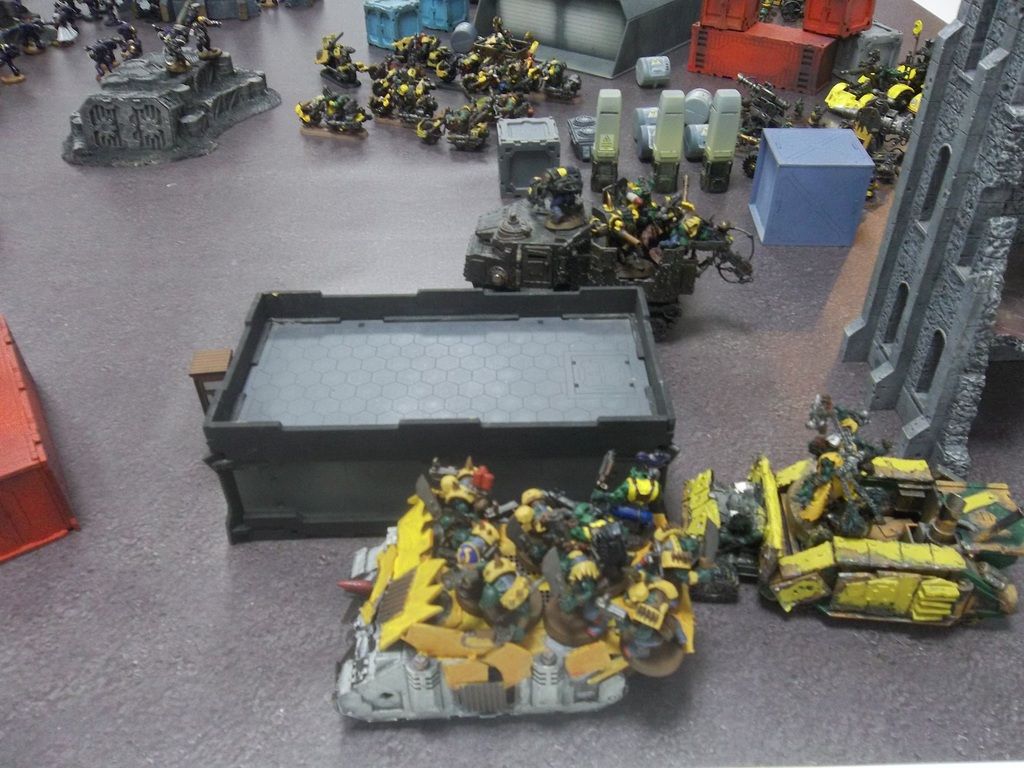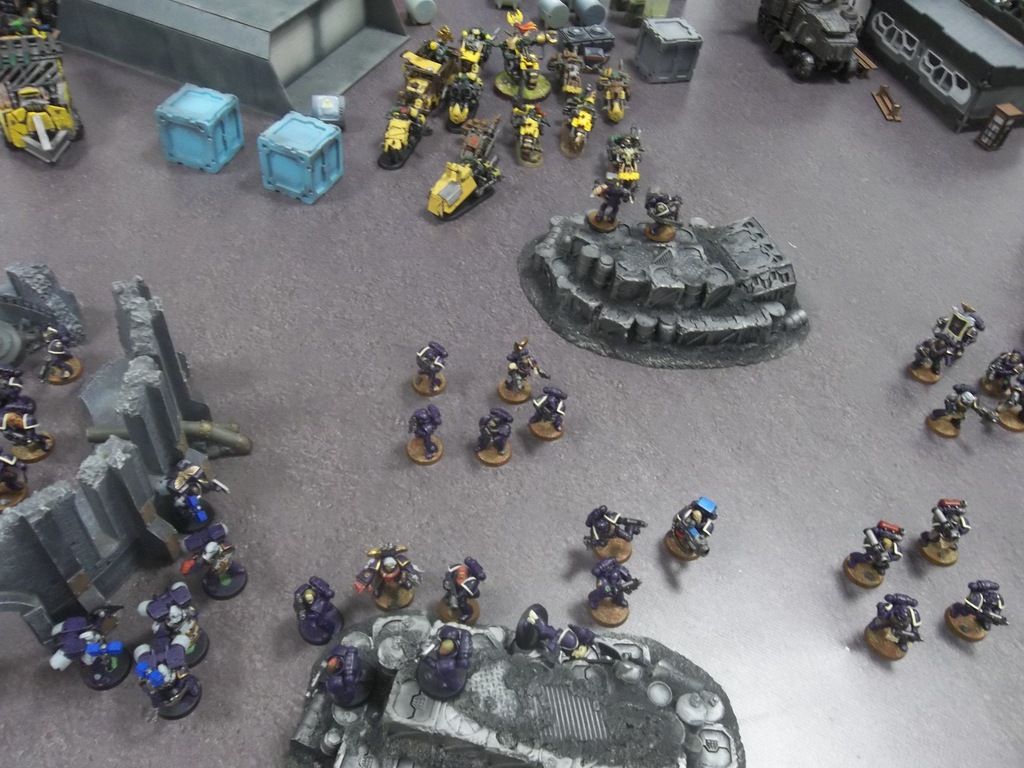 Turn 2:
Chemin closed the gap to Tread and became dangerously close to the Ork lines, with no cover and ineffective armour the Soul Drinkers were banking on the legendary inaccuracy of the orks to get them through. Chemin's devastators were able to severely damage the fortification, taking it from AV14 to AV6, Heavy Bolter rounds chewed through a few orks and and a number of xenos scum lay in pieces after the fusillade finished. Chemn also managed to get one of his veterans in to attack a Looted Wagon, successfully causing it to explode, killing numerous nearby orks and inflicting damage on other wagons.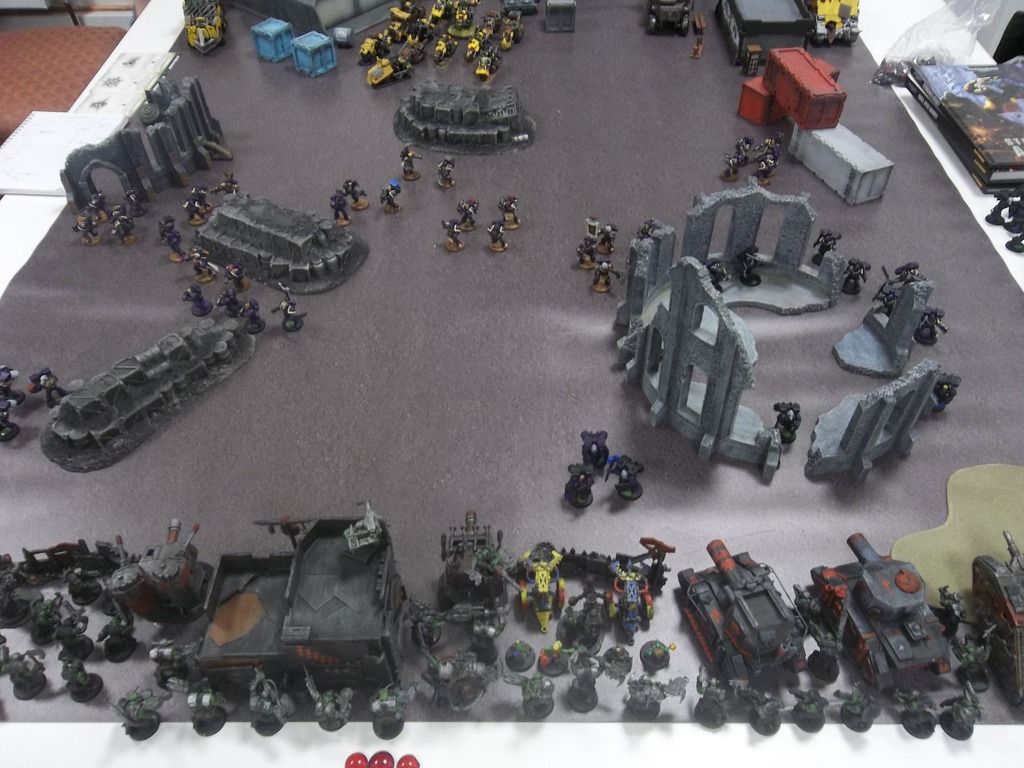 One unit of Soul Drinkers had advanced to within charging distance of Waag'un's lads; this enabled Waag'un to counter assault, however, Waag'un was frustrated as his Nobs took out all the marines before he was able to deliver a blow, this action had drawn Waag'un over to one side of the battlefield... a side on which plenty of tasty looking ork targets were still closing....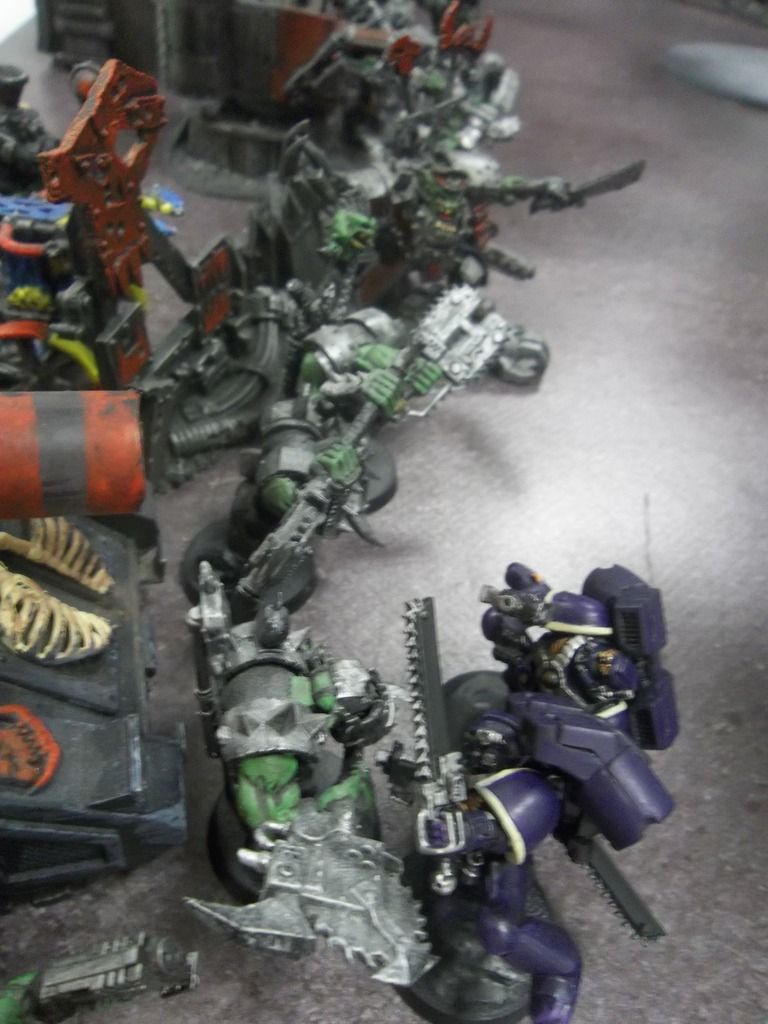 Empty won the roll off and so went before Tread, this seemed unlucky as it meant his aircraft were going to be vulnerable to Treads Counter-Fire. Empty was able to disable one of the Traktor Kannons from Treads lines and began to secure Kill Points for his side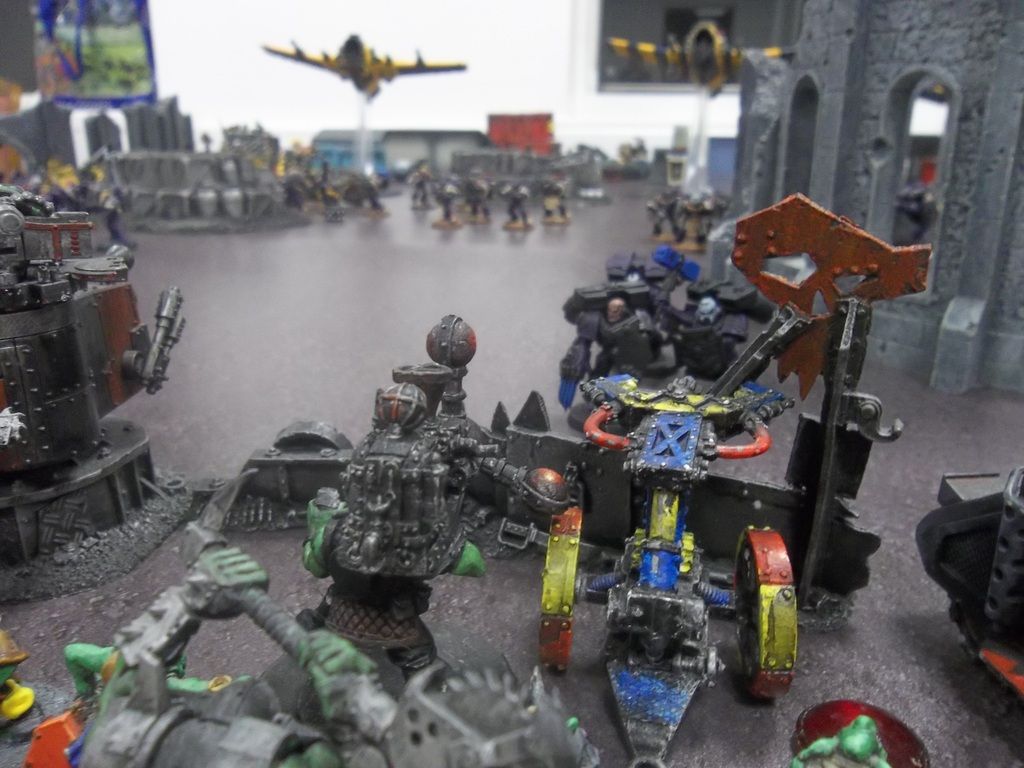 Elsewhere Empty swept his bikes into combat and began tearing shreds off the Soul Drinkers rear defense.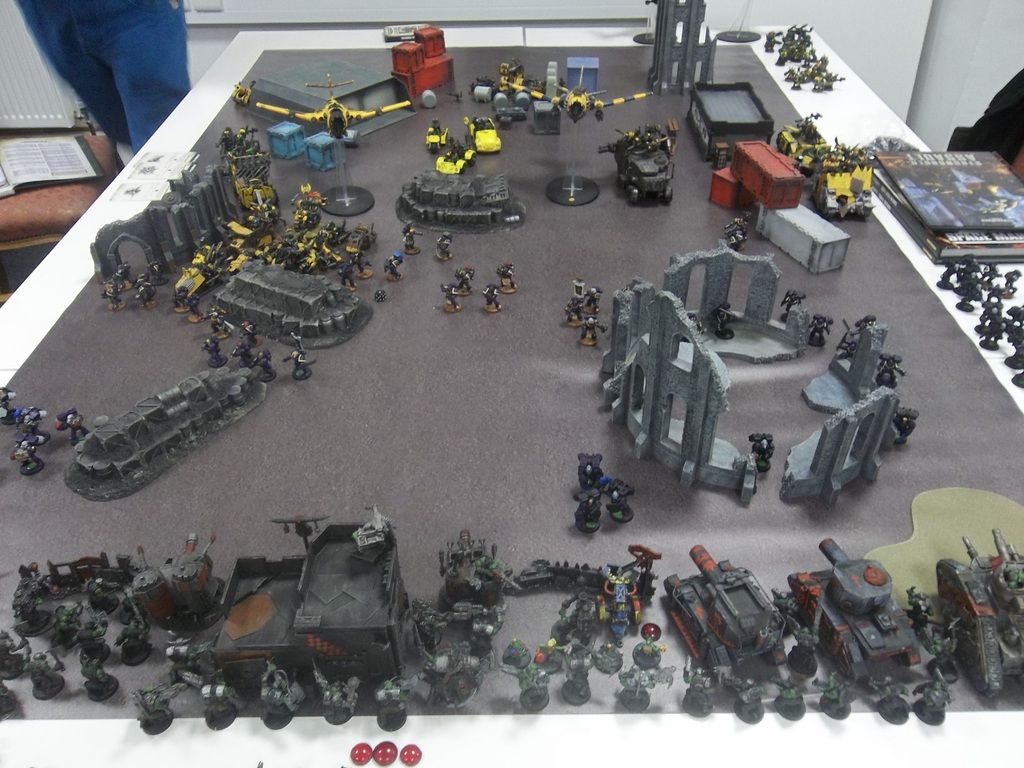 Tread continued to lay down a heavy battery of fire upon the approaching Umies and shared a little with Empty's forces too, manly focusing the emplaced Cannons and Shokk Attakks on the Warbikes and Marines who were fighting each other.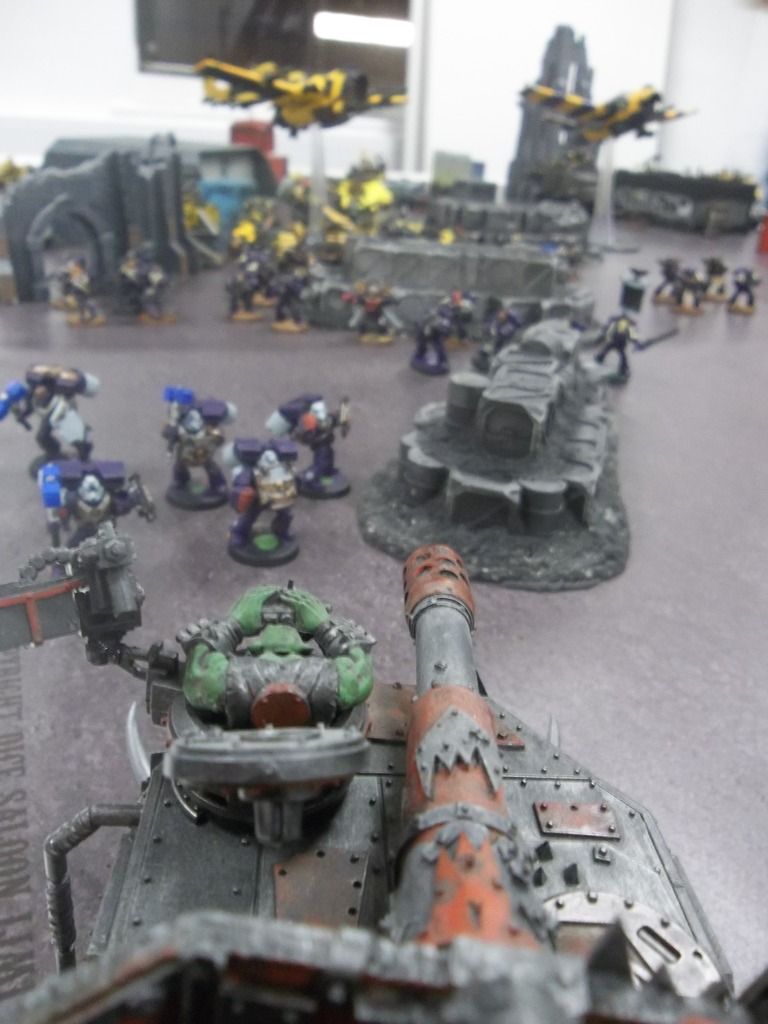 The Loota's were able to put out a lot of shots toward the Dakka Jet but failed to get any results, however Waag'uns own DakkaJets were effective in taking out one of the 'Steela's' airbourne skwadron sending it hurtling to the ground in a satisfyingly large fireball. The lone Veteran which had destroyed the looted wagon was shot up by a freshly arrived group of grots, after which the squad then set to claiming they each had been the grot which had made the killing strike!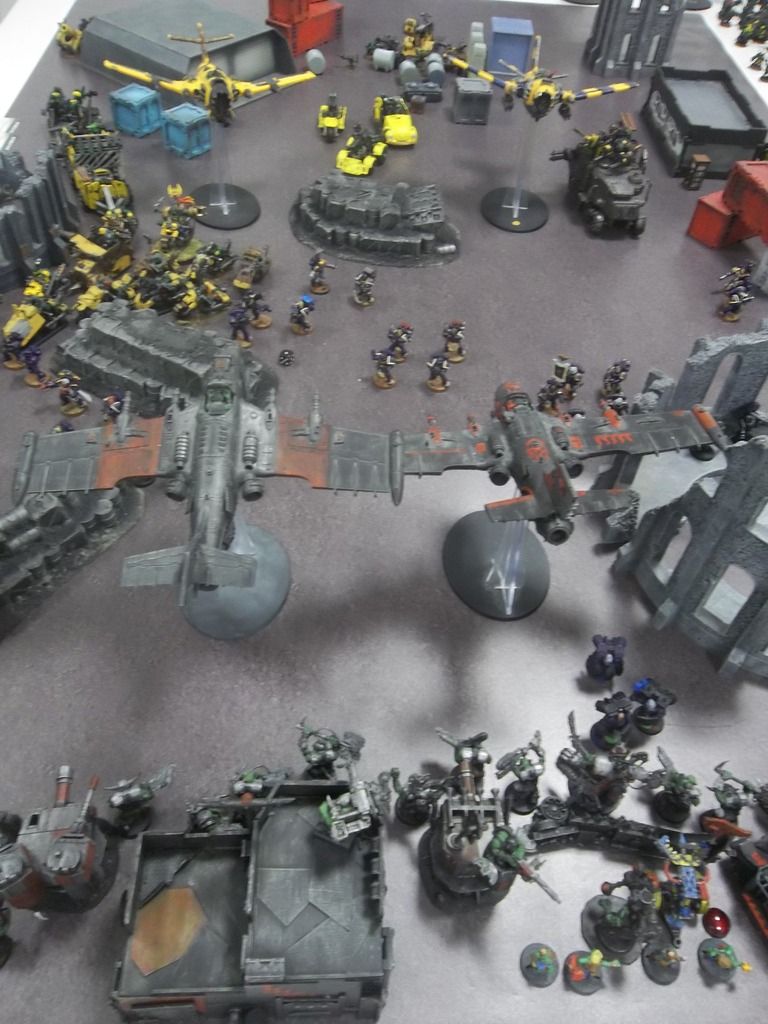 Waag'uns Lads then continued their bloody voyage across the battlefield, charging into two small units of Soul Drinkers and neatly dispatching them... again Waag'un stood over the corpses frustrated that they'd all fallen before he'd had a chance to strike! This placed him ahead of his lines within the circular ruin – his eyes falling on the approaching trukks full of boys and kill points.
Turn 3
The Soul Drinkers were in peril, Steela's forces were chewing through his rear lines and Waag'uns gunline had barely diminished in size, however as the orks were now in range of each other it was possible he could avoid further casualties – focusing on claiming the needed kill points the Soul Drinkers started picking off the smaller units of greenskins while simultaneously approaching the table edge which would enable him to bank any points he scored.
The Soul Drinker armed with heavy flamer looked into the circular ruins at Waag'un and his Nobs, a gleeful smile spreading across his face, a conflagration of immolation pored over the squad killing off one and setting a couple others ablaze, when the smoke and flames died back the charred Greenskins looked greedily back at them.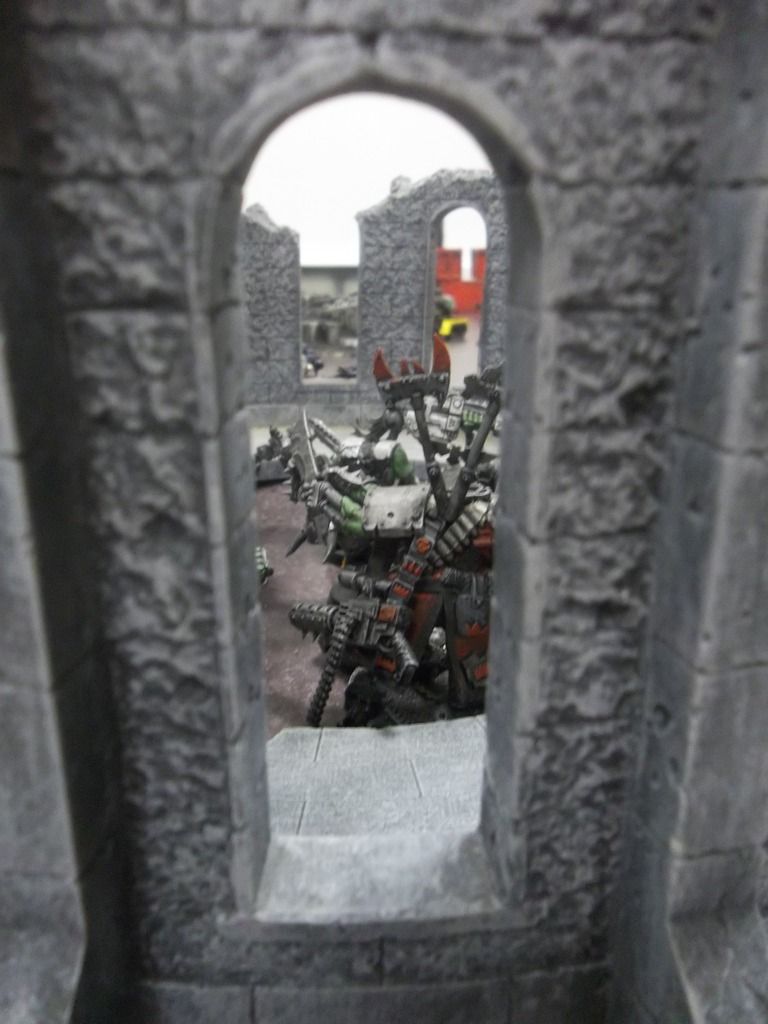 Elsewhere Chemin was able to whittle down a number of Ork units though due to the rules he didn't score points when orks fled from battle, though he was able to fully destroy a squad of boys.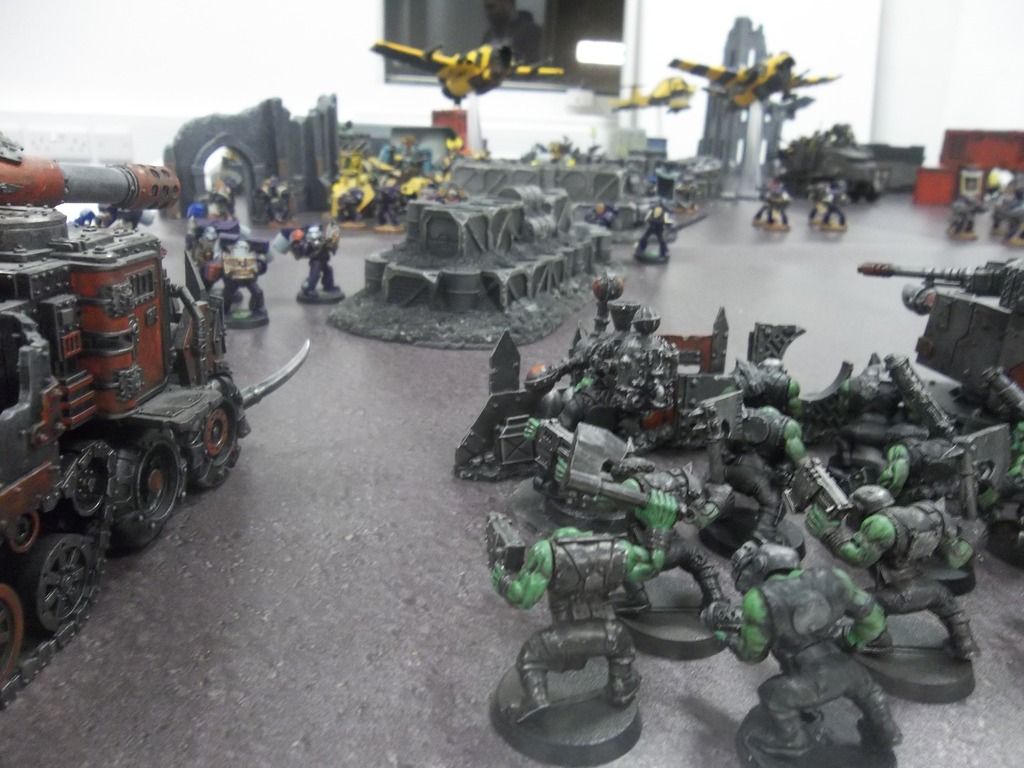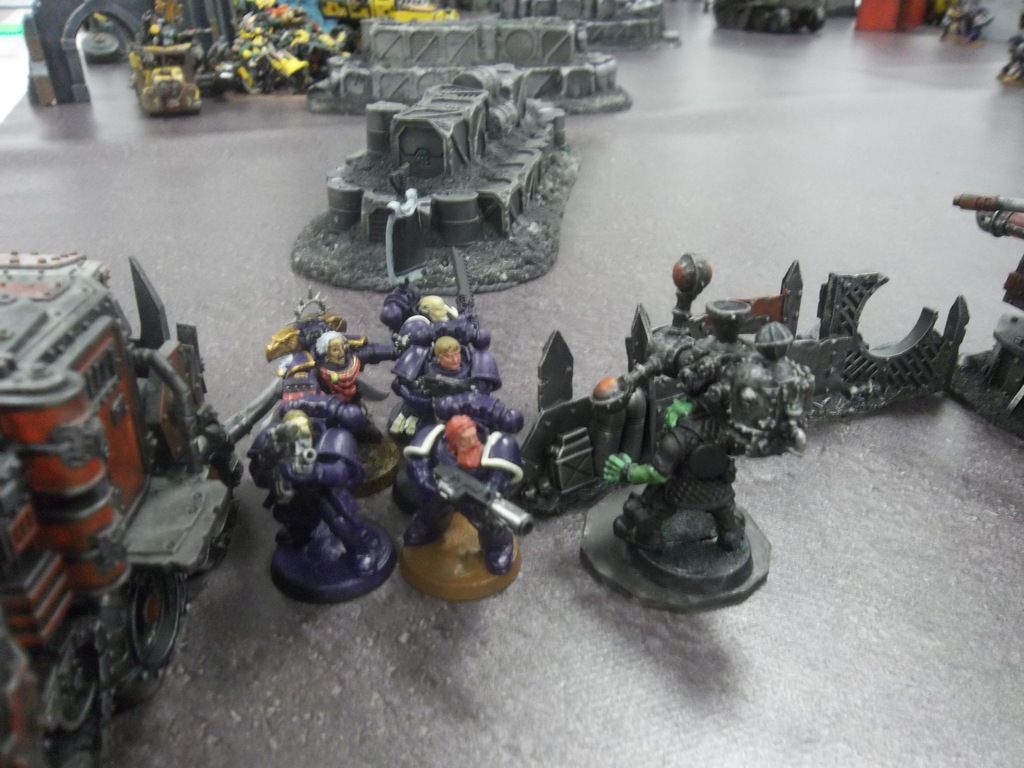 The Soul Drinkers fought valiantly against the Biker Nobs and was able to take a few down with his men, however the combination of heavy artillery from behind and raging nobs in front saw most of his units destroyed.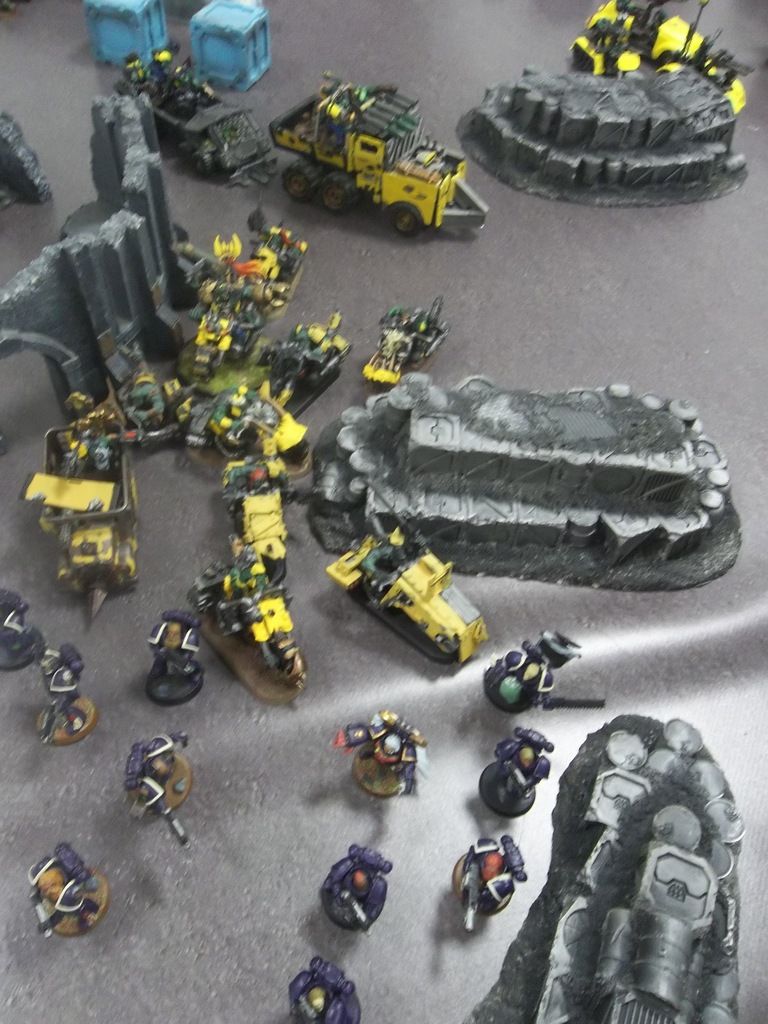 Empty managed to get first round again and was delighted to be able to retaliate on the dakka jets, destroying one and disabling the second. Steela had cleared a route through the marines and took out the battlewagon on route to Waag'uns defences.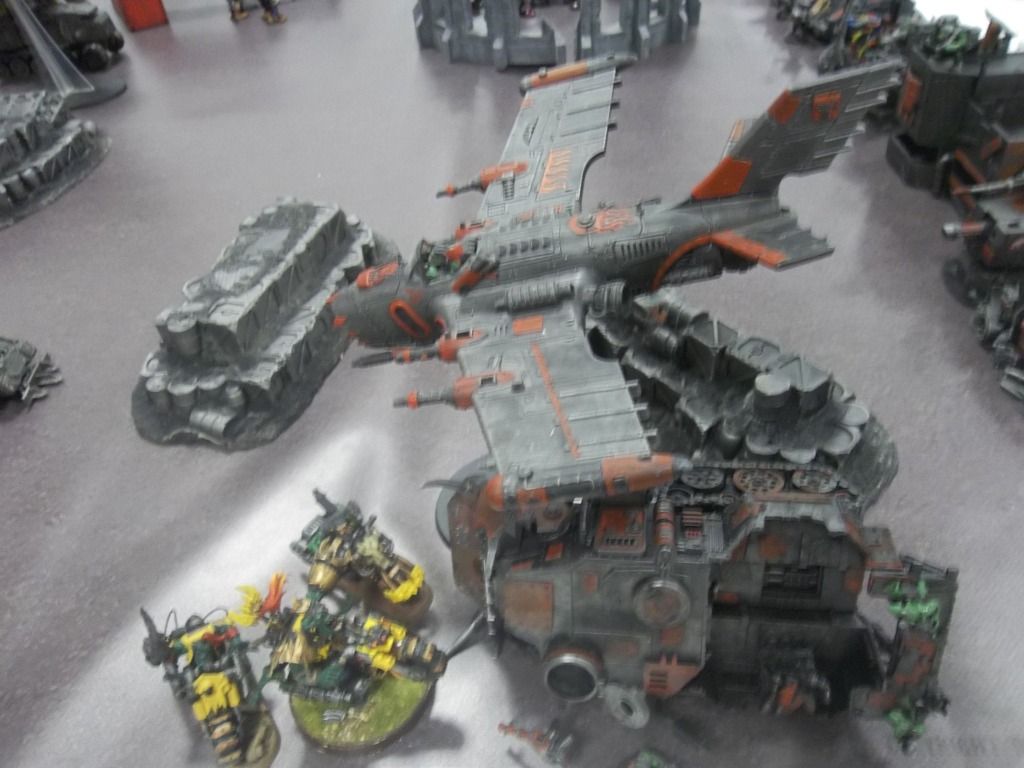 Steela was also able to bring his Big Guns to bear and fired of numerous rounds into Waag'uns boys, further damaging structures and inflicting minor casualties on the boys and grots. Elsewhere his trukks and buggies continued to race down the battlefield, ignoring the Soul Drinkers Lascannons and heading for the tempting looking Looted Wagons.
Tread was able to get his remaining Dakka jet off the table, elsewhere his Big Mek looked in deep trouble though continued to fire the Shokk Attakk rather than move or charge. His final shot was effective and tore through a number of marines and orks though the primary focus of the round of shooting was the Flash Gits in Battlewagon, unfortunately this weathered the storm admirably. The Lootas in the now dangerously swaying bunker were amused that they had received no incoming fire this round and as such were able to pour volleys into the buggies coming round the mound of barrels and crates, causing them to crash and explode in a variety of epic terminal conclusions.
Waag'un was now able to exact revenge upon the incedinary Soul Drinkers and ripped though the squad in a short space of time, once more Waag'un left swinging his power klaw like some kind of threatening trophy more than a useful piece of wargear.
Turn 4
Soul Drinkers faced an interesting dilemma as on one flank they had opportunity to escape and bank points, the commander argued the point with his subordinates and detached himself from the squad so that he could kill the big mek and start making his way to claim the emplacement for himself. Elsewhere the lascannon devastators continued to fire unmolested, their apparent subterfuge working effectively as orks pored past their position without taking a second look!
The other few remaining Soul Drinkers tore chunks out of xenos in a frenzy of accurate enfilading fire, cutting deep into both Steela's and Waag'uns forces, however, at this point in the game where there umbers were so few it made little impact on the crazed greenskin... well, apart from the Lootas who fled!
The Soul Drinker command unit decided to split, some of the squad banking the points they'd scored while the commander went to secure the battlecannon emplacement for the marines.
Once again Empty won the roll off and swung Steela brazenly across the front of Waag'uns bunker and into contact with the emplacement, as this was a turbo boost Steela was unable to make use of the battlecannon this turn.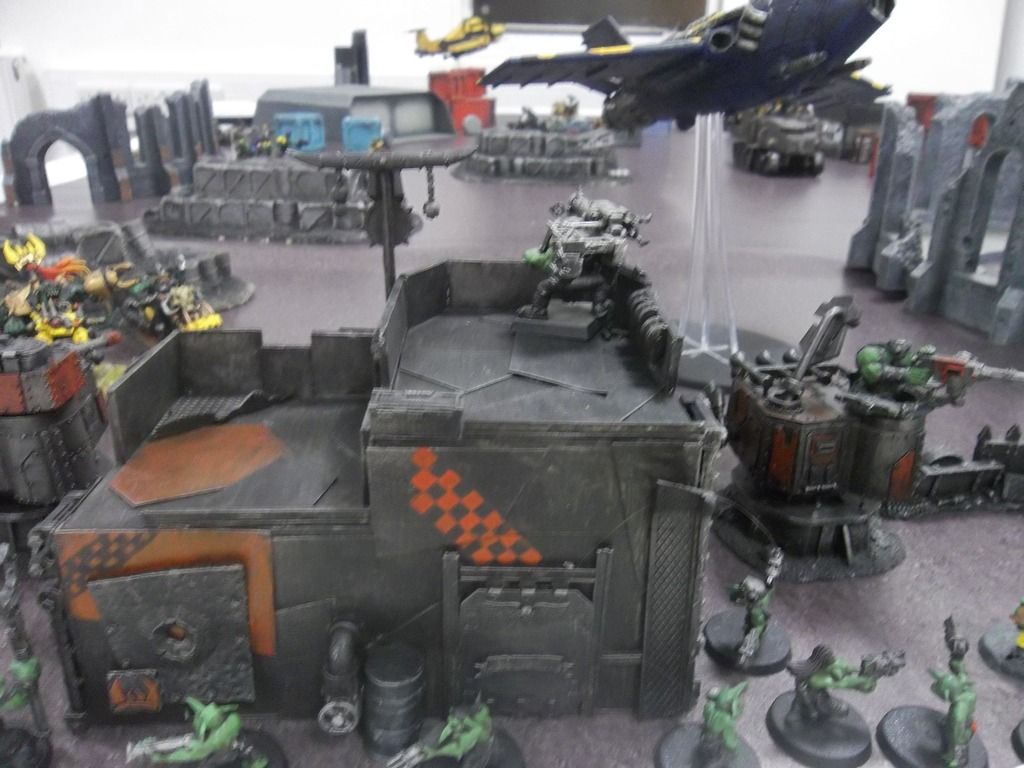 Centrally, Steela's other air force had finally shown up and launched an effective salvo of shots into Waag'un and his lads, flame rokkits and burna bomms exploding all around the Warboss and his retinue. Meanwhile the big guns and flash gits continued to fire into Tread's forces gaining the odd kill point and generally making a mess of what remained of the armies on the battlefield. Across on the other flank Empty charged Waag'uns lads in a hope to take the initiative, tragically for them this failed and the boys were cut down after barely wounding a nob.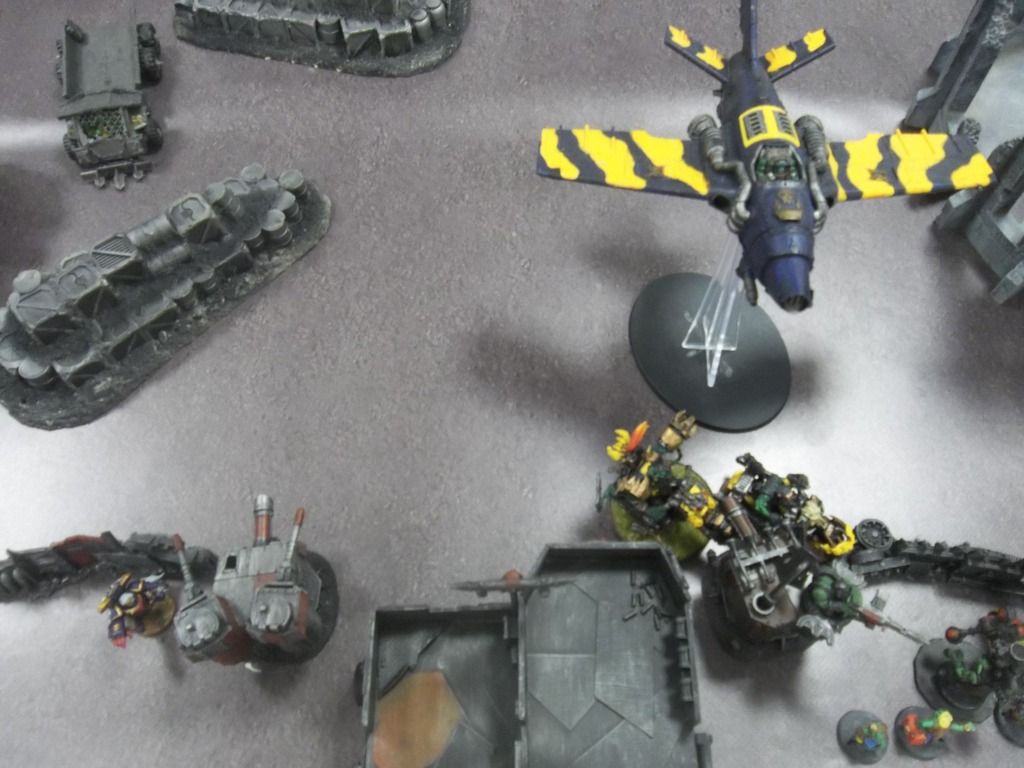 Tread was able to bring his Dakka Jets back on for a final sweep, Waag'un and his lads made a multiple charge into the boys and trukks racing down the flank which were easily dispatched in a frenzy of big choppa's … and Waag'un finally got to use his power klaw!
As we were out of time we counted score, Chemin had 4 points, Empty had 5 and Tread 9.
Personally I feel that Chemin went the wrong way, had he engaged Empty there were far more easy kill points to pick off in the form off buggies and mek guns, trukks and boys. Empty's list relied on speed so he would have had little cover and the other bonus would have been that Tread would have had to pursue the Soul Drinkers – costing valuable shots in order to give chase as KillKannons are only 24" range. While the battlecannons and shokk attakk guns had longer range careful positioning behind LOS blocking terrain could have saved the Soul Drinkers from such punishing losses in early turns.
As it was Waag'un just had to sit tight and blast the heck out anything in range.
Traktor Kannons were fairly rubbish in low numbers, Lootas were great at finishing off the turn of shooting, Shokk Attakks are great fun and Fortifications are interesting additions to Ork warfare.
In case the above made little sense (photo bucket jumbled all the pictures so I have no idea what took place when really...) here's a step by step series of images taken from the same vantage point:
Deployment: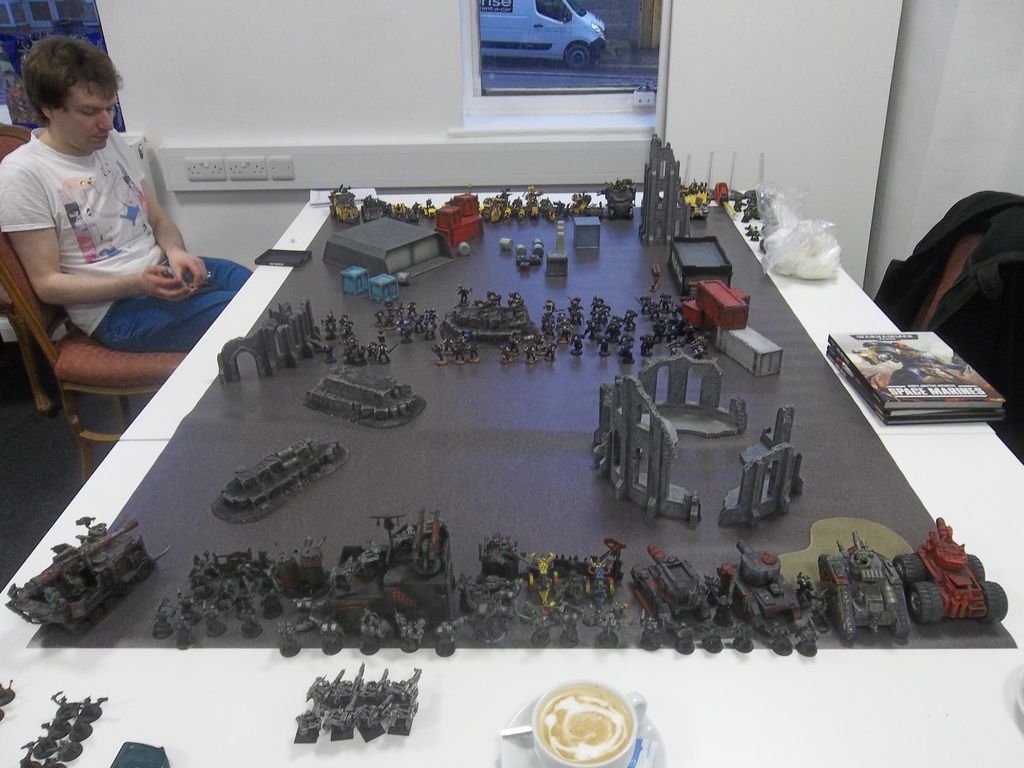 turn 1: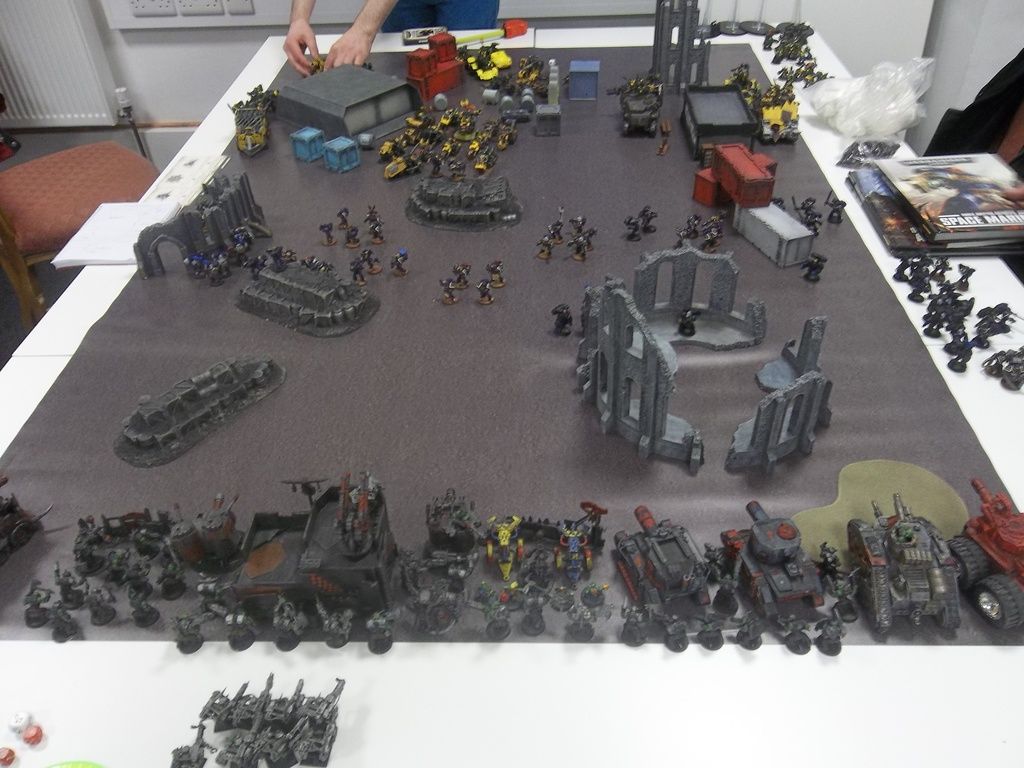 turn 2: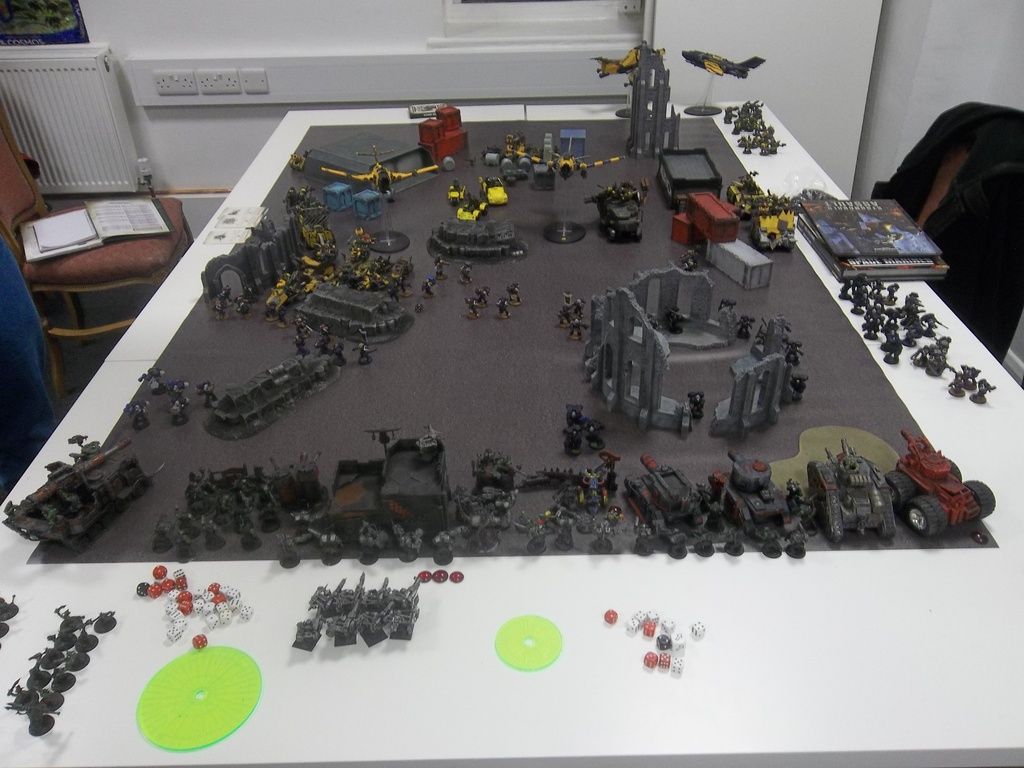 also turn 2: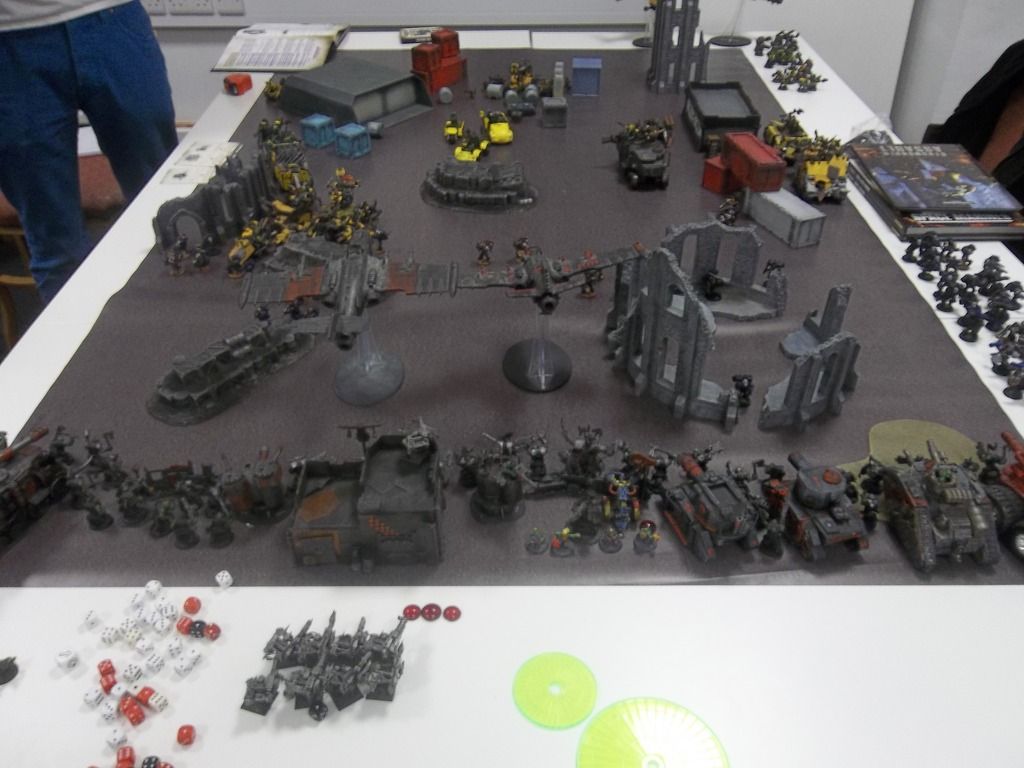 turn 3: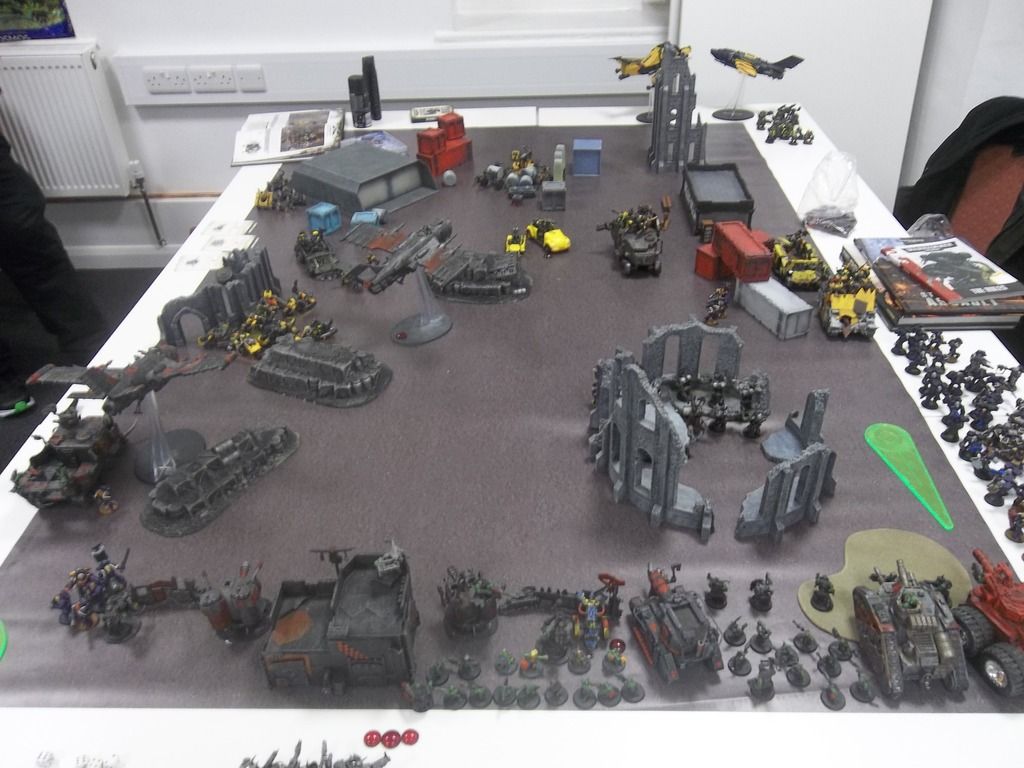 turn 4: