Post by emptyhat on Jul 24, 2017 19:57:05 GMT -5
This is a game that Chemin and I played back in February. I wrote the battle report up the next day but didn't get around to posting it. We should be playing the follow up battle on Thursday. So here we go:
Chemin asked me to get some of my Chaos stuff out of storage to play against his current Guard project for a game that would be something of a prelude to any Fall of Cadia games we'd end up playing. Since I haven't done a huge amount of modernising for my Chaos gitz since 3rd we agreed to a 1500 point game with no flyers on either side. (This was a bit of a bum when I realised that I'd be running a deamon prince without any wings, since apparently you can't just get some sort of jumpack option, it's just flying or a slow walk)
We rolled the Maelstrom mission, Cloak and Shadows and used Fall of Cadia's Empyric Storms chart. Chemin got the first turn and we rolled night fighting for it.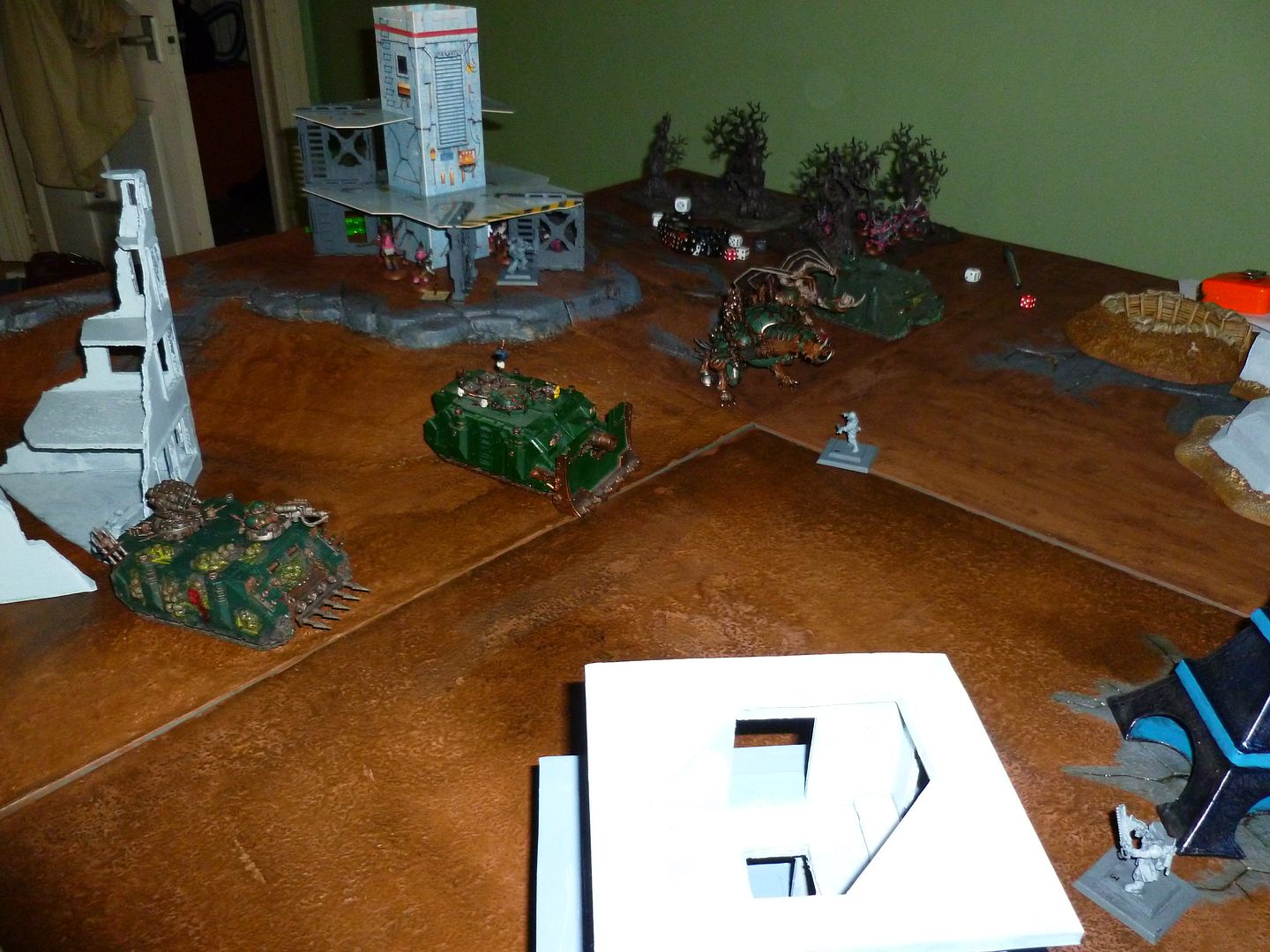 With the limited front from narrow deployment edges I lined up my tougher more mobile stuff for a run on the Imperial lines, and put my squishier stuff, the cultists and the noise marines into area terrain to ride from Russ shells.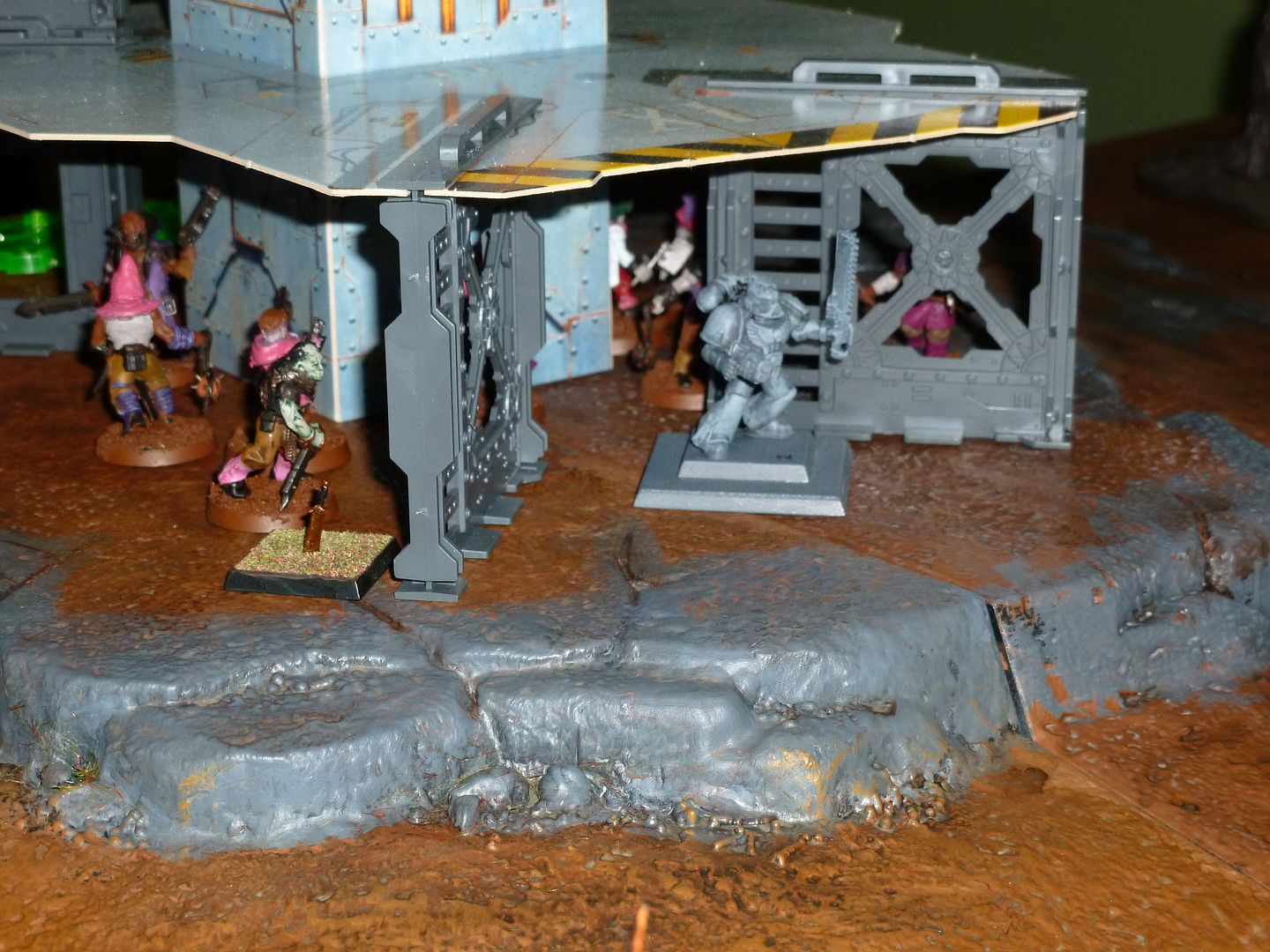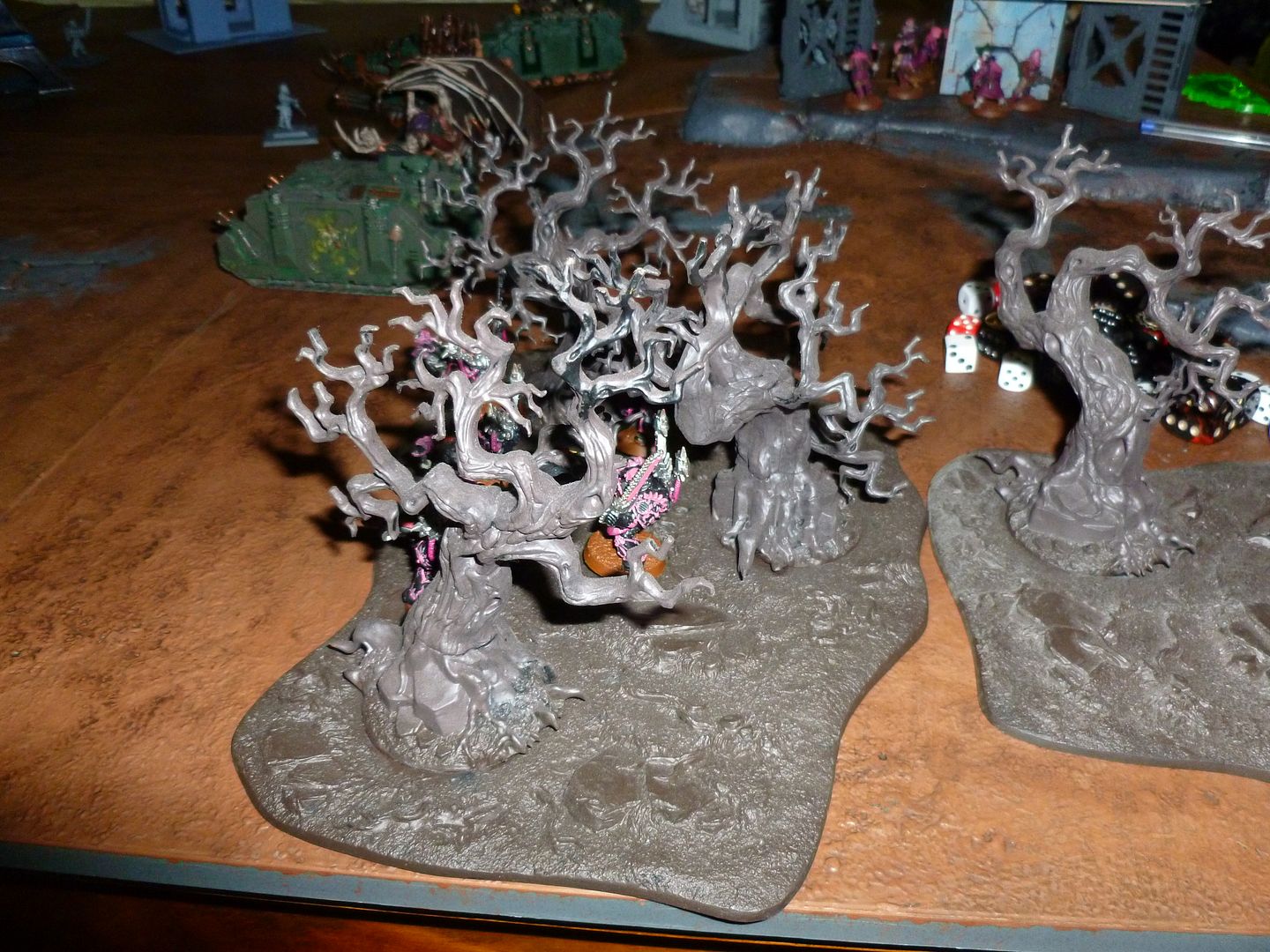 Opposite me the Guard crowded out their board end, mostly safe in their little tin boxes.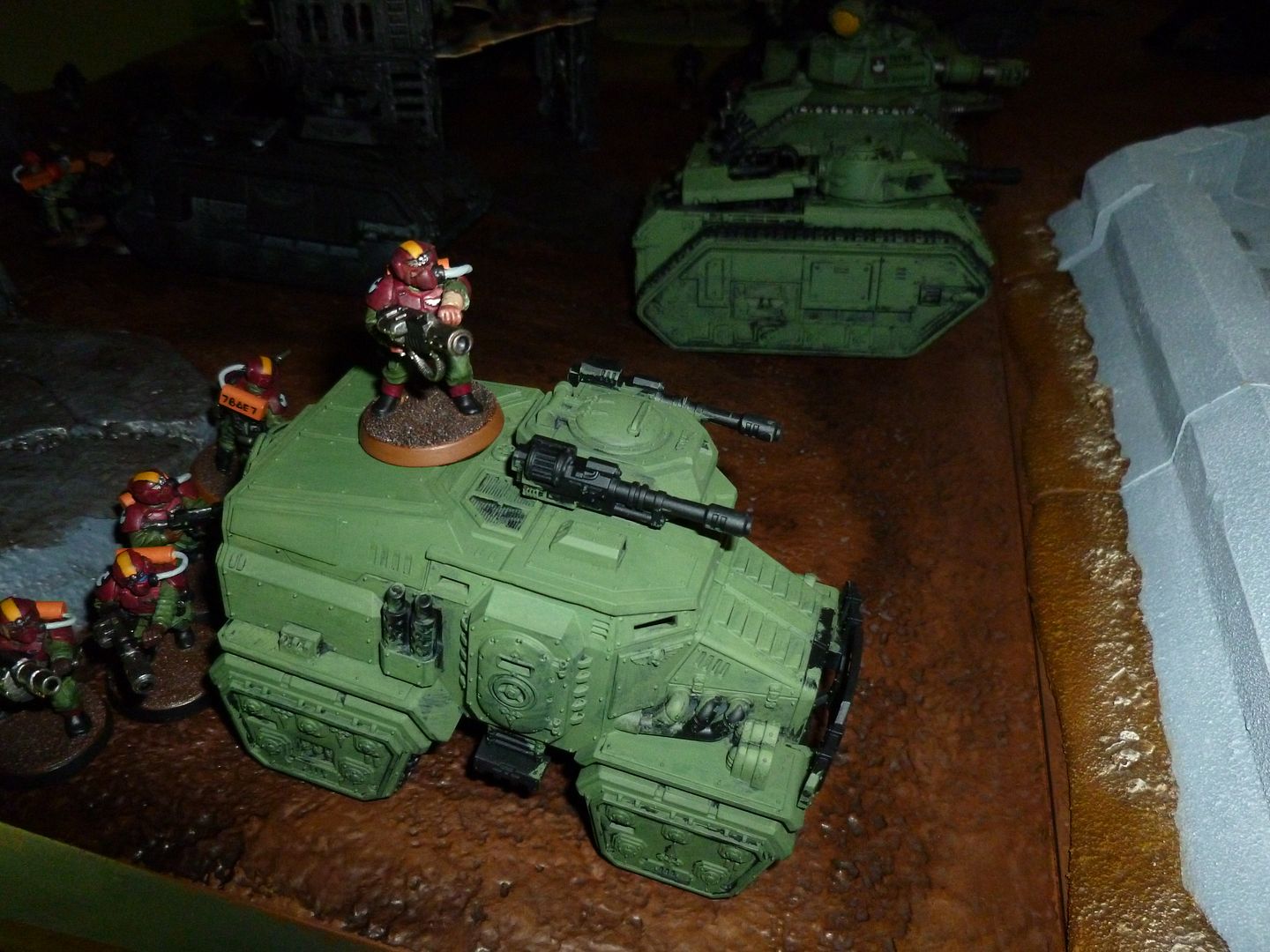 I failed to steal the initiative so Chemin got to go first and he rolled Empyric Shield which gave a +1 to all invulnerable saves until the start of his next turn. He shuffled his vehicles about a bit and despite night fighting saves and improved invulnerables he was able to wound the deamon prince and stun the Vindicator (so no turn 1 pie plates for Chaos).
In my turn I moved up my mechanised units and ran my daemon prince, bringing it and the plague rhino up to the table's defensive wall to take some additional shelter. The Forgefiend wrecked a Chimera with its autocannons (yay S8 heavy 4!) claiming first blood. It also secured an objective for me while the cultists happened to have been deployed on another one I needed, this did however turn out to be a bomb which promptly exploded, killing one of them.
Turn 2 started with Chemin rolling a Warp Tunnel, forcing him to relocate one of his infantry units. While he could have simply relocated it in practically the same place, the only eligible units seemed to have heavy weapon teams and would count as having moved, so he took the opportunity to relocate a lascannon squad away from the section of board that the Plague Marines and Daemon Prince were bearing down on. Both Storm Trooper units showed up, and both showed up exactly where they were placed. The Vindicator took another direct hit from a Leman Russ and was wrecked without ever having fired. The daemon prince took some more hits, taking it down to one wound and the Forgefiend lost a hull pooint to the other Leman Russ' battle cannon. This was when I reminded Chem that he still had a snap shot lascannon to fire on the Russ, which promptly rolled a series of three sixes (and I failed my daemon save) causing the expensive Forgefiend (which never got to use its It Will Not Die) to explode. The Storm Trooper team that arrived behind the CSM Rhino exploded it but failed to harm the occupants, or pin them: The other squad , despite being in rapid fire range and hoisting carbines only managed to kill one cultist but they did score Behind Enemy Lines.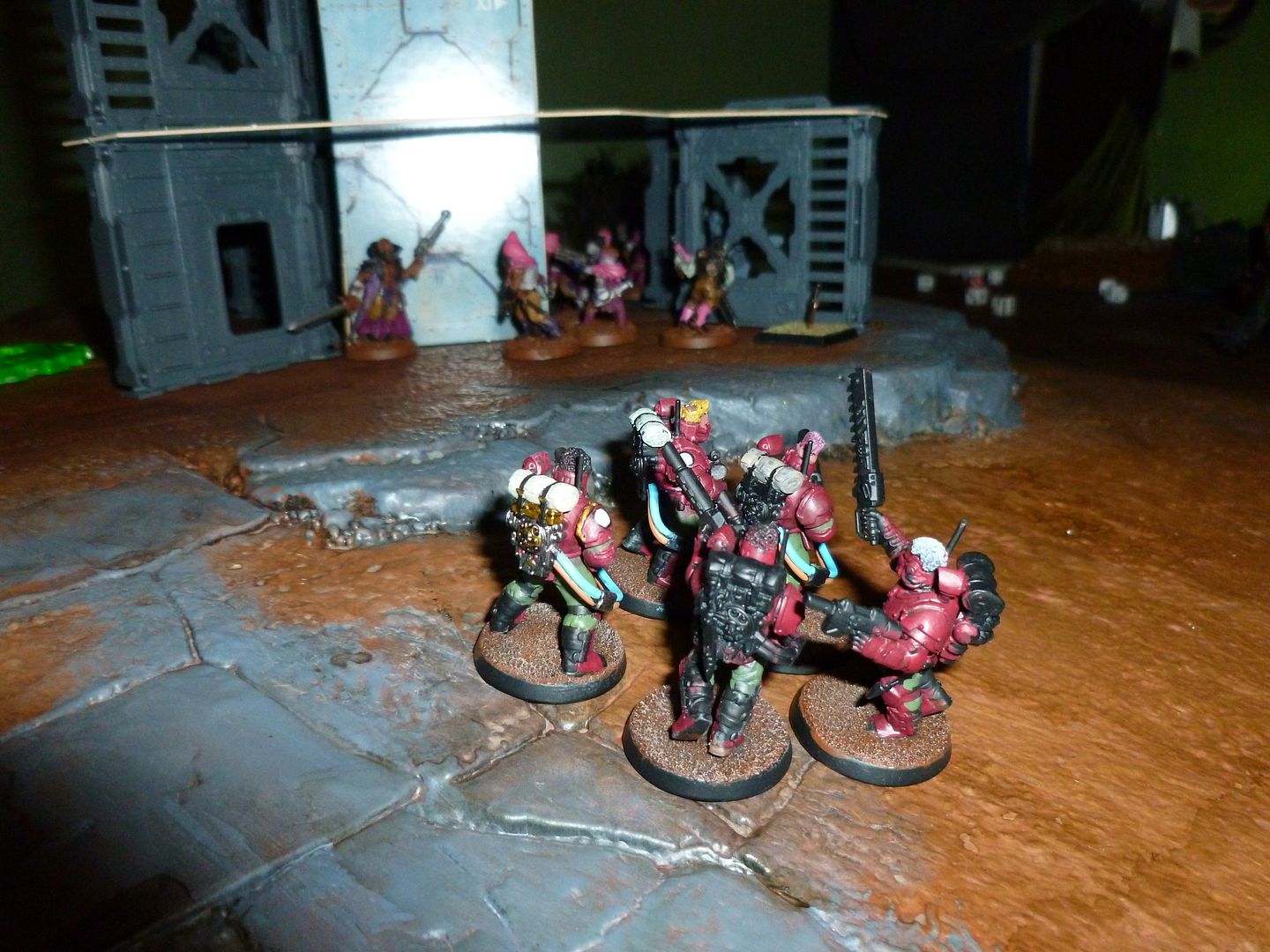 For my turn I also got a Warp Tunnel, which was far more welcome as it allowed me to relocate the Noise Marines, which had been hiding from LRBT pie plates, to be 9" away from Chemin's squad which had teleported in his turn. Both my terminator units arrived via deep strike with one unit suffering a mishap which led to Chemin placing them in the same woods that the Noise Marines had just vacated, stranding them far from the fight.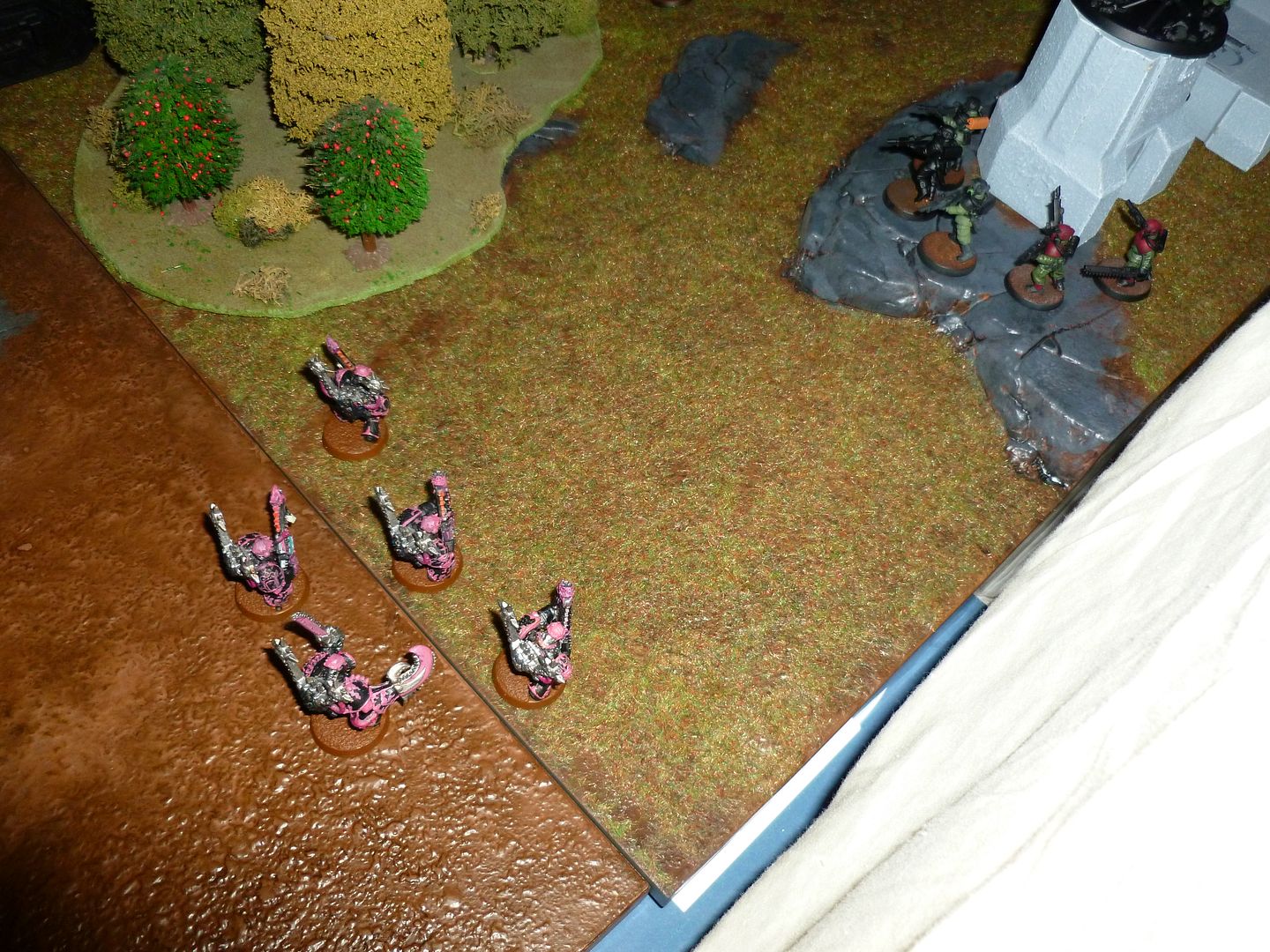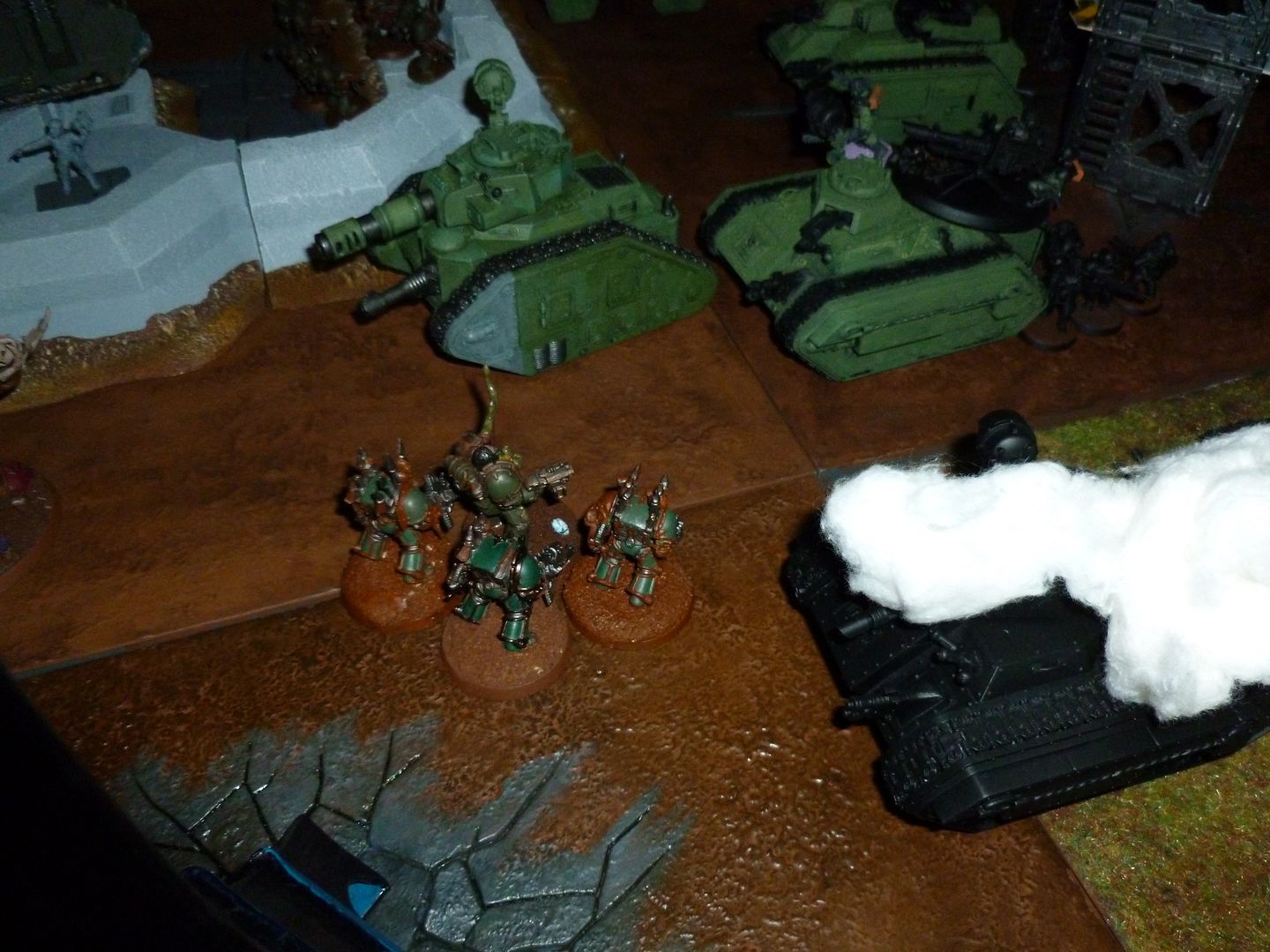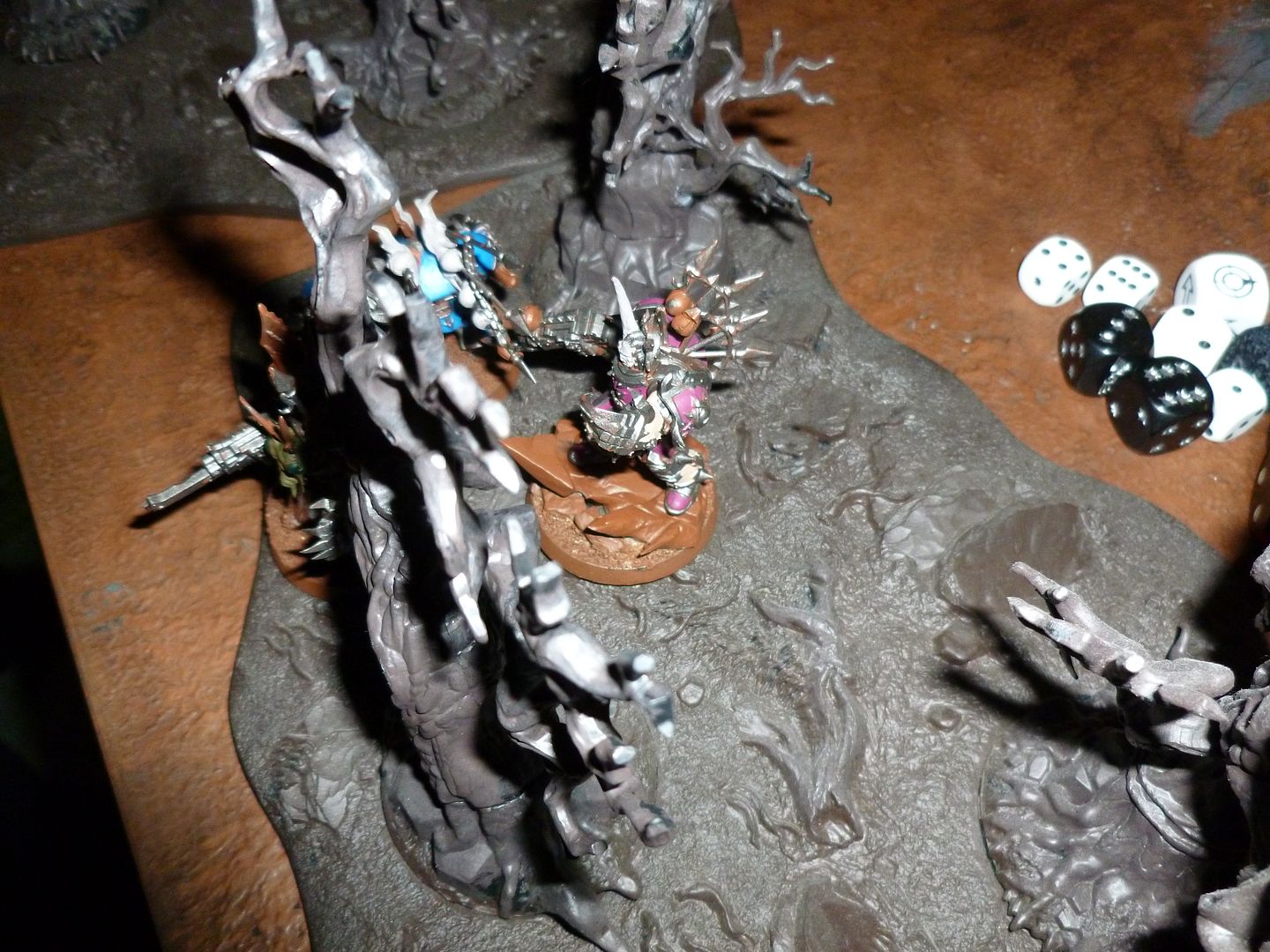 The termies that were in position used their two combi-meltas on the Leman Russ but were only able to take its turret, the Noise Marines took out 4 members of the Lascannon Squad but the Guard held their position due to a warlord trait. The Plague Marines missed both melta shots on the Taurox, forcing them to destroy it in close combat and the Storm Troopers lost two men each to Cultist pistols and CSM boltguns, they both failed their moral checks and fled granting me a VP for psychological warfare. Annoyingly the Daemon Prince failed its 5" charge on the Leman Russ that had lost its turret. To add insult to injury the sabotaged objective the cultists were on exploded again, killing another of them.
Turn 3 started the worst way possible with the Empyric Storms removing all invulnerable saves. Both Storm Trooper squads rallied and the turretless Leman Russ climbed up onto the battlements where it lost a second hull point by immobilising itself (Thinking about that now in July I think losing a hull point was a rule error). The Daemon Prince was subject to a lot of incoming melta and lascannon fire and died, without ever having done anything. The Terminators that were on top of the Imperial lines were all killed, leaving just the Chaos Lord; the Plague Marines were whittled down by more melta shots and Chemin secured another VP for recon.
Chaos were having some serious problems having lost a good chunk of their points on the table, but they were getting up in the Imperial Guard's faces. The CSM squad moved to secure Objective 3 and gain 2 more VP sacrificing their chance to end one of the Storm Trooper units, the Noise Marines finished up the infantry squad they were facing off against and the Plague Marines managed to actually hit with their meltas and explode the incredibly dangerous Devil Dog, Lord Snar, now alone charged one of the other infantry squads, killing the sergeant for a boon of unworthyness, happily for me the squad passed morale locking them in combat.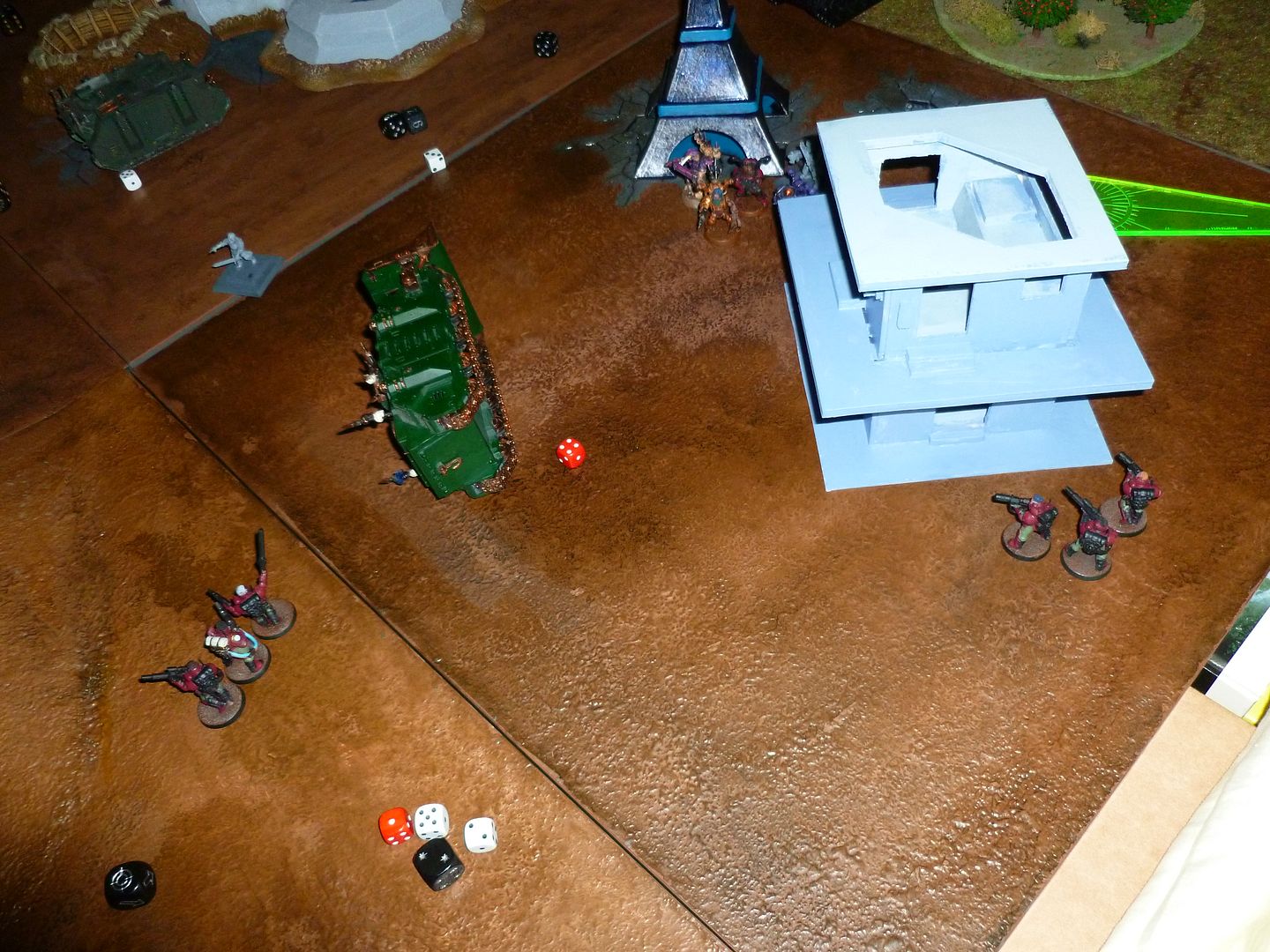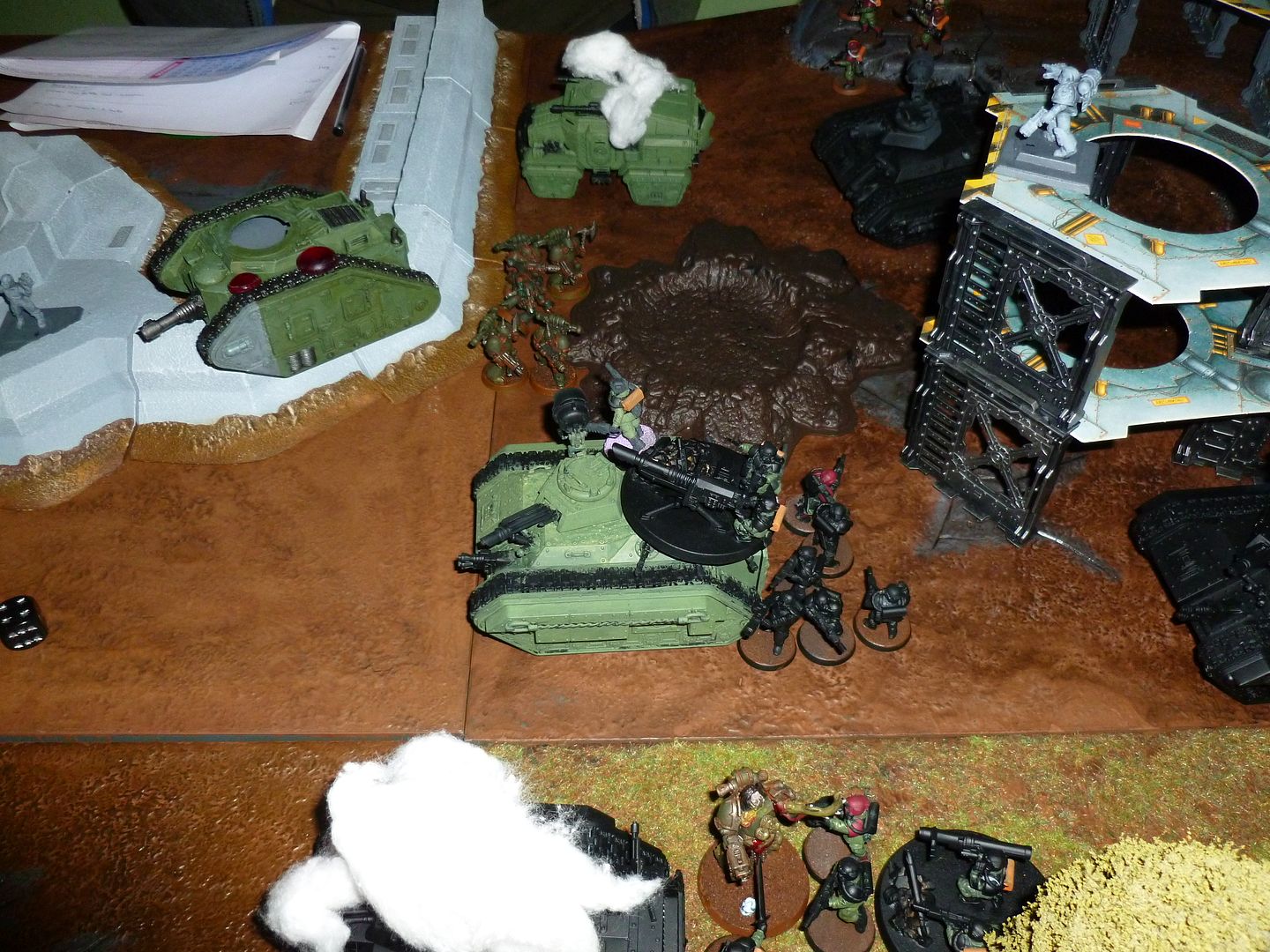 Although the Imperial forces were still in reasonable shape Chemin's Turn 4 was limited to killing a couple of Noise Marines and a few Plague Marines and losing the squad that was facing the Terminator Lord. Chaos' 4th turn was all about holding onto the Pylon that the storm troopers were trying to retake, the isolated terminators were slowly getting back to the fray and the Plague Marine's Rhino had diverted to pick them up.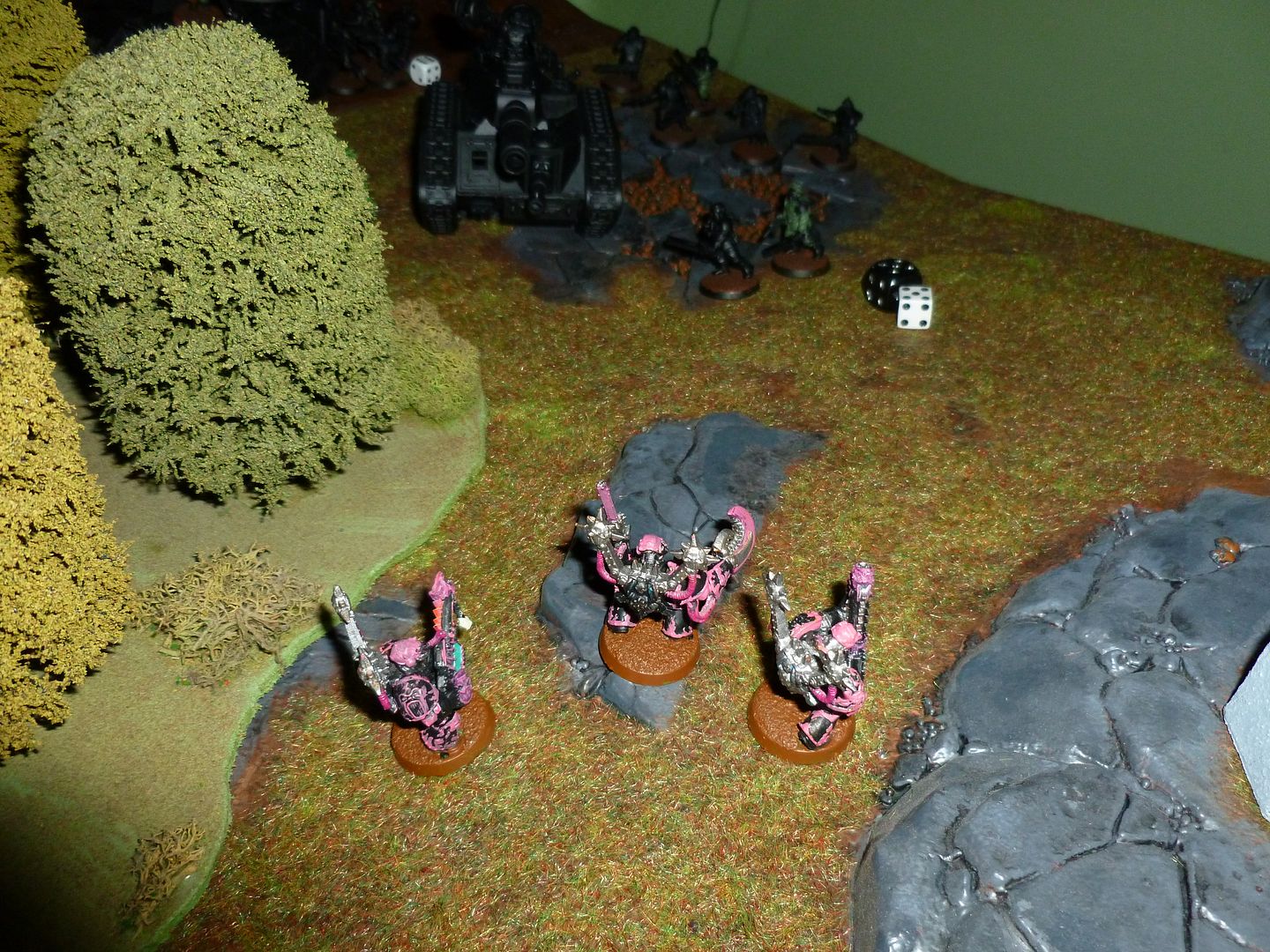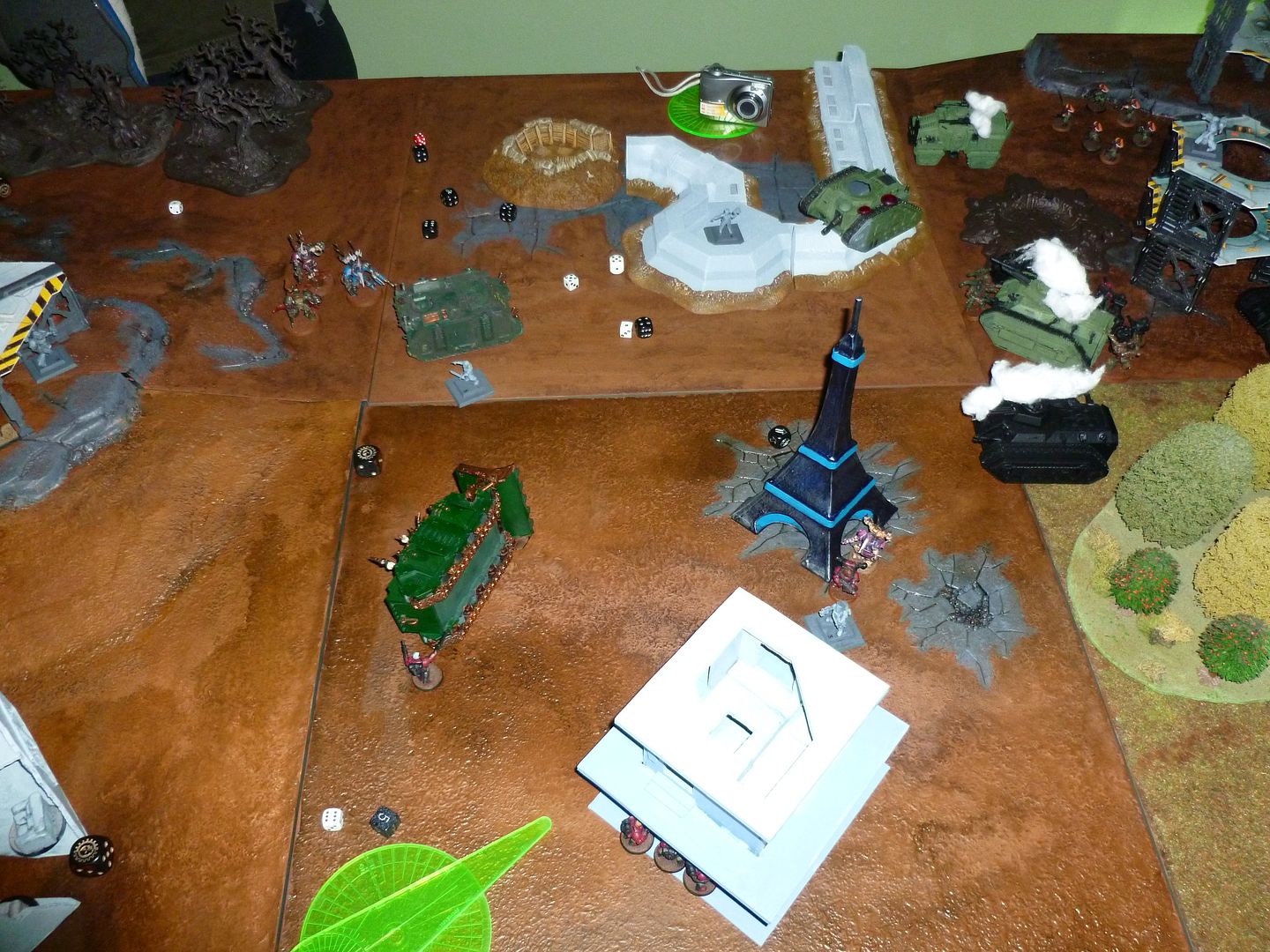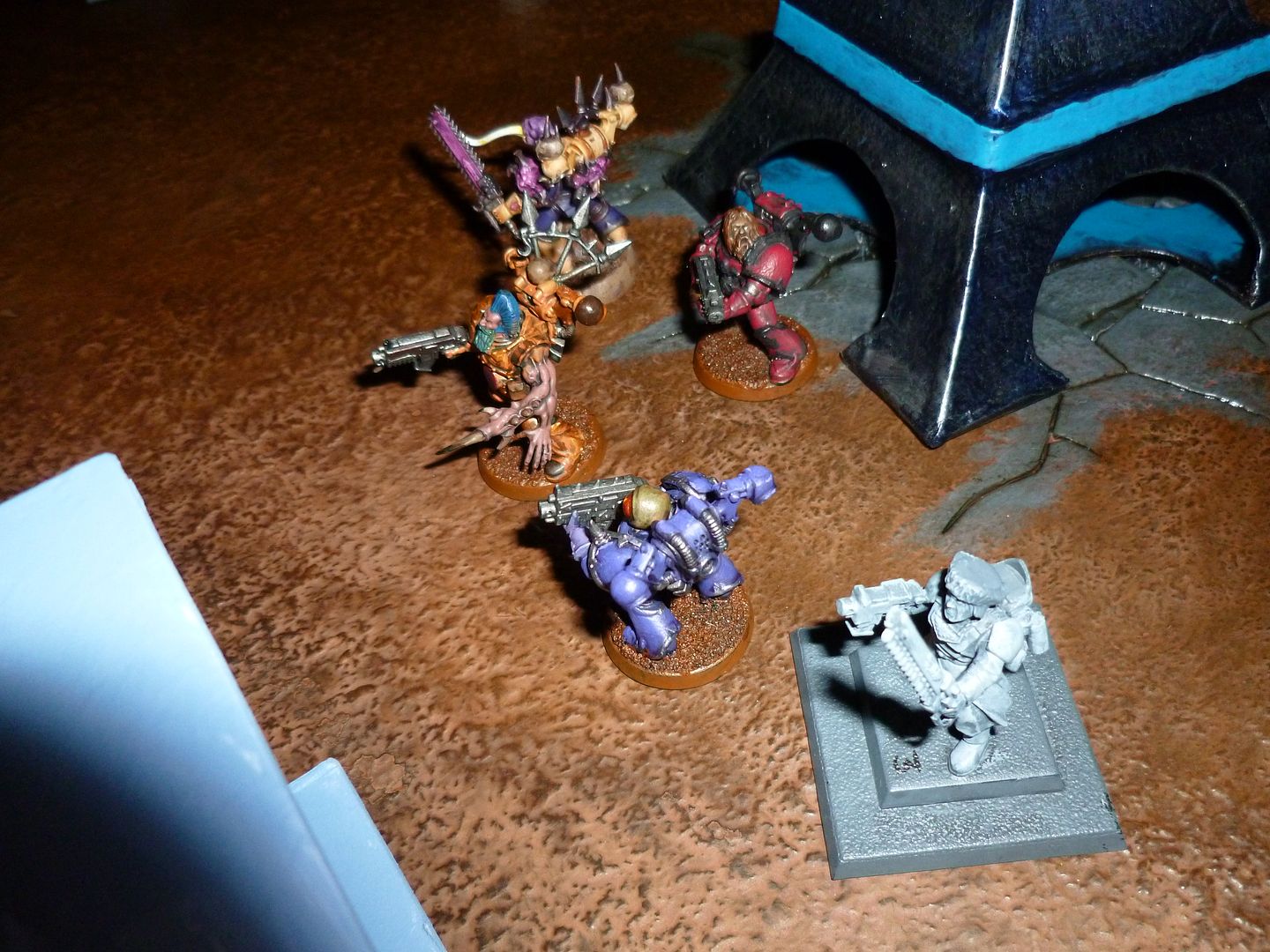 (Hmmm, looks like that was as far as I had got with the batrep back in February so the next bits will be from picture jogged memories)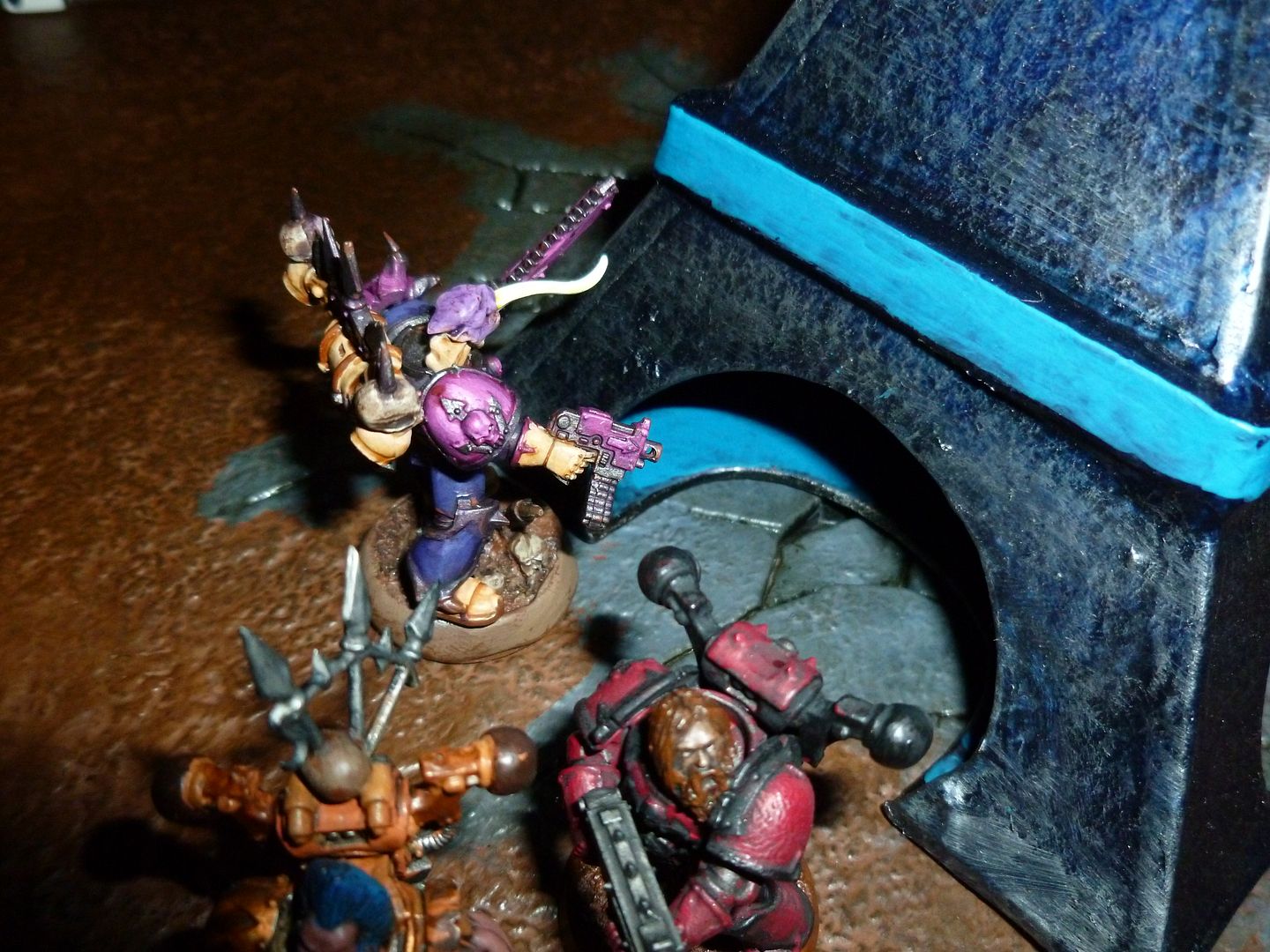 The Renegades were busy licking up the anti-chaos pylon which the Imperials needed to secure for several victory points
In Guard turn 5 Snar forced the squad he had been fighting to break and killed them in a sweeping advance (which was an error because he had terminator armour). The Scions gunned down most of the Renegades but their champion remained alive and licking.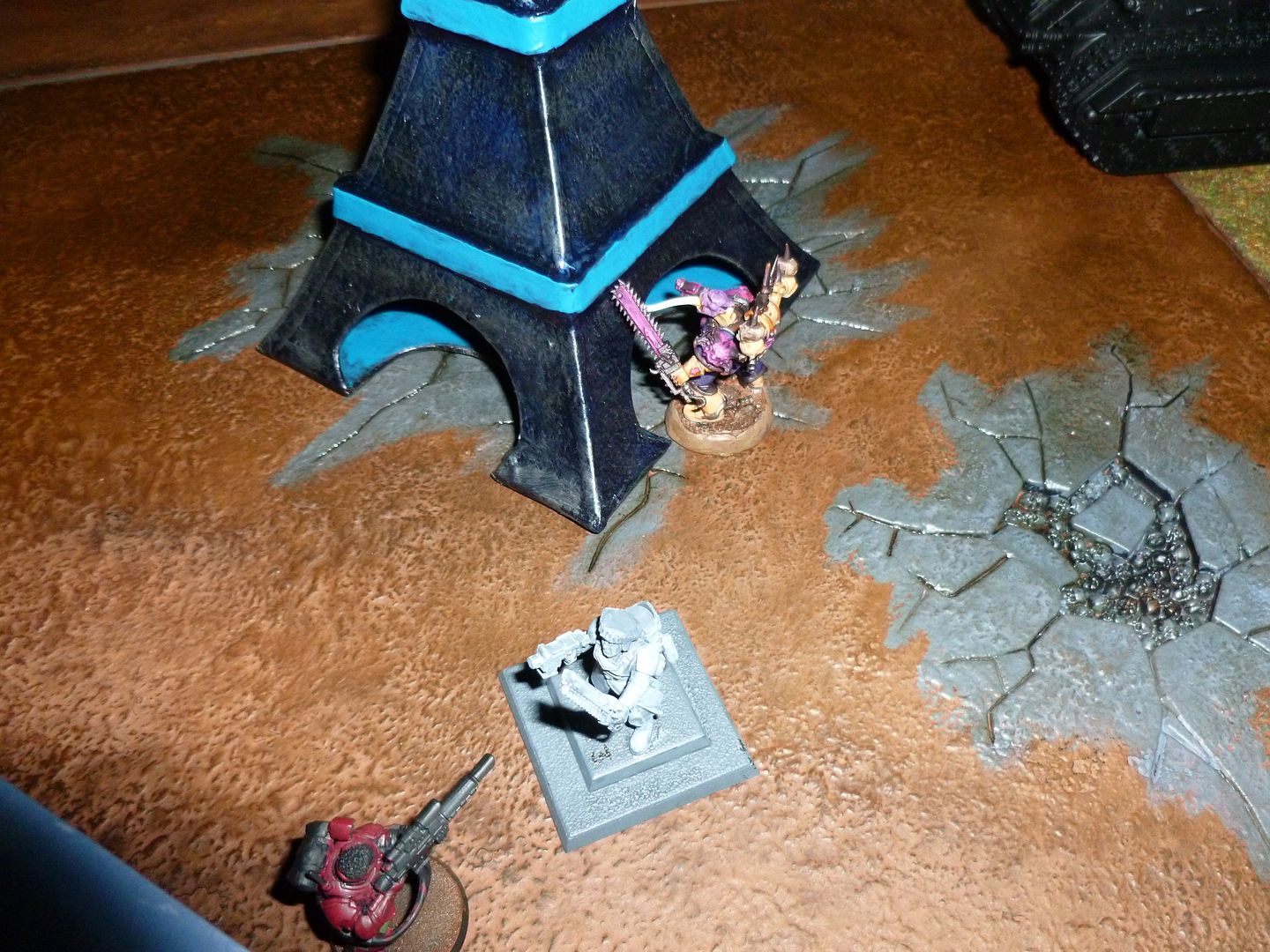 In the Chaos turn the isolated terminators got back into the fight but even with only a rhino backing them up were unable to finish off both Scion units. Snar destroyed a Chimera close combat and the Guard inside fell back to fire on him.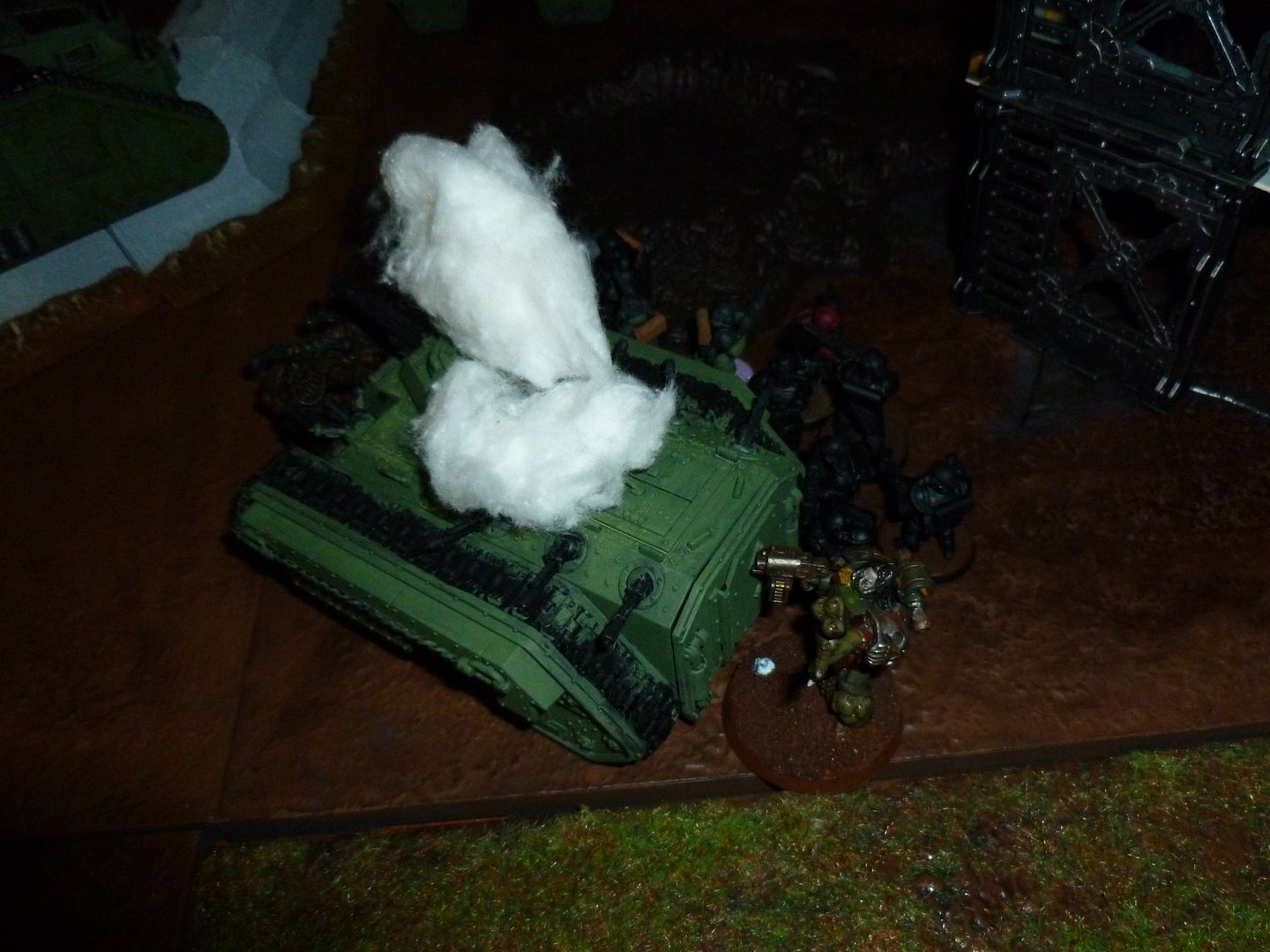 Turn 6 for the Guard saw the destruction of the Rhino to the immobilised Leman Russ (now a lascannon pillbox variant) and the loss of two out of three Terminators to Scion firepower.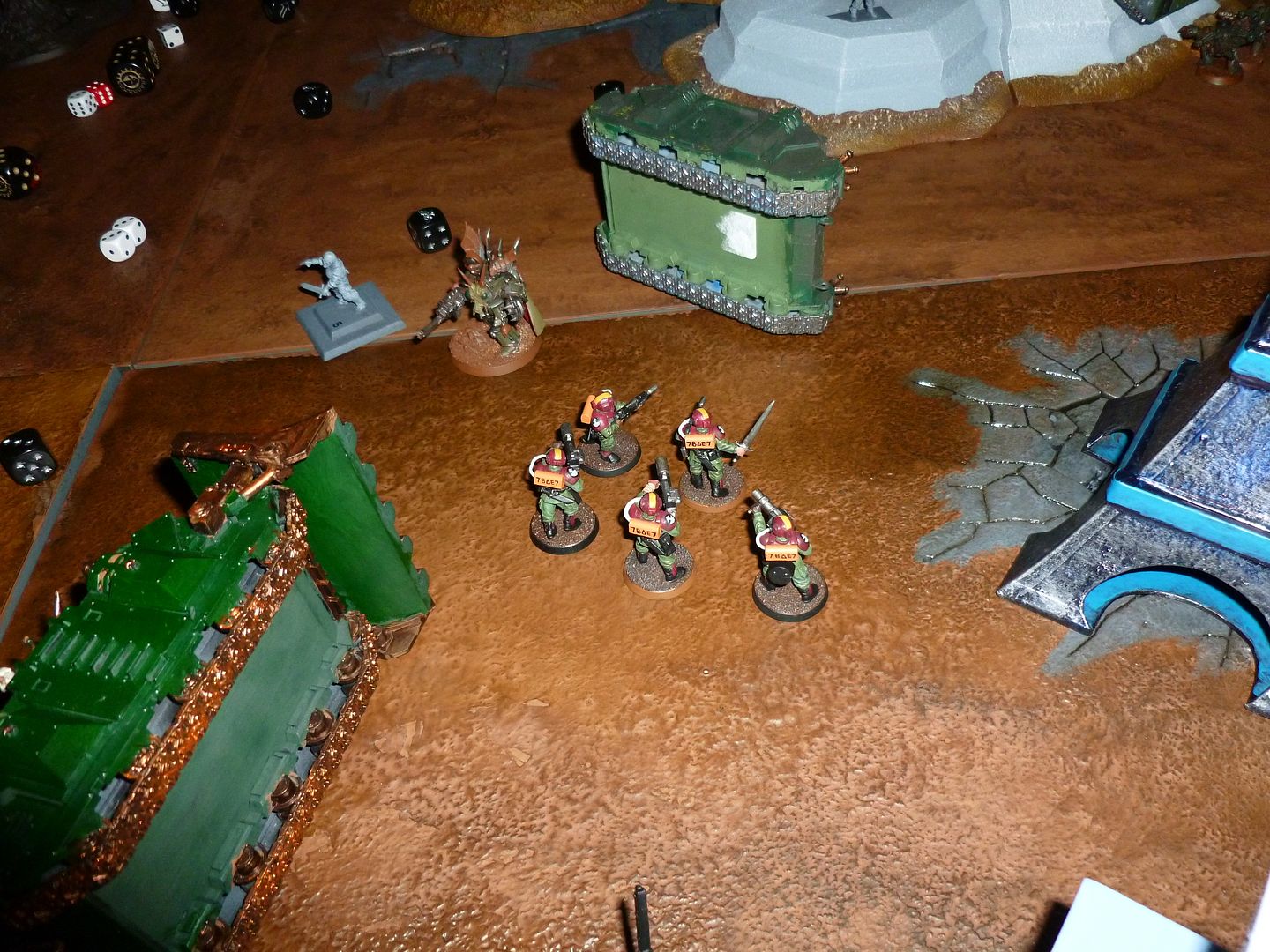 With the Chaos losses mounting they were down to just the Lord, the remaining Terminator and 6 Cultists who were camping on a bomb. Needless to say there were still plenty of Guard left, maybe 50 of them, and a LRBT.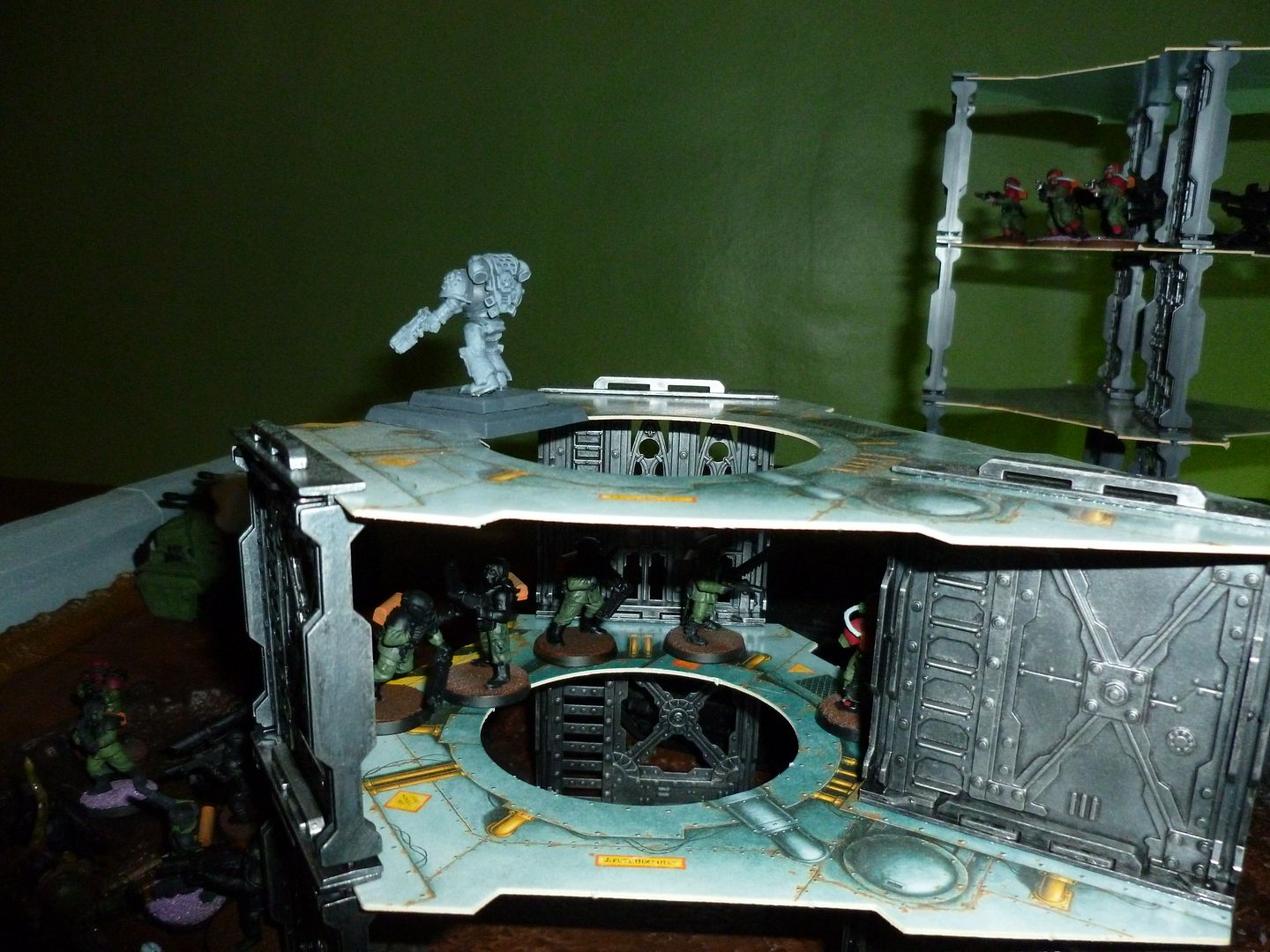 Chaos turn 6 saw the remaining Terminator kill a couple of Scions with his storm bolter, they passed leadership so I charged reasoning it was better to get meltagun overwatch then sit around for a regular turns worth, both meltas failed but a hotshot round punched down the last Terminator before he could reach the squad.
With only two wounds left Snar went after the guard squad in the Devildog crater he and the sergeant exchanged a wound killing the Sergeant and leaving Snar with one left; rolling for boons he devolved into a Spawn, which was allowed a legit sweeping advance when when they broke, hunting them down to the last. This was fairly bad news for Chemin, he was very behind on points and needed to slay the warlord for an objective and a secondary, as a terminator Lord Snar had been down to his last wound, now as a Spawn he was back to full health.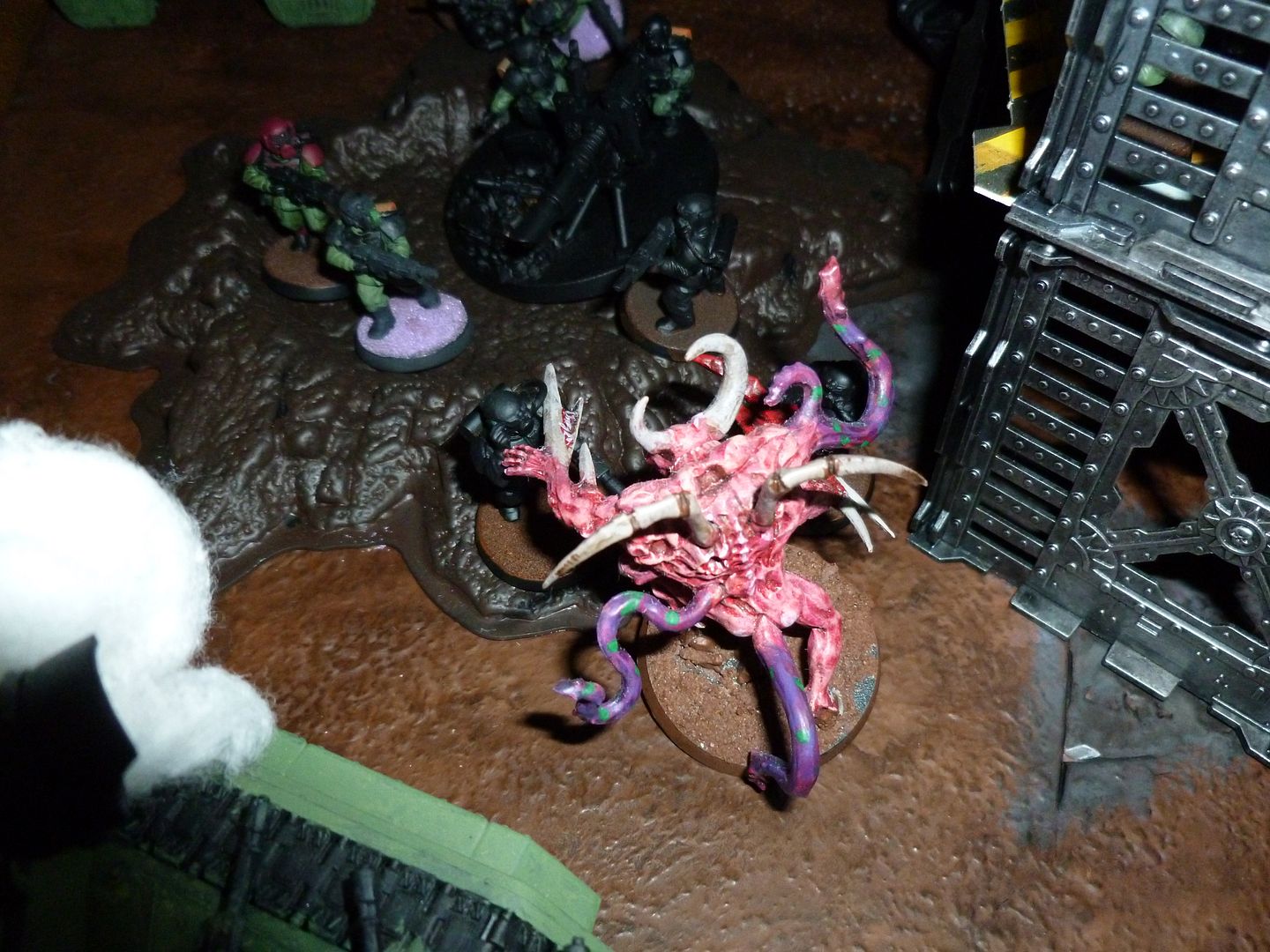 Managing to escape retribution in the final guard turn, the care bear chaos spawn used its beast move to get into combat with another squad of guard and lived through the phase, the remaining cultists banged their weapons on the bomb case in joy but survived the experience and the game ended with my army only just having avoided being tabled and comfortably ahead on Maelstrom victory points. I swear for every bit of bad luck I had had in that game I'd received karmic balance for VP cards.
As the dust settled the Guard forces had driven off and broken the Chaos raiders with relatively minor losses, however the pylon their fortification had been constructed around had lost some of its presence somehow, it seemed lessened. For weeks later the common soldiers would report that there were strange sensations while patrolling that part of the base. Hardly important thought the guard commander, his report would be concerned with victory over the great enemy, not trivial and unsubstantiated rumours about irrelevant archeotech.