Post by Deleted on Jun 22, 2009 14:58:13 GMT -5
Well, fellow Necron players, 5th Edition has been out for a year or so, and we've been hiding in our tomb complexes for far too long.
One name has been keeping us in the dark, huddling in our safe underground lairs.
Orks.
Hordes of greenskins marching across the table to smash into our Necrons, whittling us down until we phase out.
Ork Mech armies and Bike Armies have the disadvantage of numbers. The Orks give up their one big advantage for a lot of flash and dakka. We can work around and even beat these lists.
But the one Ork list that has become the bane of our undead minions is the Ork Horde list- basic Slugga/Shoota squads backed up with some elites and maybe a Trukk or two. We just can't put out enough Gauss to take them all down.
However, my little mind has been whirring and I believe I've come up with a list/philosophy that can break apart the Ork horde.
Let's look at the list, first of all. I'll be bolding the units that are integral to the plan.
HQ-
Necron Lord w/ Res. Orb, Phylactery
Necron Lord w/ Veil of Darkness
Troops-

20 Warriors
15 Warriors
15 Warriors
Elites-
9 Immortals
Fast Attack-
3 Destroyers
9 Scarab bases
9 Scarab bases
Heavy Support-
3 Tomb Spyders
You'll be placing the Res/Phylac Lord with the Immortals and the VoD Lord with the 20-count Necron Squad.
THE KUNNING PLAN:
This is where we get to the main philosophy of our list- Stall the Horde. Everything in this list is meant to keep the horde from reaching your precious warriors. The Ork Horde player will be trying his damndest to reach your gunline, get into CC, and wear you down.
Here's how you don't let that happen-
The Tactica Imperium states that when you are outnumbers, you should concentrate your forces so as to make the enemy fight only your best troops. Using this philosophy, set up the battlefield thusly (this won't work for that 1 mission with table quarters, but it will with the the other two set-ups)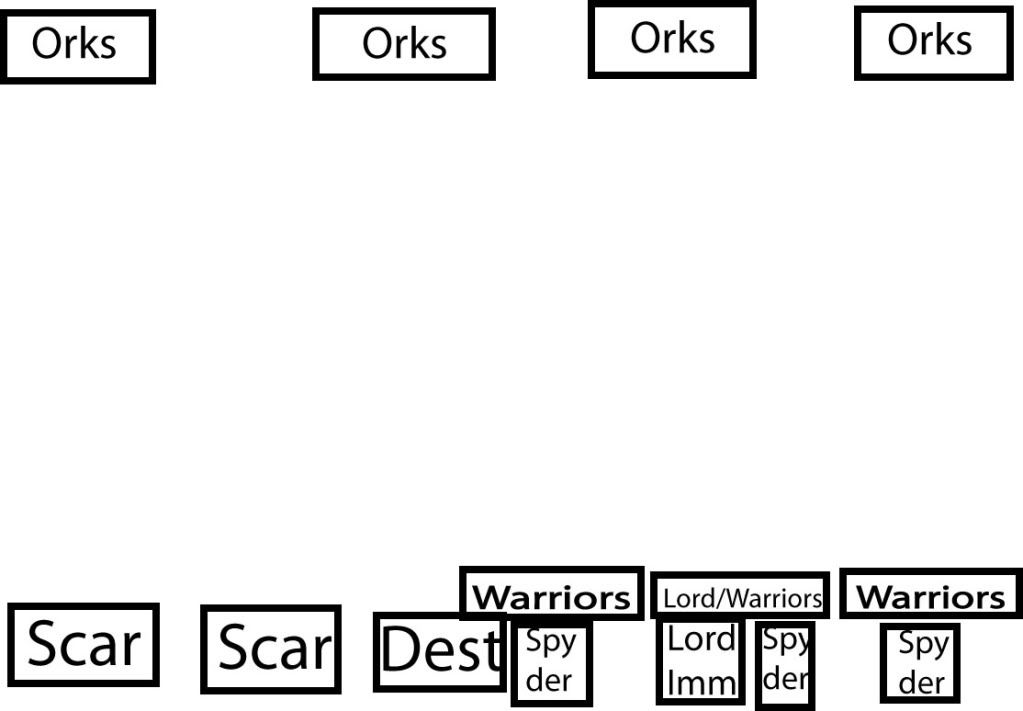 You can reverse it if you feel it needs to be, but the premise remains the same. All your shooty Phase-out bits are concentrated in one place. The Ork player will most likely do this on turn 1.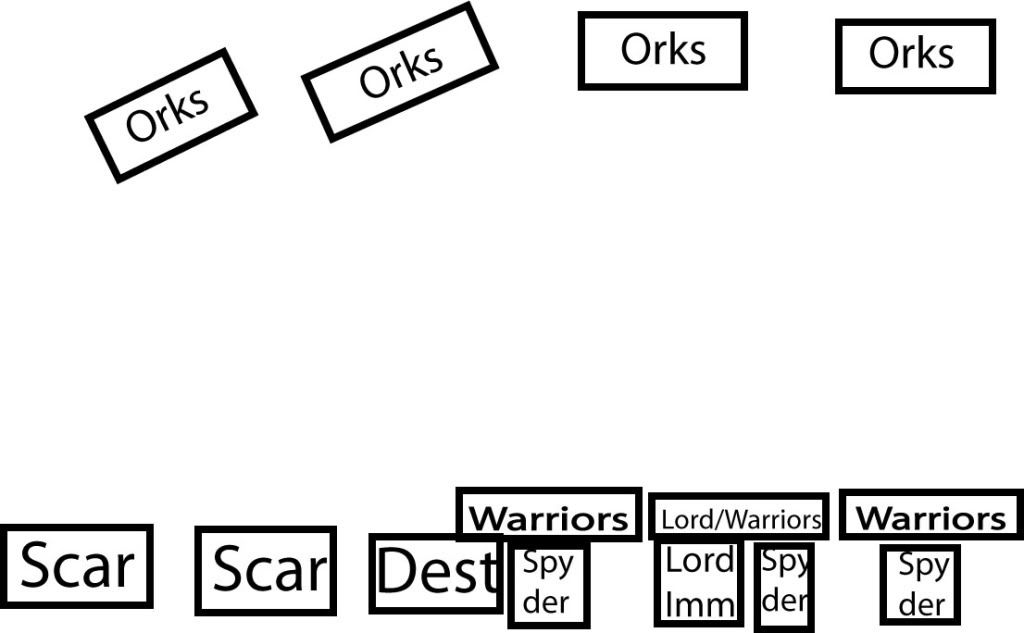 He'll wheel around to try to get all of your shooty bits, ignoring your Scarabs. Your Destroyers are mid-field so they can zip out and pop Trukks that try to fly forward of the main force. When the Orks get too close for comfort, you do this:
BAM, LOOKIT THAT BACON SIZZLE! Move your Scarabs 12 inches and assault another 6, one for each Ork horde. Then pop your 20 Warriors and VoD Lord behind the remaining Ork hordes, giving the Ork player an interesting decision- does he continue forward? Or does he turn back? Or does he divide his forces?
Note- All images are NOT to scale and are using approximations of battlefield conditions. They are meant for demonstration ONLY.
This is assuming MUCH, such as the Ork player wheeling to assault your massed shooty units, your excellent DS rolling, and him having 4 large hordes.
But the premise remains the same. Using this list and the tactics described above, you can hold up almost half of his attacking force, leaving you to concentrate fire on the remaining half. Your Scarabs get 4 attacks on the charge, so that's 36 attacks. They'll kill something, and with 3 wounds, they might hold out a turn or two.
Good luck to all of you!