Post by treadiculous on Feb 20, 2019 14:34:06 GMT -5
Hiya,
another year, another RTS style game. (well, I missed last year).
This time we reached turn 9!
Much of the game was the same as before - if you can't remembner the set up is described here I think:
commissar.proboards.com/thread/19015/apoc-2017-micro-awesome-pics
The premise was simple, a 12 by 4 foot table, equally spaced resource points, tech tree's for units and a bottleneck in the scenery.
I played as Orks this time, this was a last minute decision as players wanted to swap things about and I was easygoing, however, I had made some tweaks to the dakkajet prior to this which gave it AV11 (yes, we played 7th ed), other than that everything was the same.
We were house ruling that vehicles that exploded or lost all their hit points would have a smoke marker placed on them for one turn.
The game progressed in a similar way as before, the orks speeding out to claim resources early on while the imperium rolled heavy armoured transports toward the oncoming greenskins.
Contact was made at the centre point, deffkoptas shooting chimera, chimera and sentinels shooting back.
Behind the deffkoptas and warbuggies was a heavily mechanised force of looted wagons, battle wagons, killa kans and dreads, all of which were too slow to have any influence over the game.
The imperial forces focussed on getting basilisks and vakyrie, the valkyrie had been devastating in the previous rendition of this scenario, however, this time round there were no ork infantry mods, all the orks were hiding in the battlewagons and there was a lot of anti-air flakk-trakks rolling around that kept them suppressed.
The 2 dakkajets drew a lot of fire from the imperium, and one proceeded to get nice shots at side armour on a couple of chimera and a basilisk, plus a sentinel i believe. the sheer volume of fire it took the imperials to take down the first one due o their lack of anti-air firepower was significantly reducing the effect they were having on slowing the ork forces crashing through on land, that said, a lot of the shooting was coming from units that literally had nothing else to shoot at as they were babysitting a resource point.
The ork BikeBoss was enjoying tearing through tanks and infantry alike, he took some damge from melta shots before getting stuck into a fight whcih took a few turns before the Boss emerged victorious.
I must add that all the ork achievements were by the other ork player, I was building up the force in the back ground and suffering the worst dice rolls, in total all game I killed one guardsman.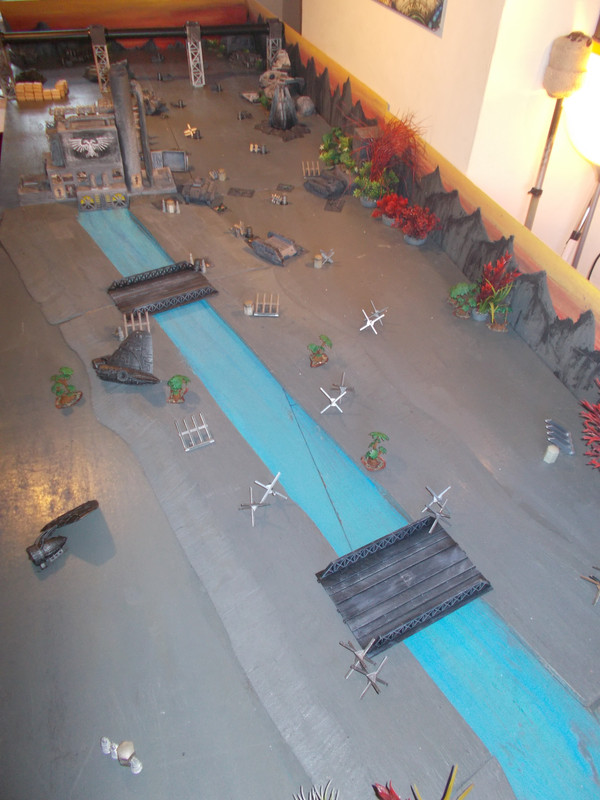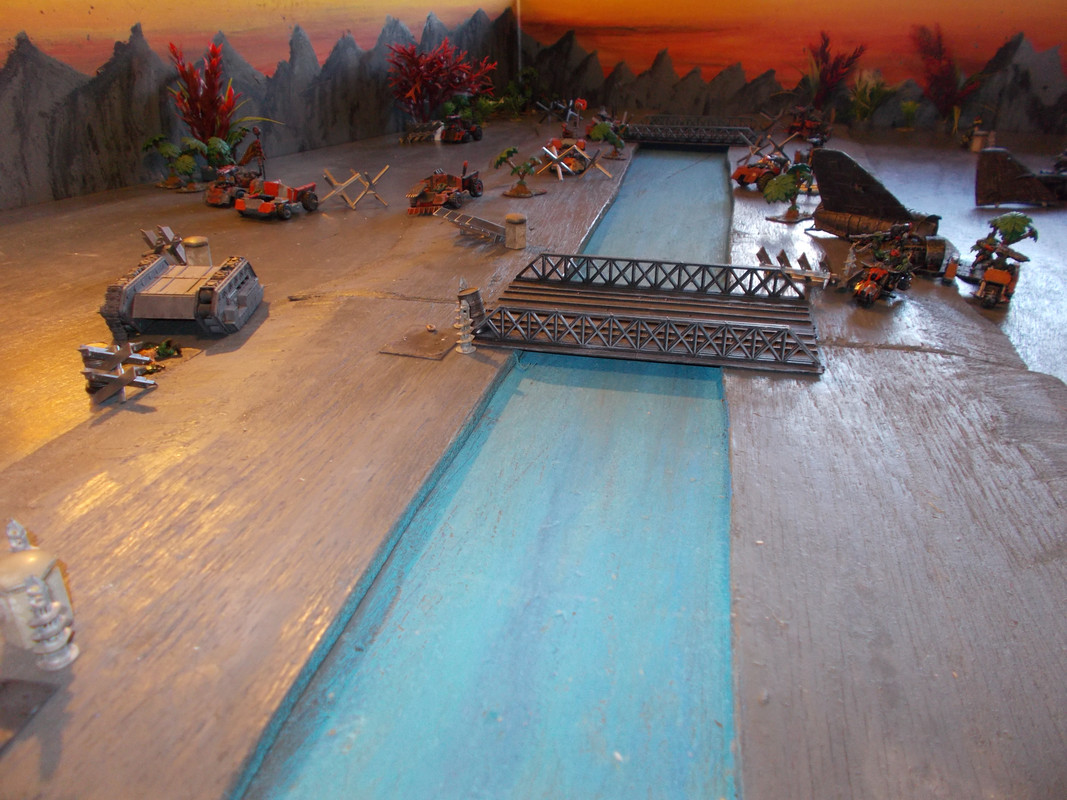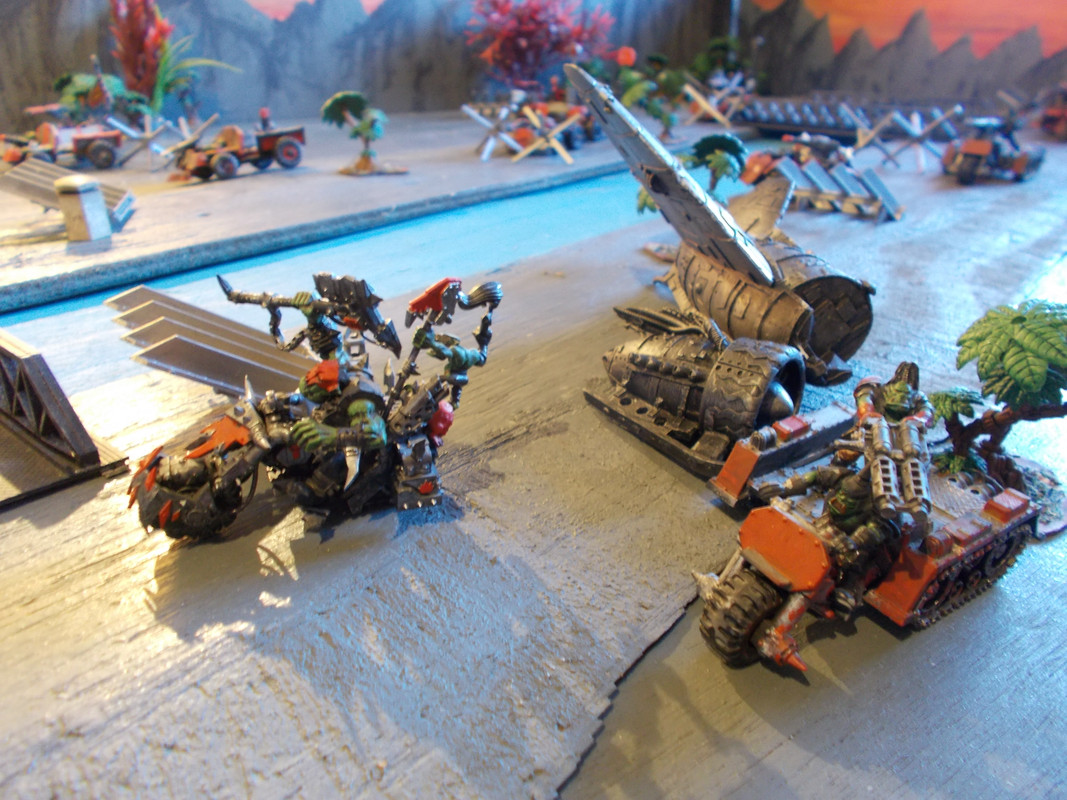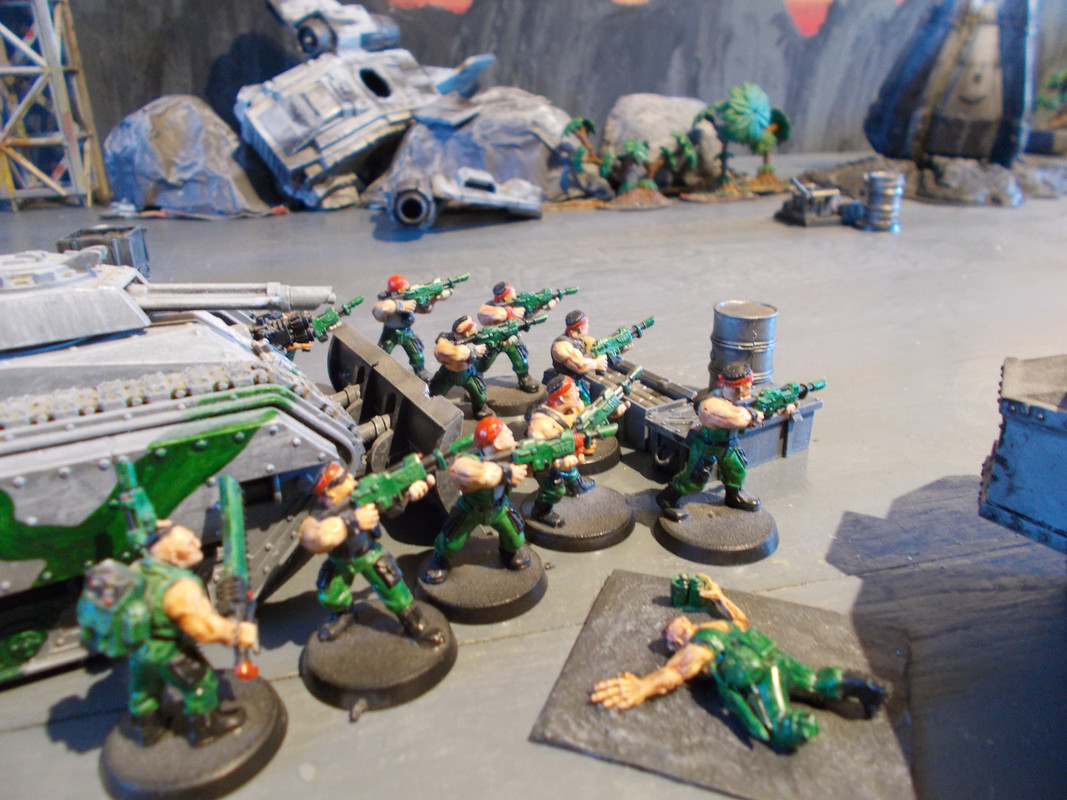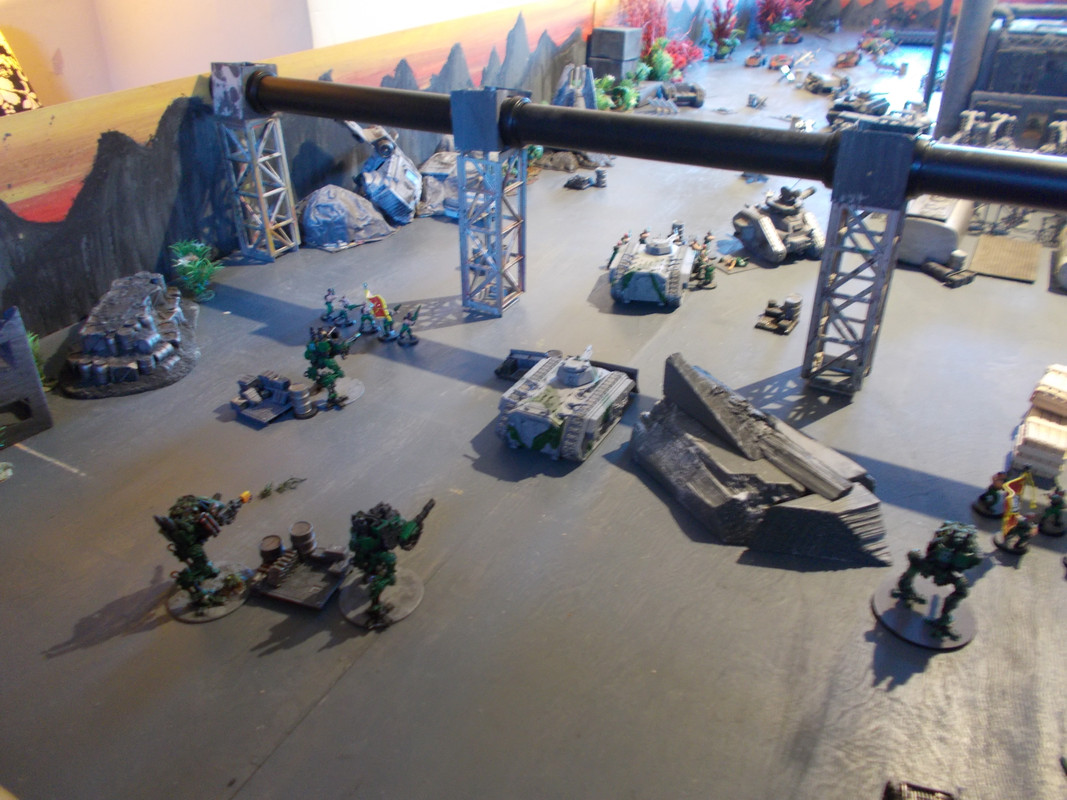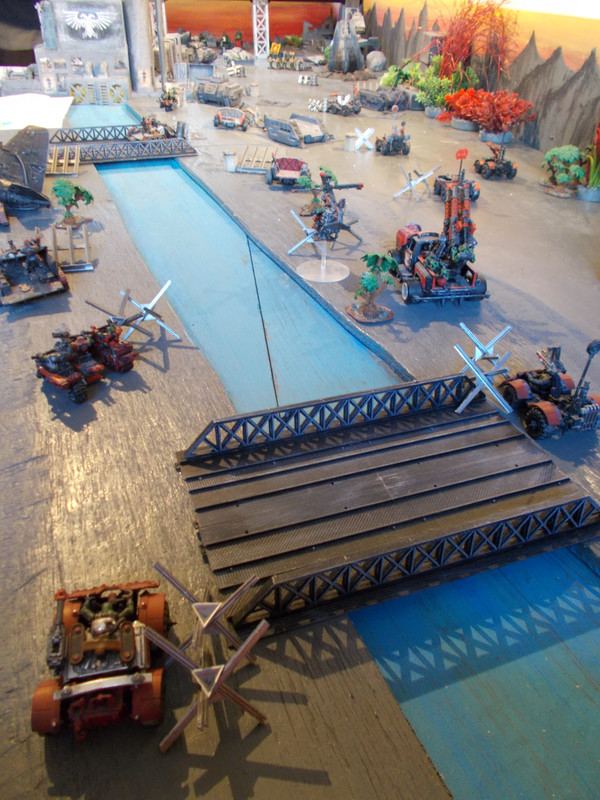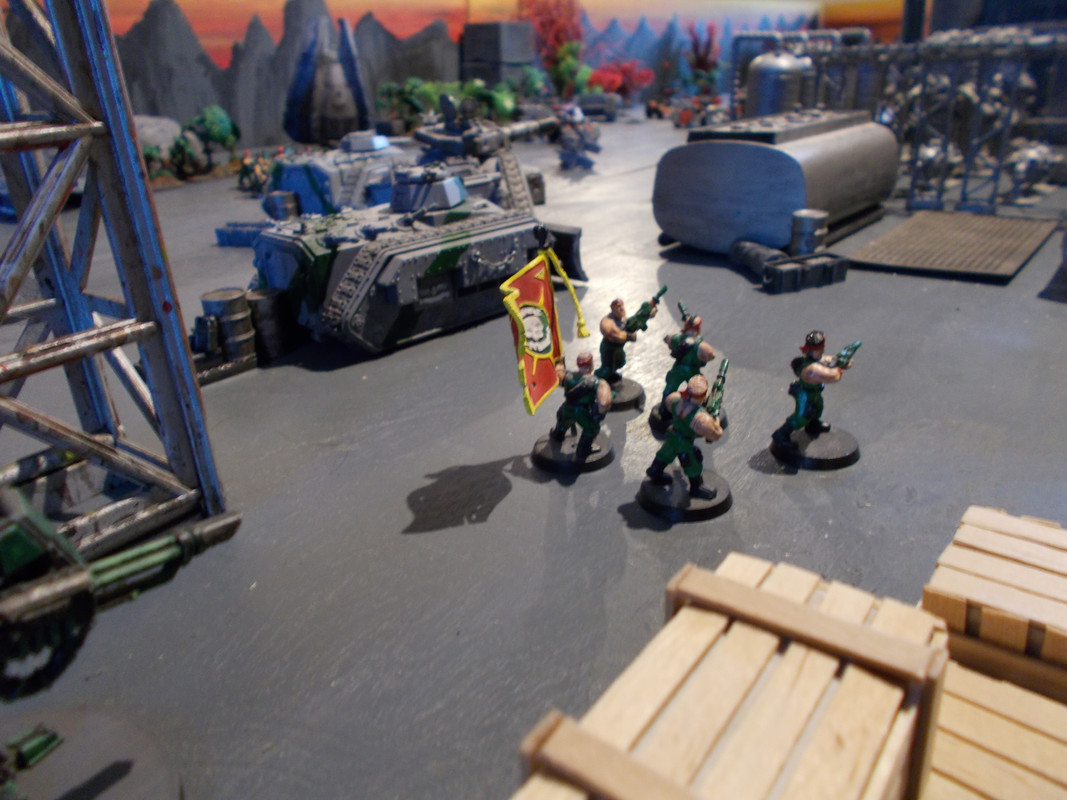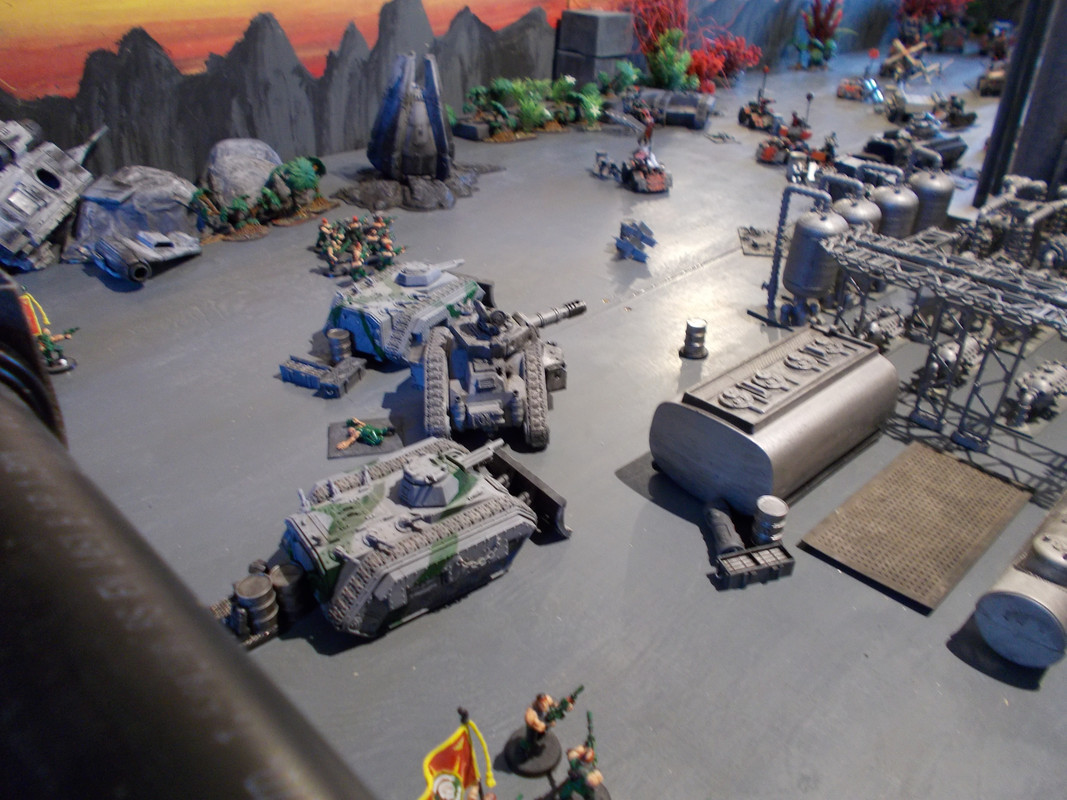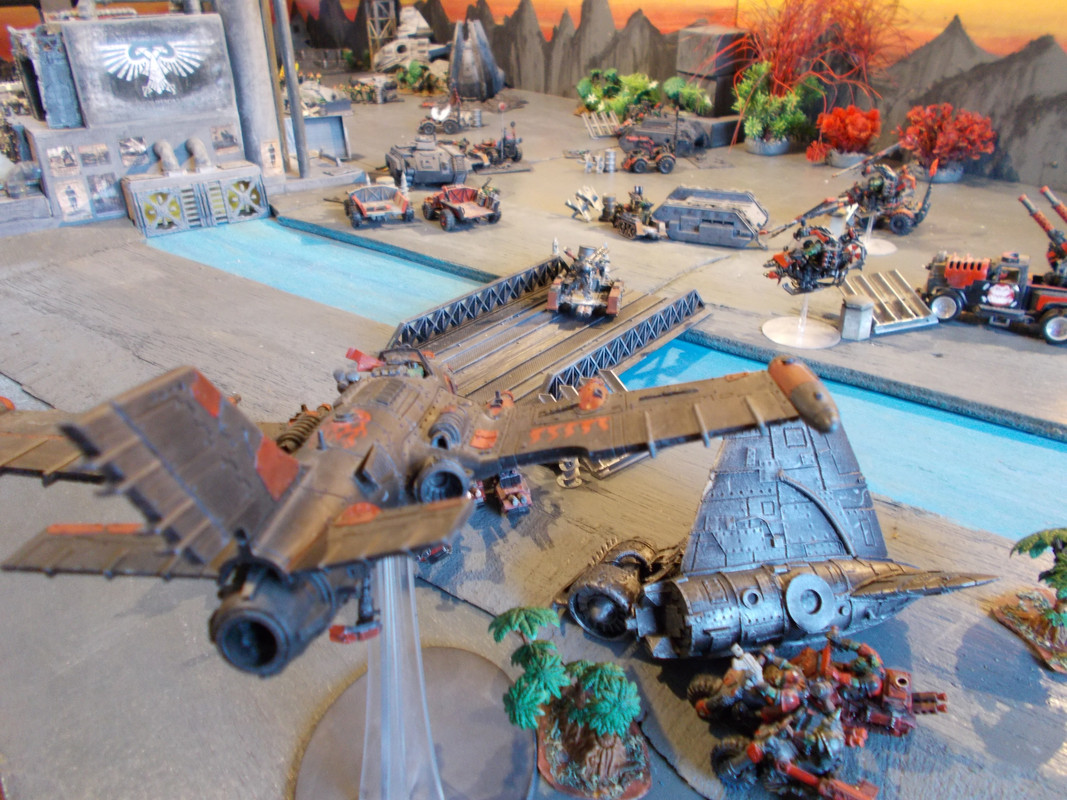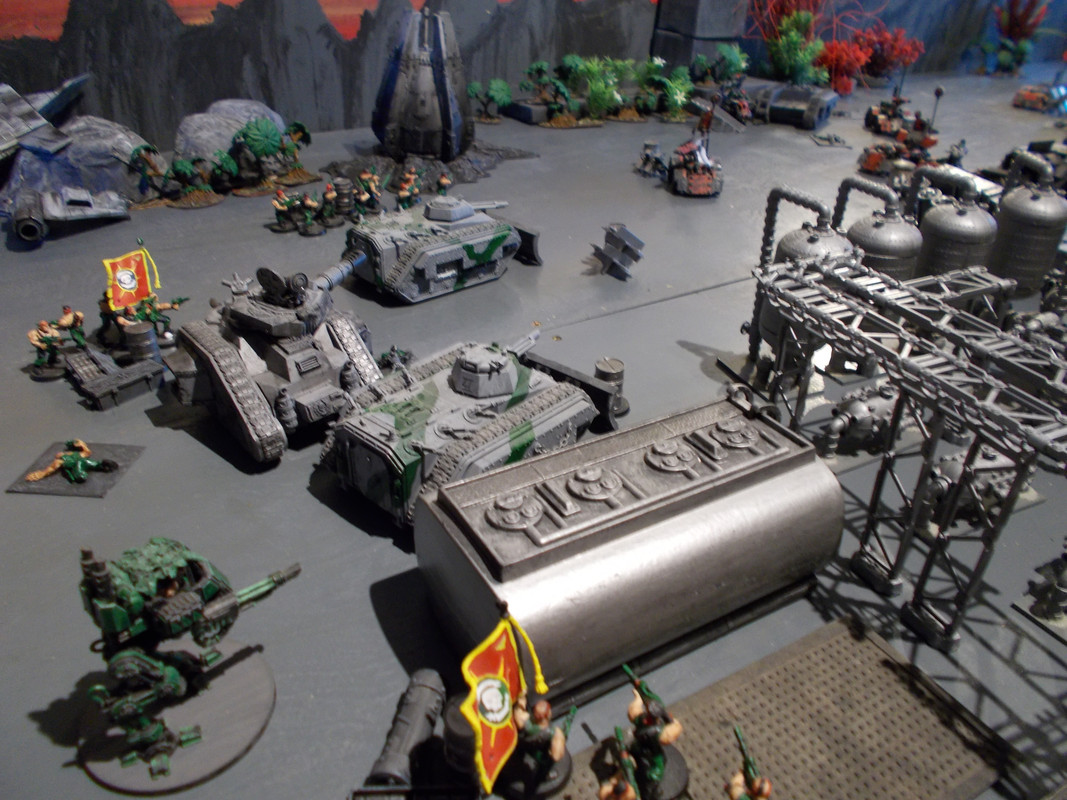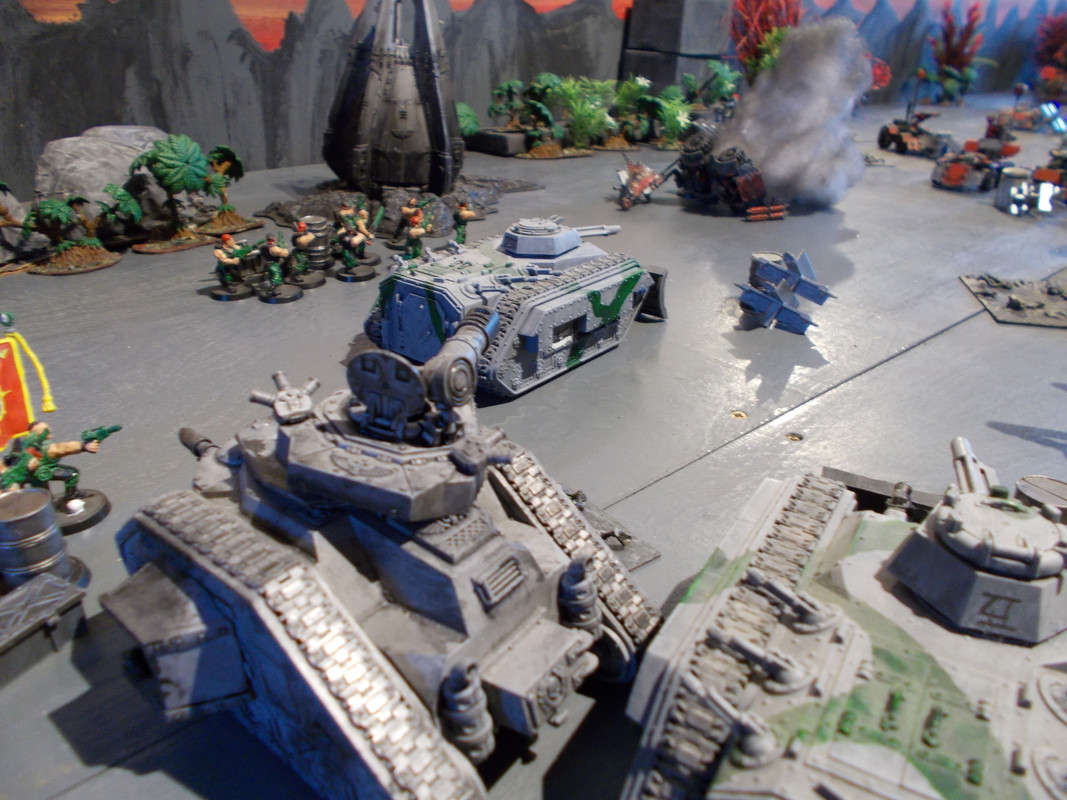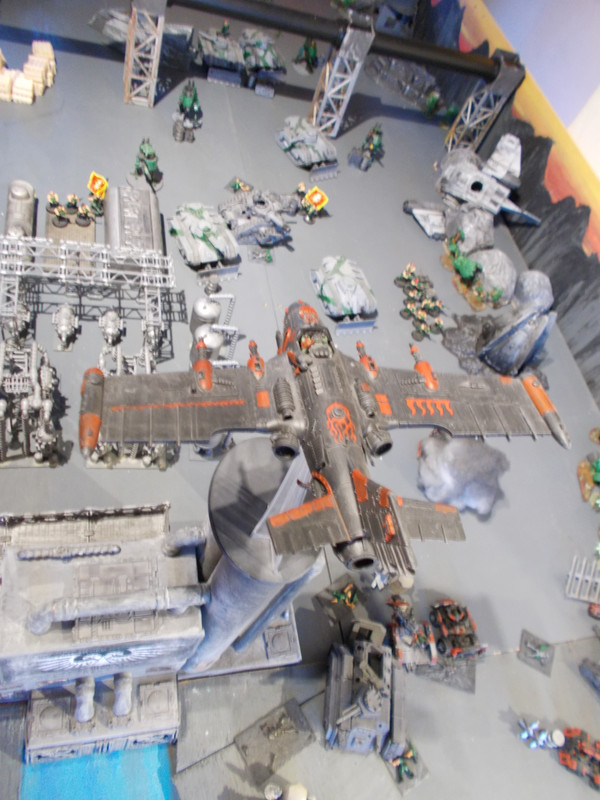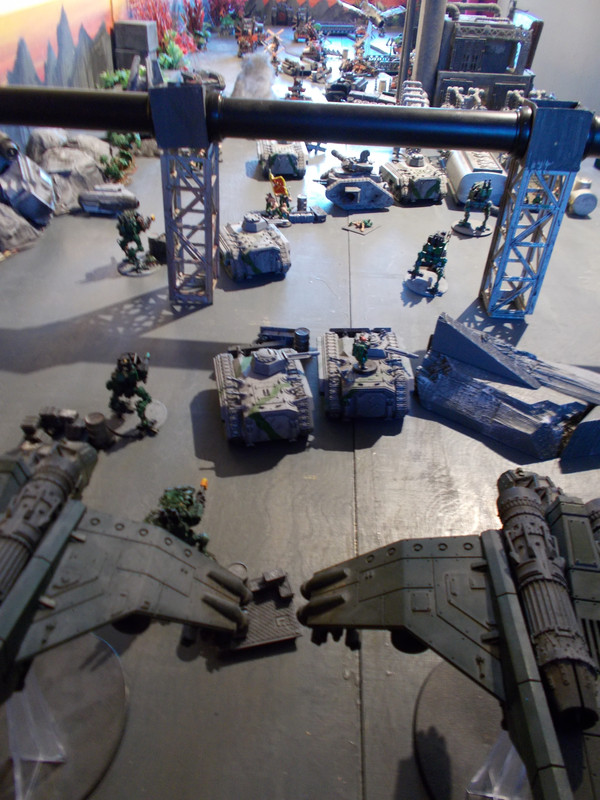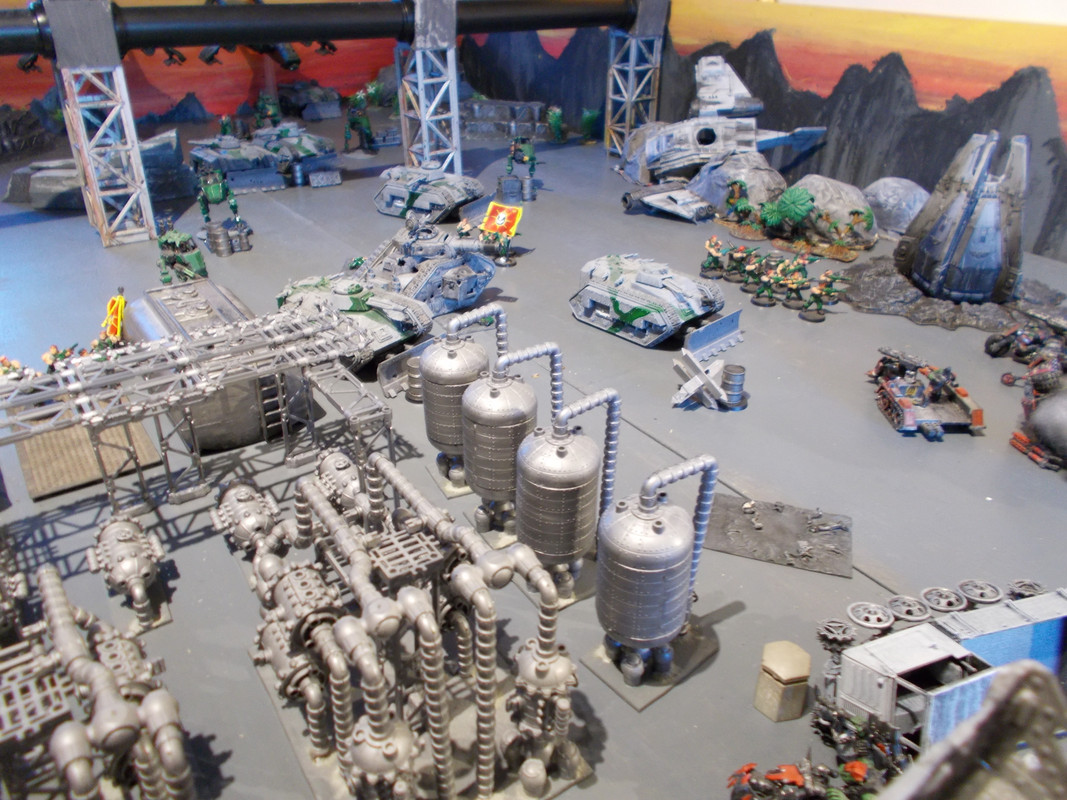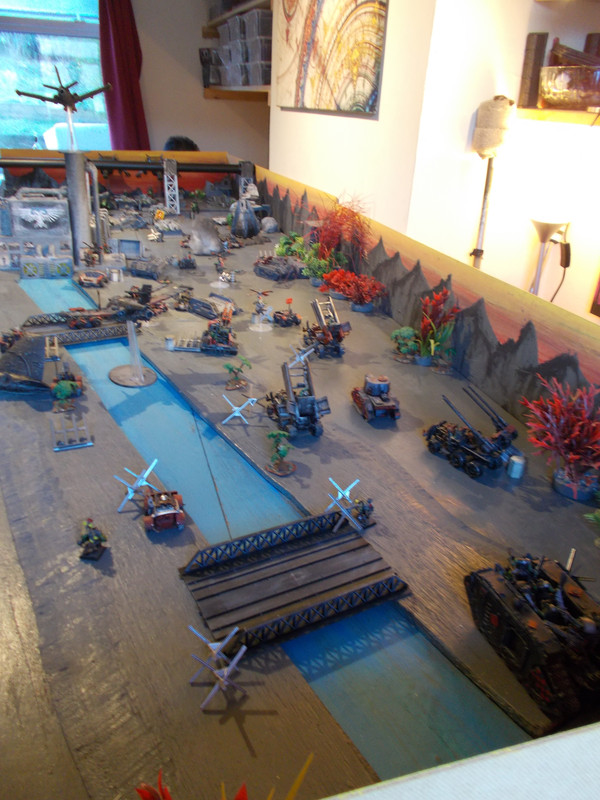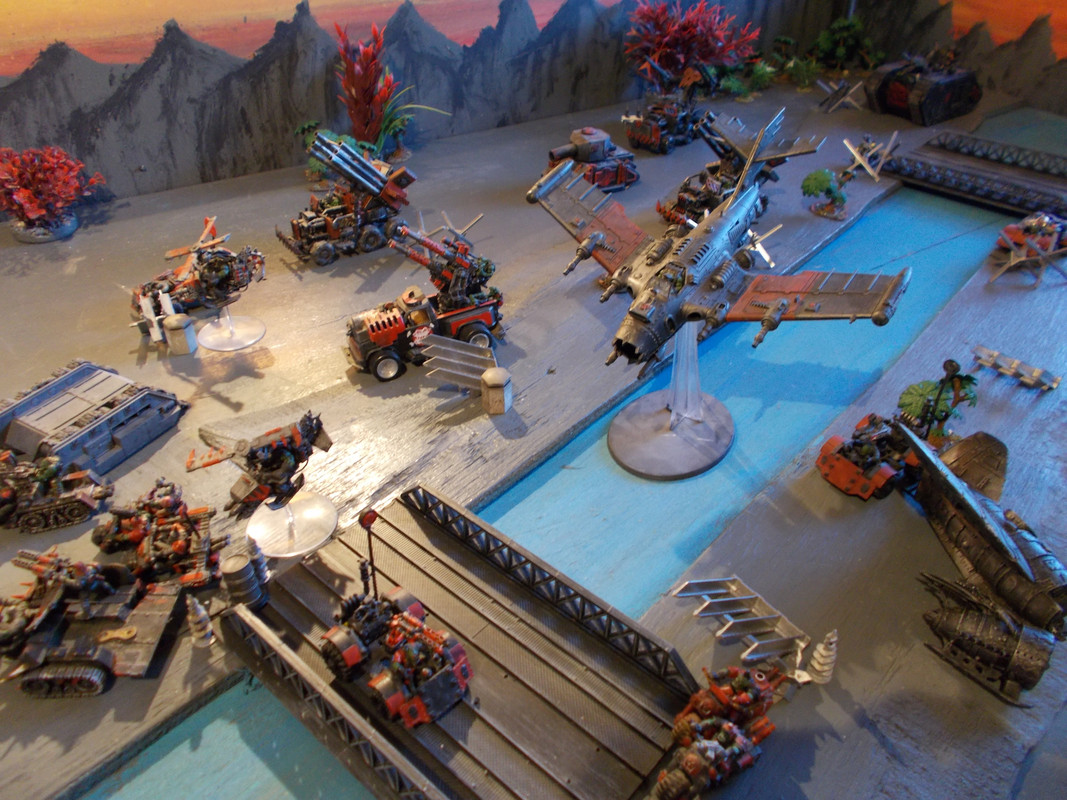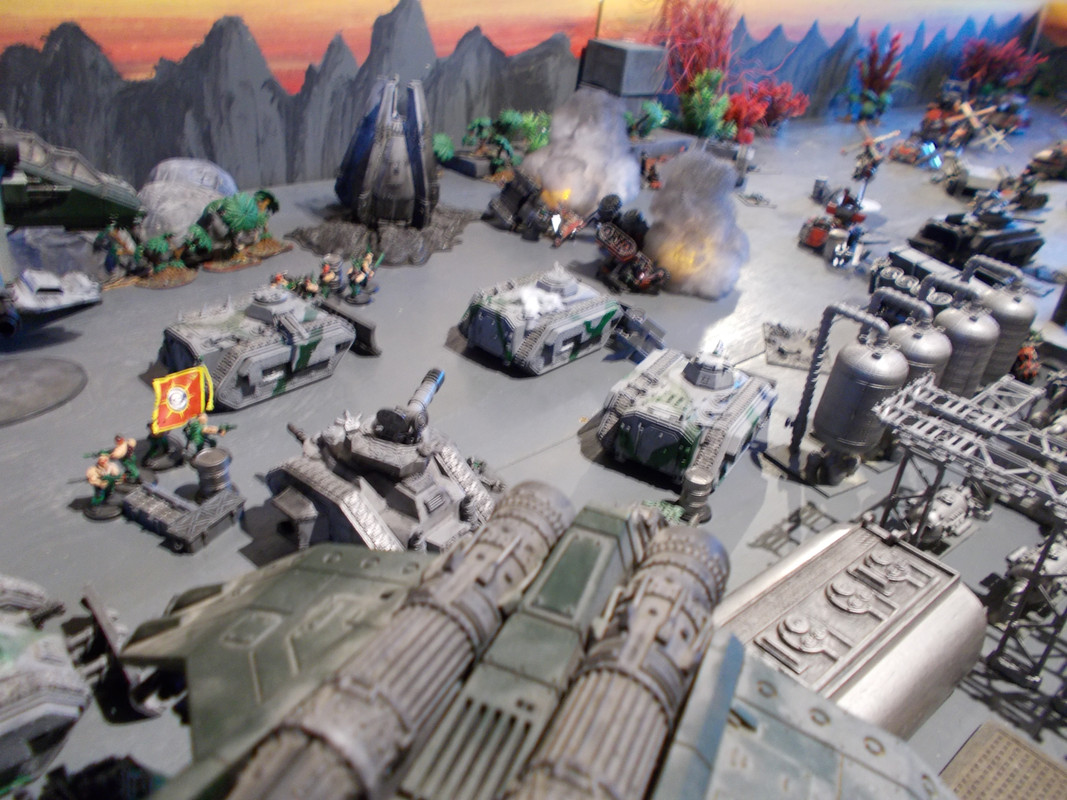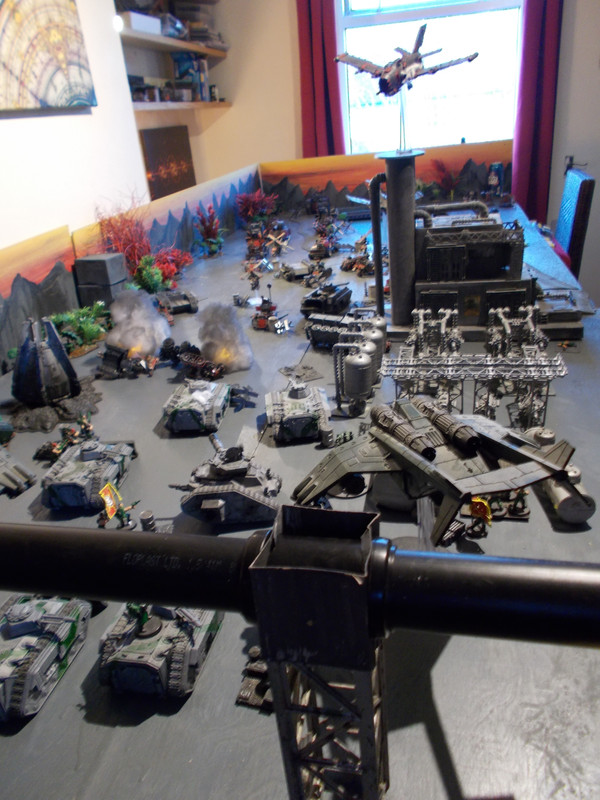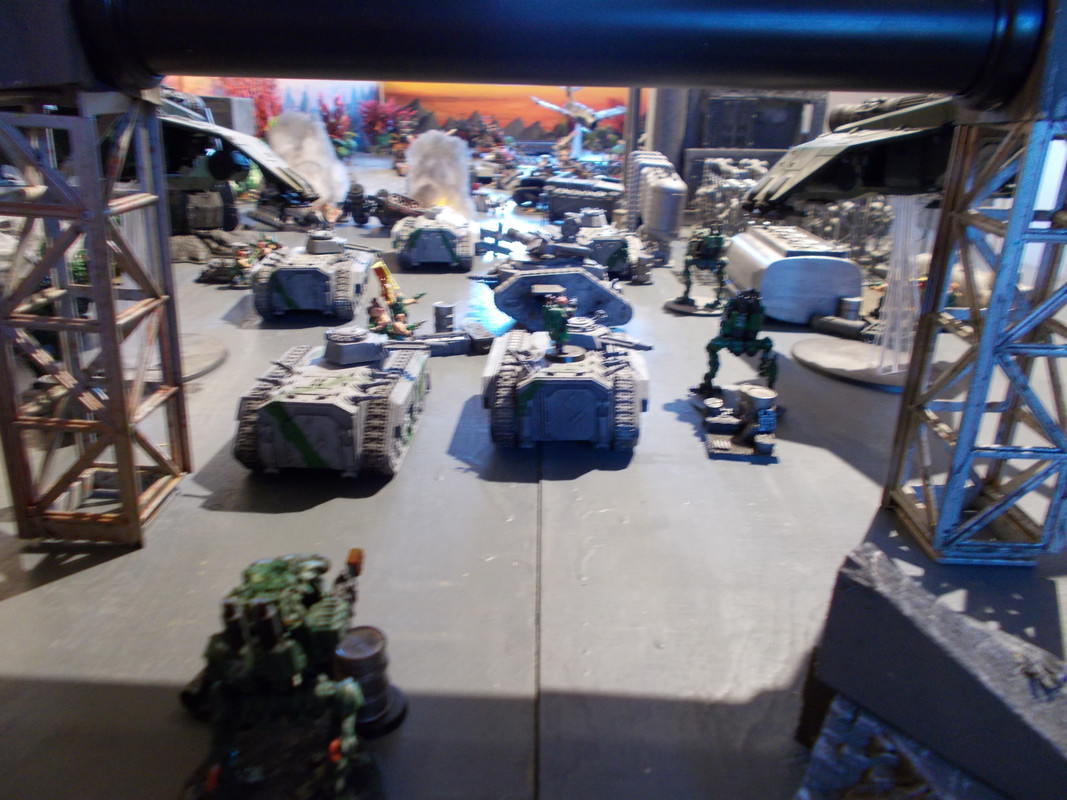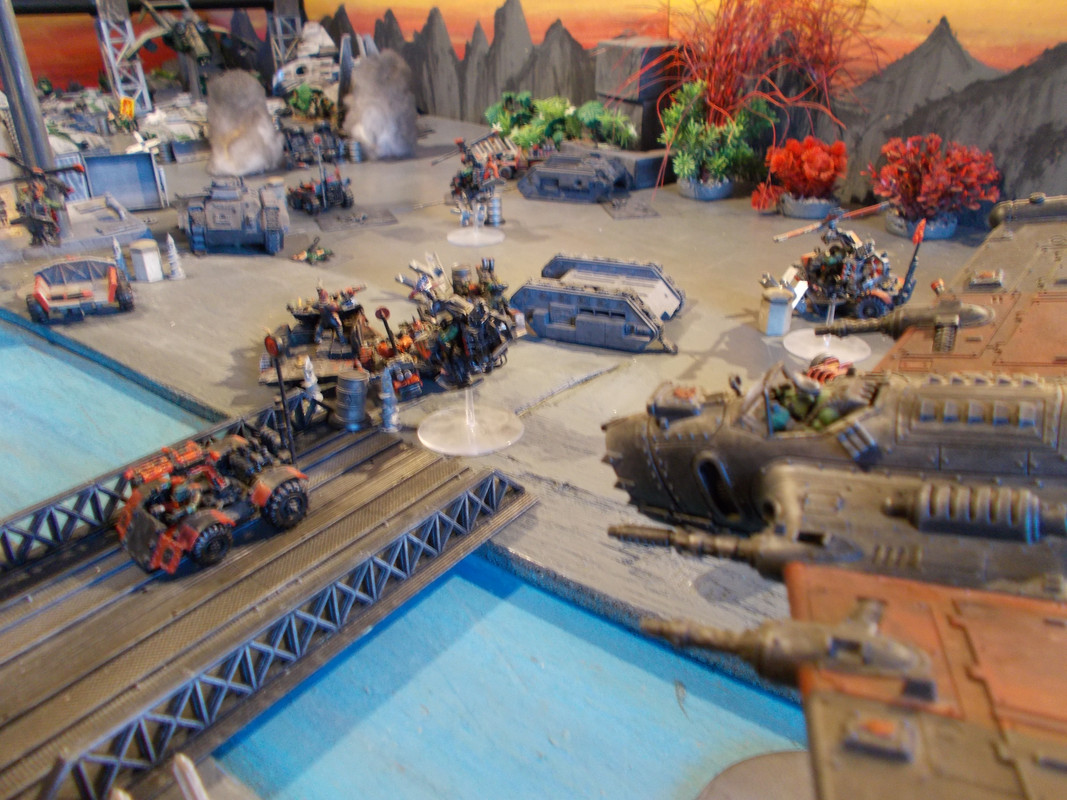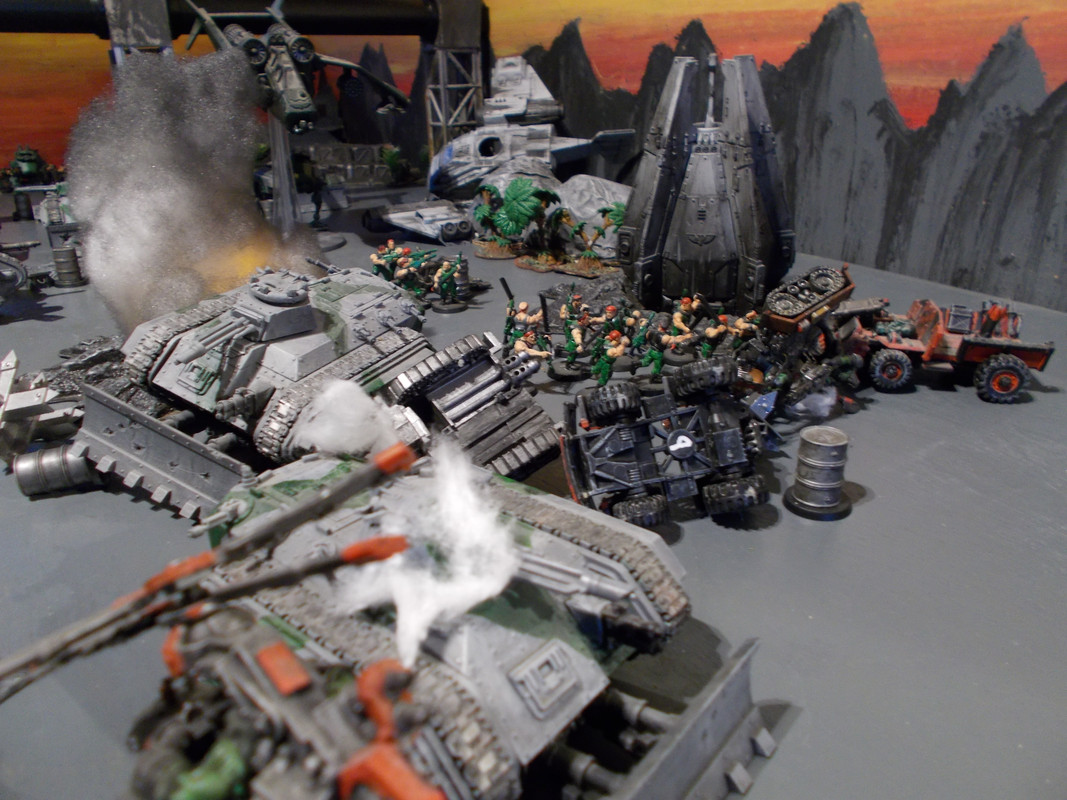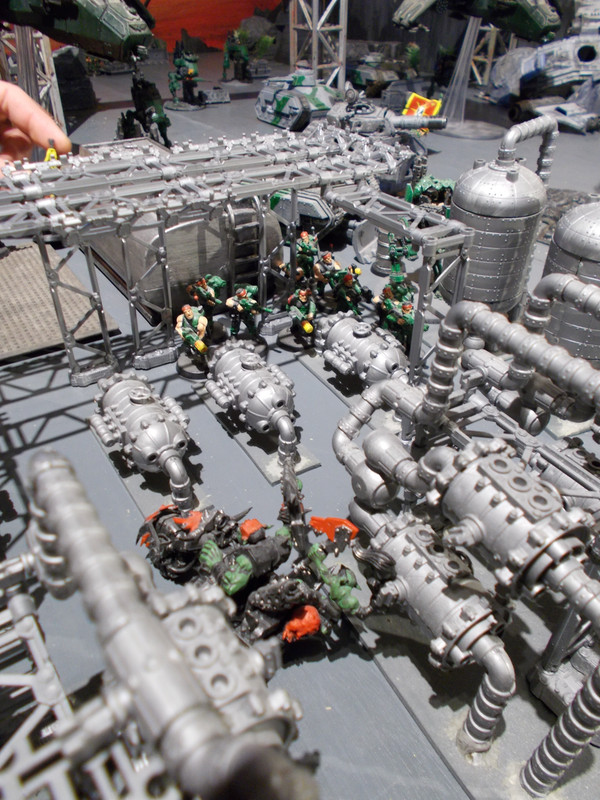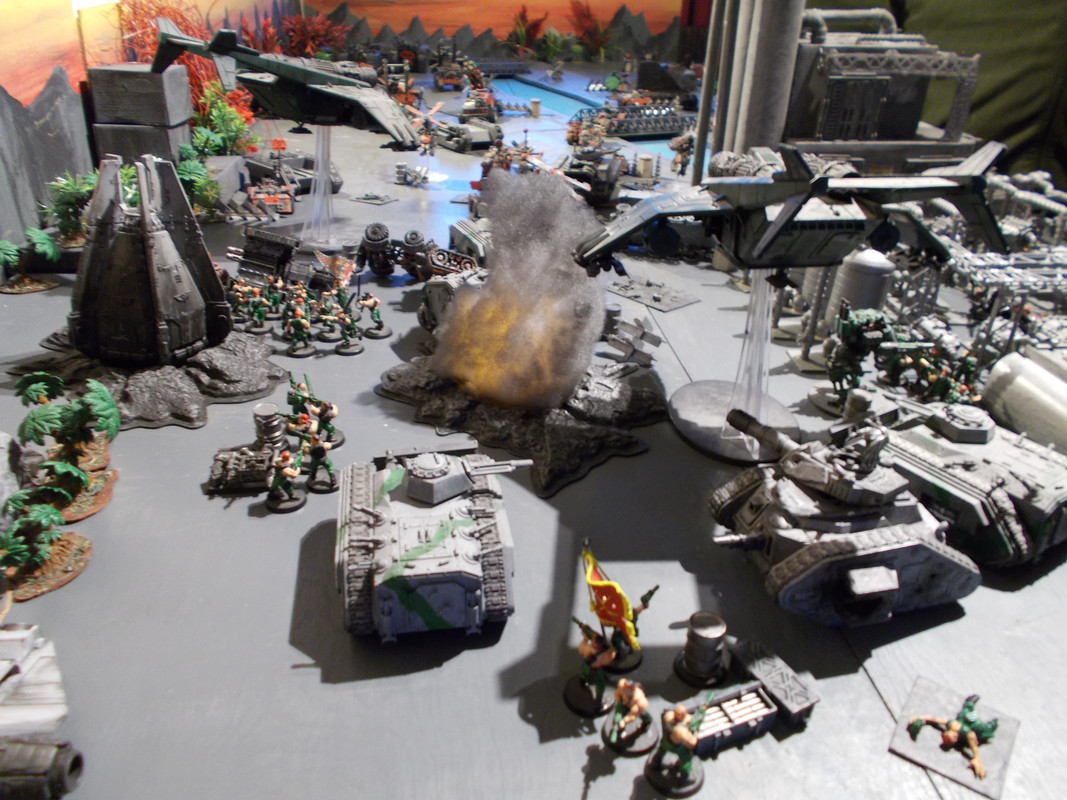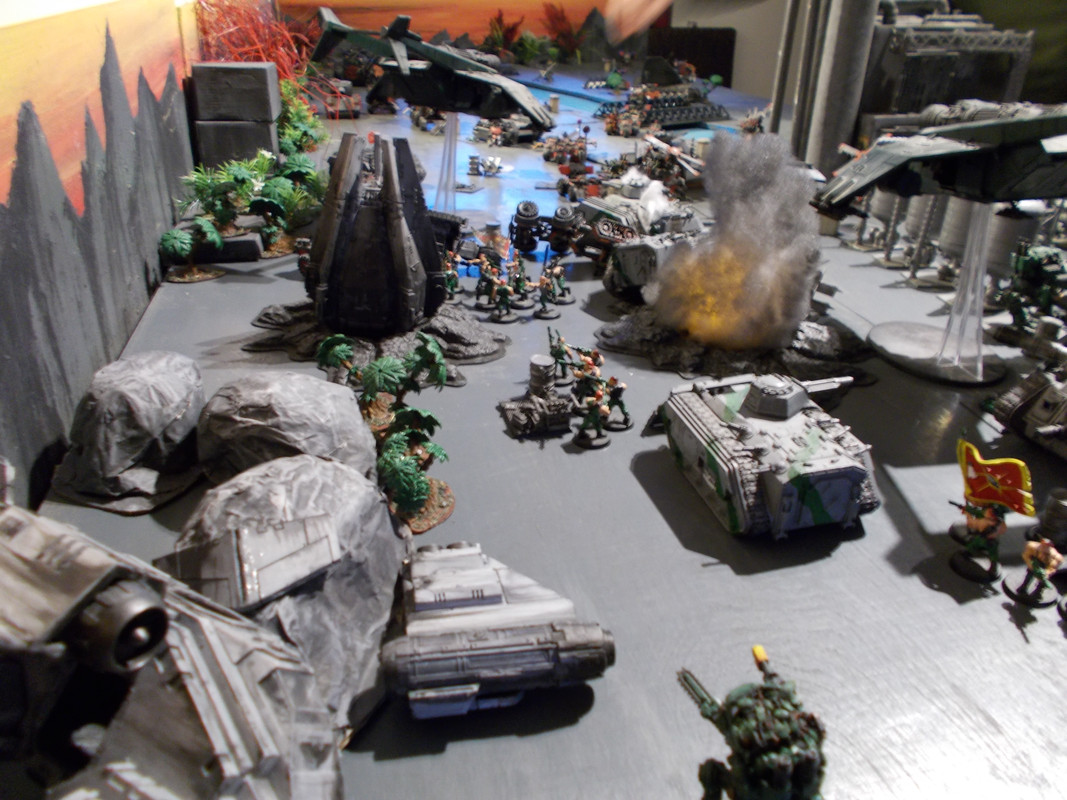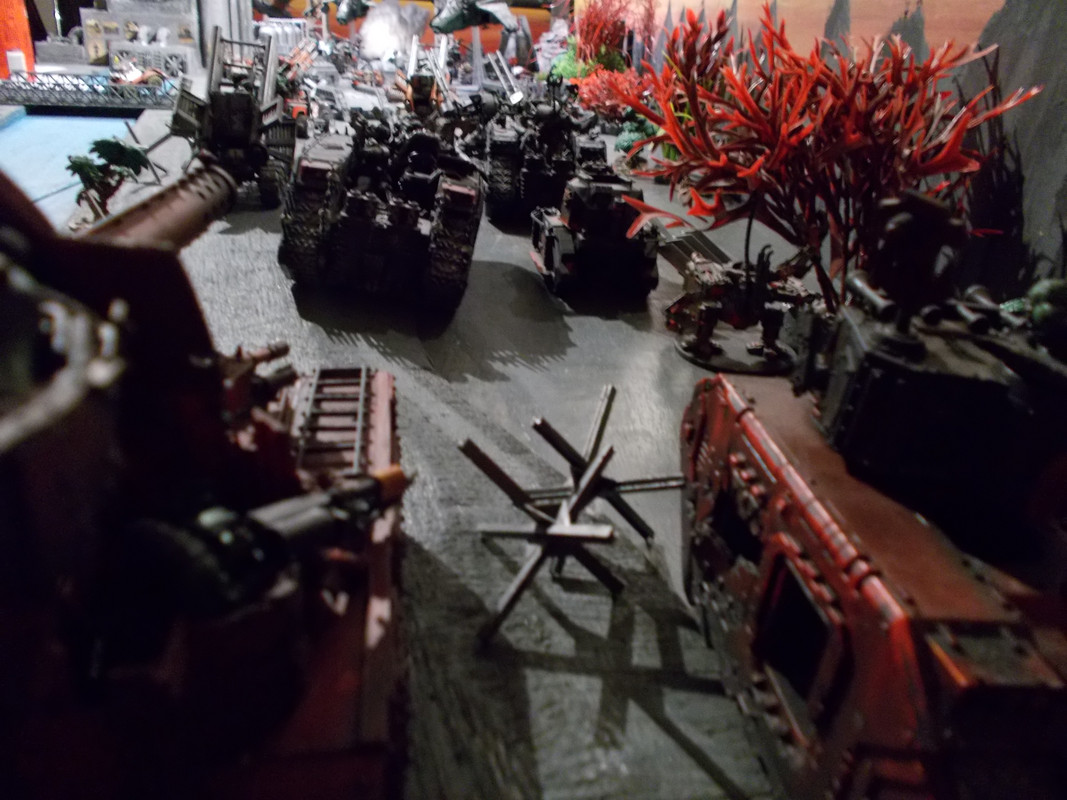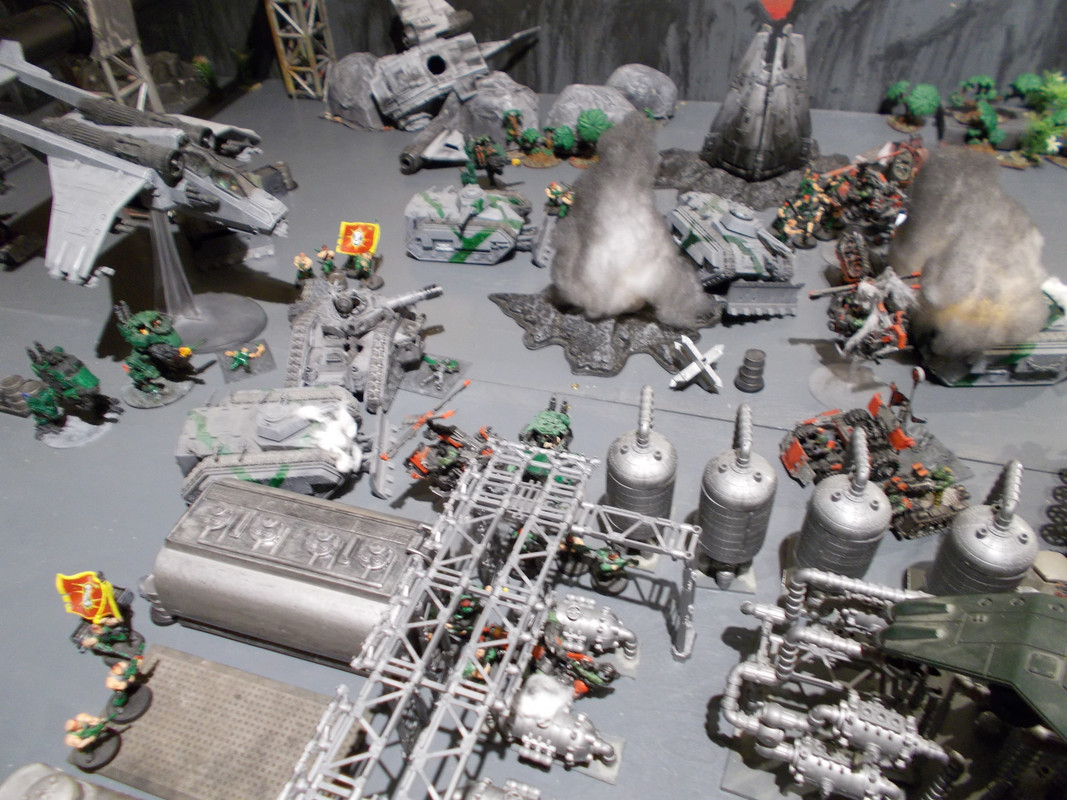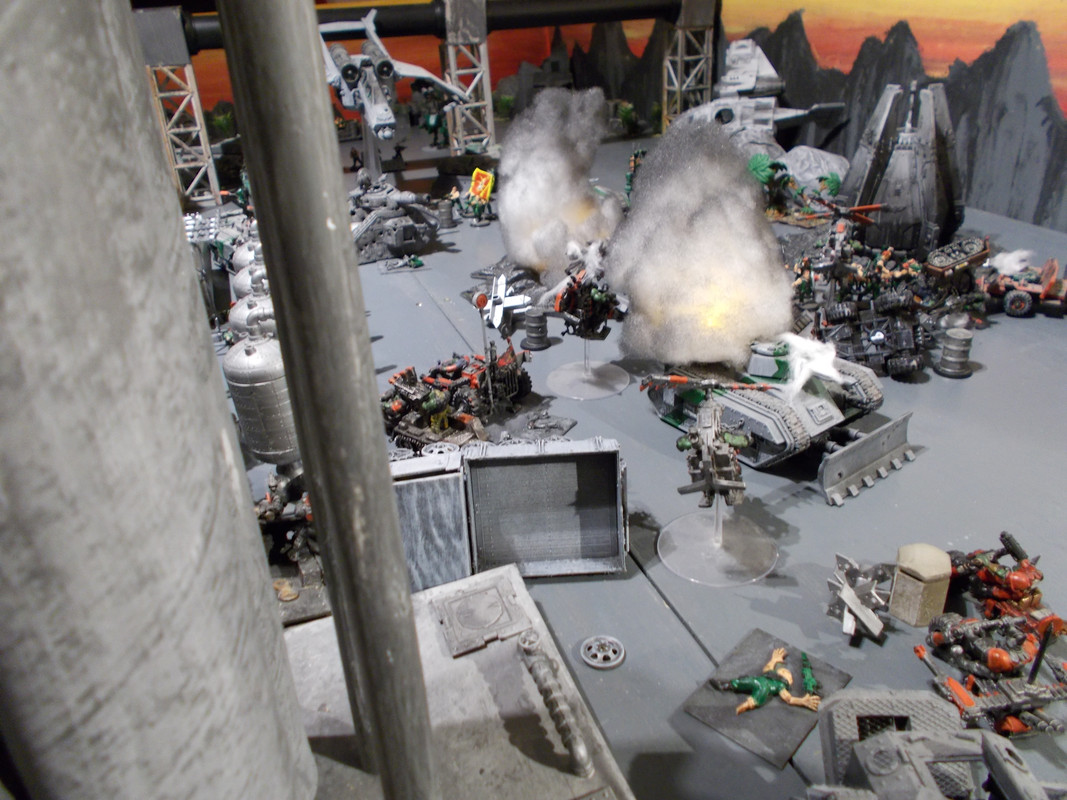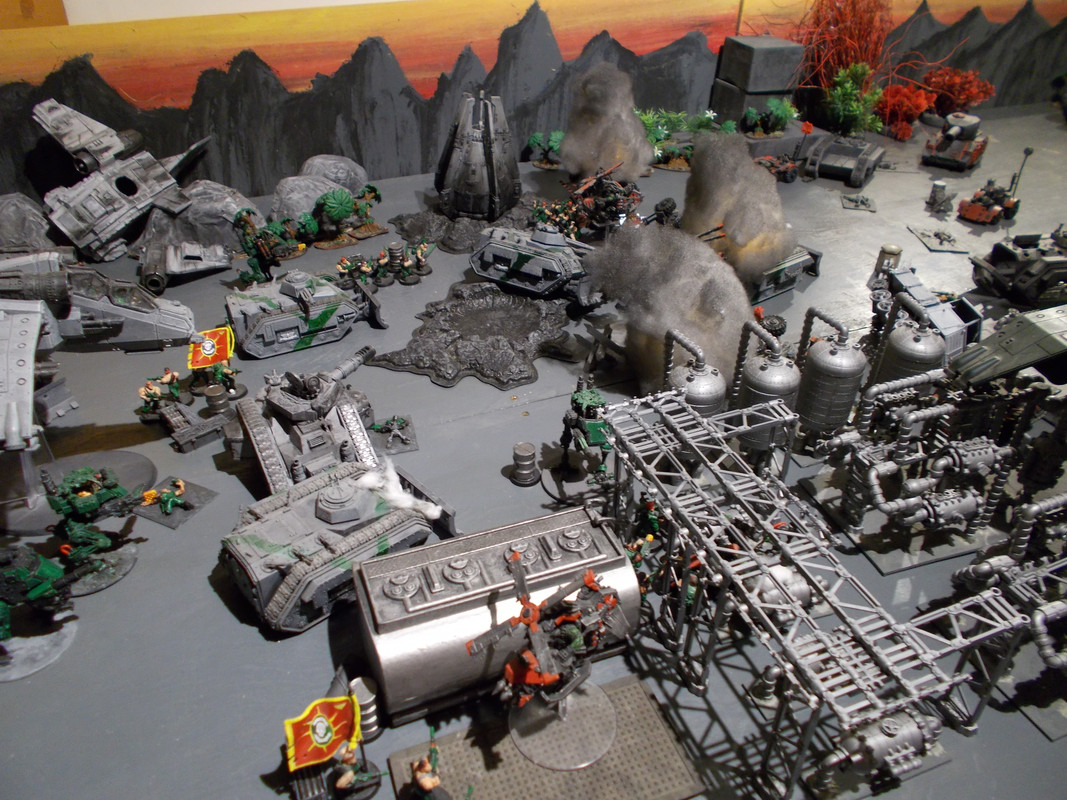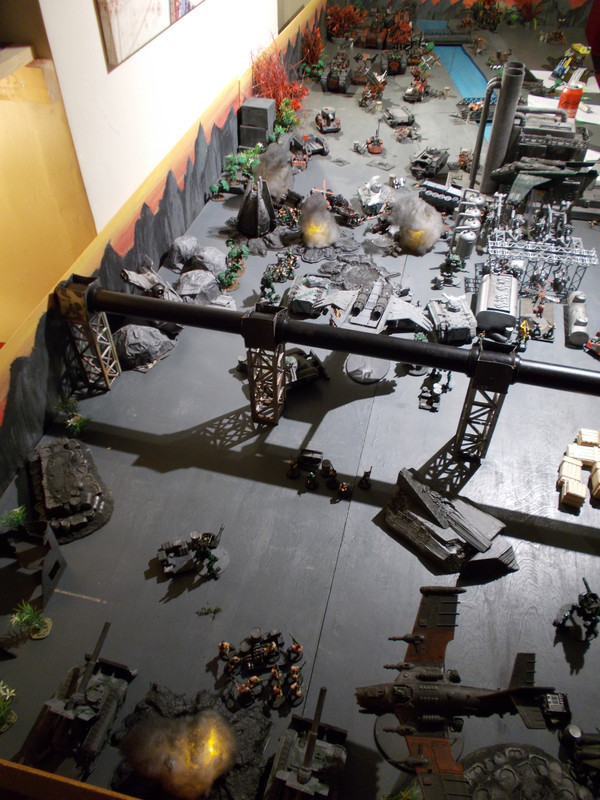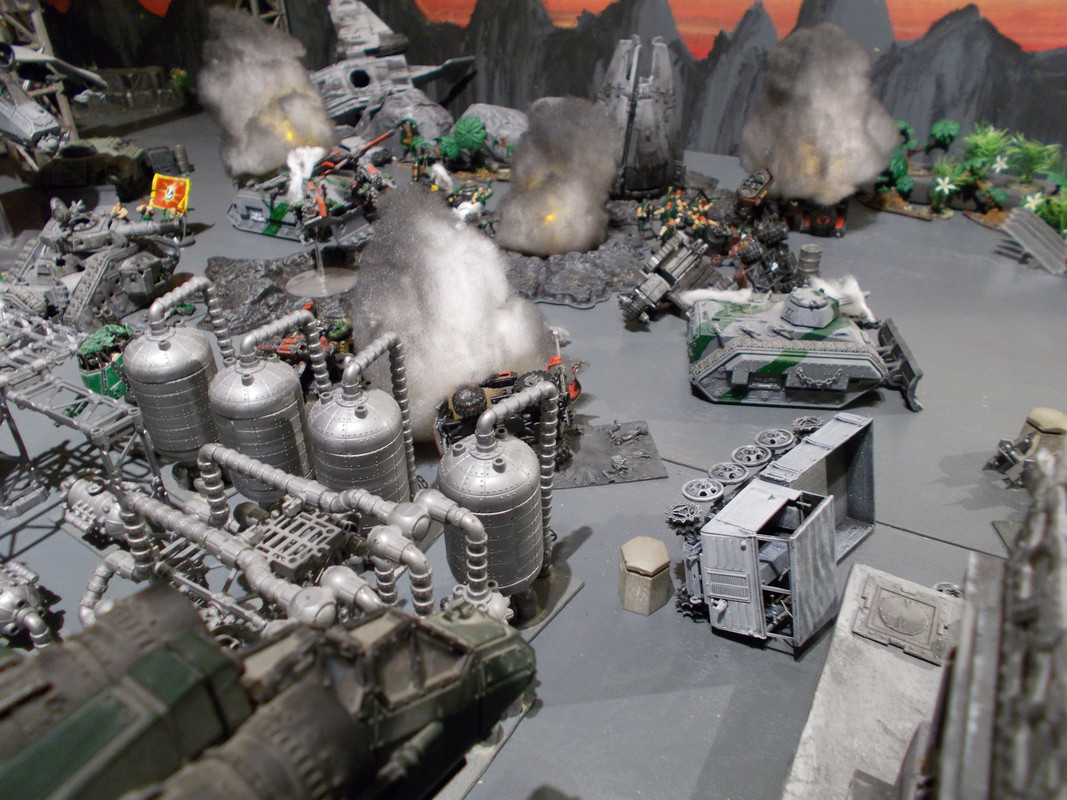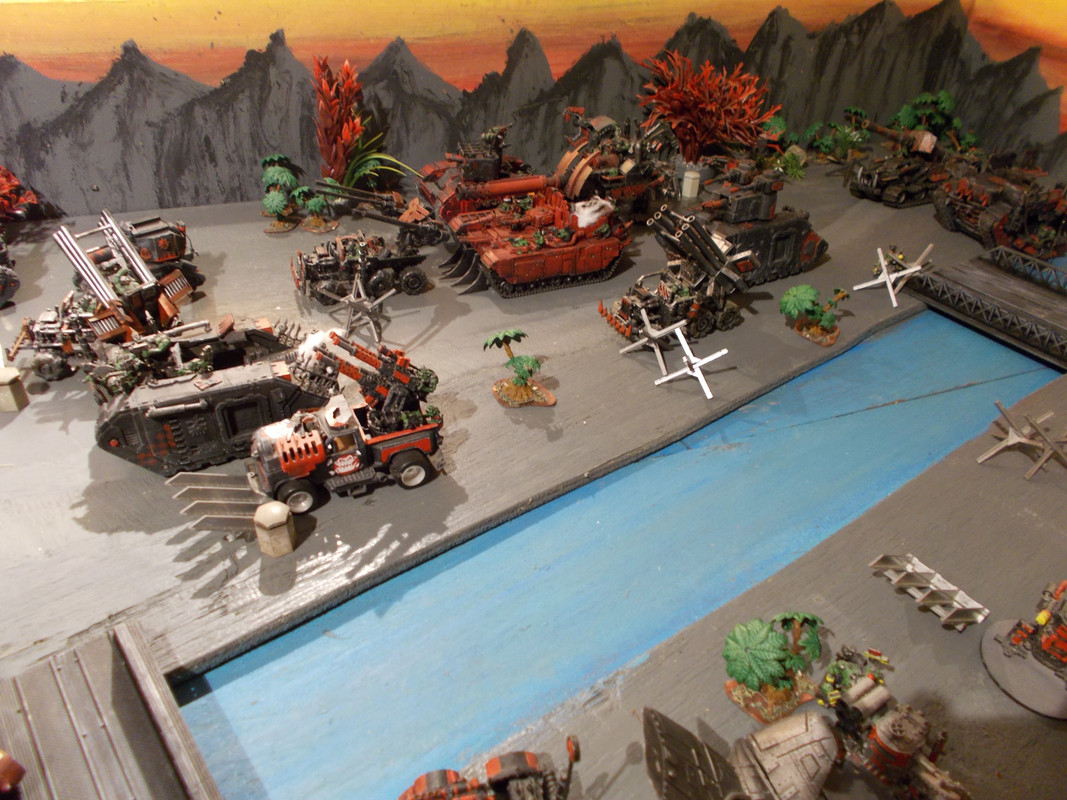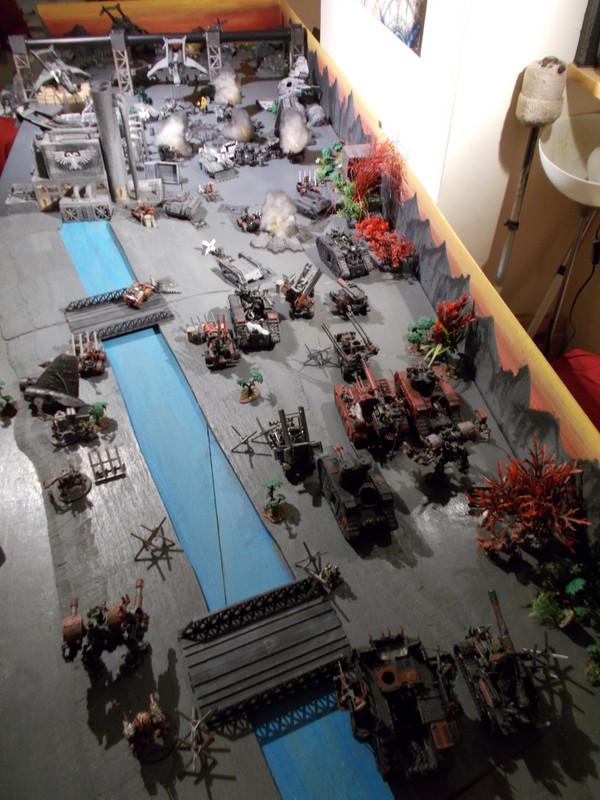 We all decided it was a fun day, and seemed to deliver the narrative conclusion that I had wanted to explore; that games of 40k occur over short distances because battlefields fill very rapidly with debris and this prevents LOS to the large stuff rolling in to reinforce.
We had a debreif and a few things will be changed if we play the scenario again:
1) the resource points should not need a continuous presence to keep the income coming in, thus freeing up units to move more tactically and supportivly.
2) the tech tree's need a bit of tweaking.
However, it's likely we'll be looking at an entirely new scenario next time, something like an imperial fort being assaulted from 2 sides, one side being 3 feet of rubble torn city and the other being 5 feet of an open expanse, thus creating 2 battlefields in one game. It'll still feature an RTS style points income, but this will be fixed per turn. There are other idea's floating too though I'm yet to fully decide.